Maisy Brighouse Glueck loved her job at Botanist Social. She liked the pace of the lush new gin bar on State Street, and she got along well with her coworkers. The job was fun and challenging. She made good money.
For the first few months, Glueck, 21, had few interactions with the owner, Valbon Beqiri, but like many of her coworkers, she felt friendly with him. Beqiri, 33, is a relatively young business owner. He liked to party with friends at the restaurant, and with staff after hours.
Staff had gathered for a New Year's Eve party in 2021, and Beqiri was buying drinks for everyone. Glueck remembers showing him a picture of her shaved Maine Coon on her phone. "You look like my cat," she said, a feeble attempt at a joke.
"He snapped and turned it into something sexual immediately," Glueck said. "He said, 'I'm fully shaved.' Then he looked me up and down and said, 'I know you are too.'"
Startled, Glueck brushed it off and walked away. She figured it was a one-off. It wasn't.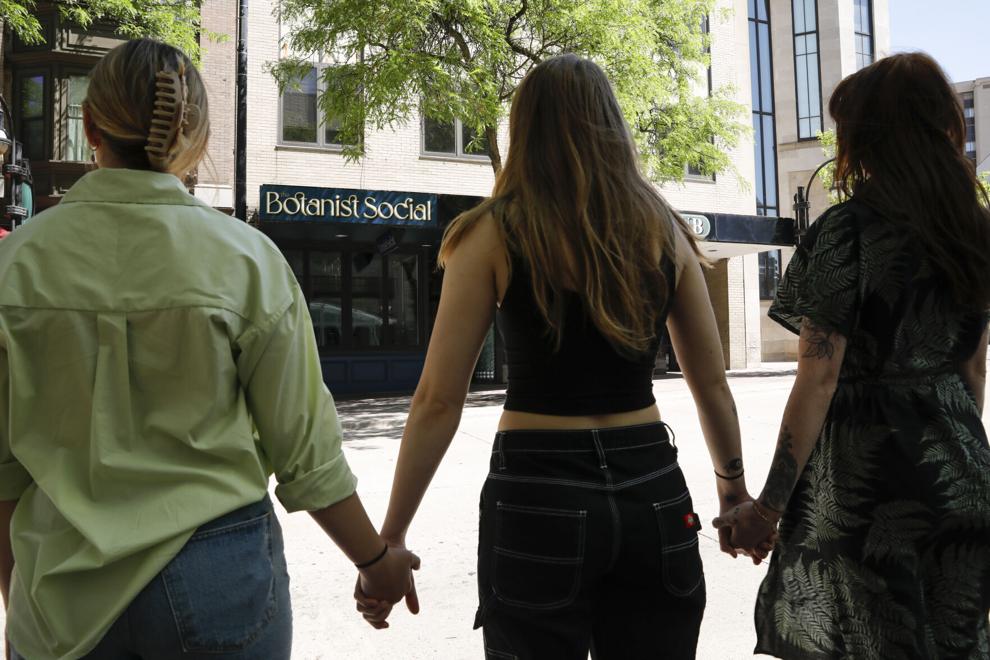 'Women are not safe'
Seven former employees of the seven-month-old Botanist Social on State Street describe an ongoing, unchecked pattern of harassment at the downtown nightspot.
According to Wisconsin's Department of Workforce Development, sexual harassment includes "unwelcome sexual advances, requests for sexual favors and verbal or physical conduct of a sexual nature."
Staffers say that Beqiri, the sole owner of the restaurant, would make inappropriate, sexualized comments, often when drinking or under the influence, often at gatherings after work.
Sometimes his friends or customers were involved, adding their own inappropriate remarks and gestures. Sometimes it went further, as when he sent photos of his bare torso to a bartender who worked at The Botanist. Sometimes he became physical.
Later, the women say, Beqiri would express remorse (though usually not in person). He'd text apologies, say he felt awful and blame how much alcohol he was drinking. He'd deflect and smooth things over. Then he would do it again to someone else.
"With a lot of girls, he would just make sly comments to see what he could get away with," said Courtni Fedie, who worked as a server. "He pays attention to the women around him. ... I feel like women are not safe in that building."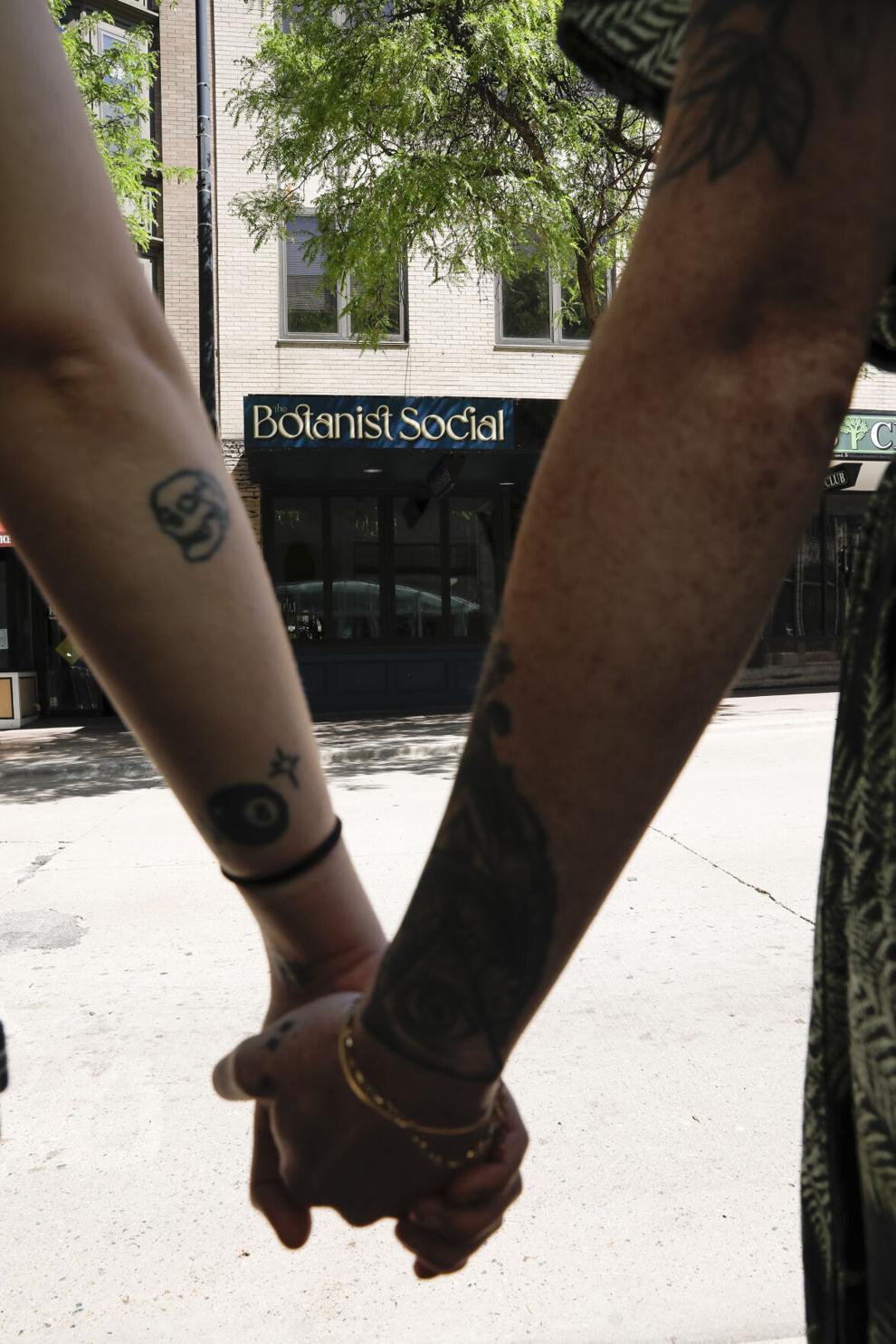 In preparing this story, the Cap Times presented the specific allegations to Beqiri. Beqiri's lawyer, Lester Pines, said he "declines to respond to the questions that you have posed to him about allegations apparently being made against him by former employees of his business." Neither Pines nor Beqiri responded to a second inquiry.
Botanist Social staffers told the Cap Times that Beqiri's pattern of behavior turned what had been a collaborative, high-energy workplace into one where they felt constantly on edge. State law protects workers who are members of a protected class from harassment in the workplace. This includes discrimination on the basis of sex.
"Harassment may include verbal abuse, epithets and vulgar or derogatory language, display of offensive cartoons or materials, mimicry, lewd or offensive gestures, and telling of jokes offensive to ... protected class members," according to DWD.
"The behavior must be more than a few isolated incidents or casual comments," the DWD adds. "It involves a pattern of abusive and degrading conduct directed against a protected class member that is sufficient to interfere with their work or create an offensive and hostile work environment."
In May, one server, Erika Pedersen, filed a discrimination complaint  with the city of Madison but withdrew it shortly thereafter. She intends to refile it in coordination with at least three other staffers so that they can be seen on the same day by the same judge.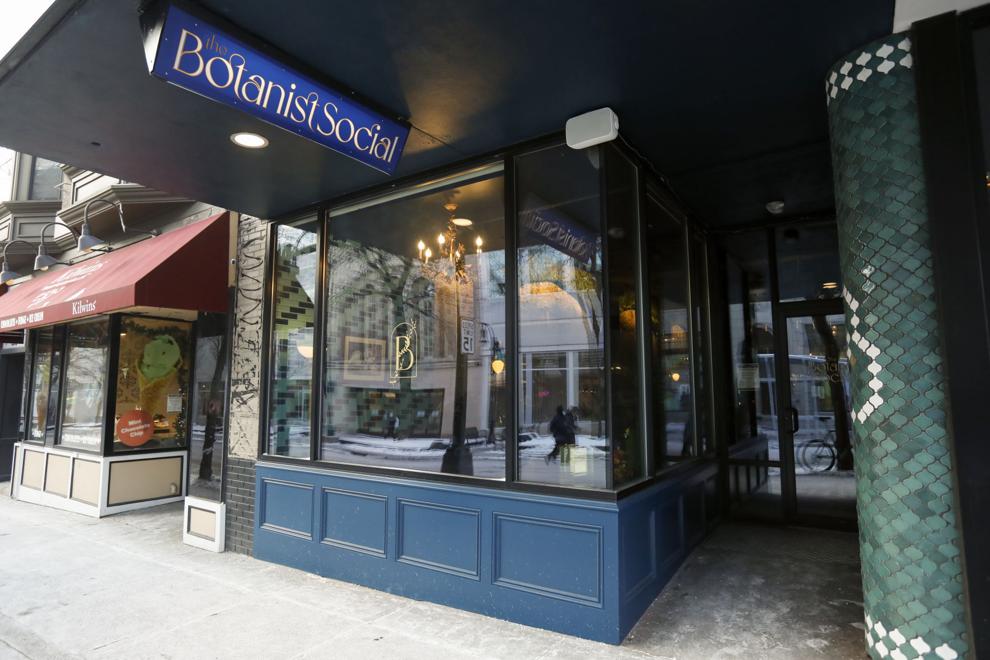 Not one of these workers is older than 28, but all of them have waited tables and poured drinks for years. This kind of behavior is not new to them, or even a surprise — sexual harassment is pervasive in the hospitality industry. One nationally representative survey conducted in 2021 by Social Science Research Solutions found that 71% of women in the restaurant industry reported being sexually harassed at work.
The pandemic has made such behavior worse, particularly from customers. An April 2022 survey of restaurant workers from the advocacy group One Fair Wage noted that, two years into the pandemic, "nearly three-quarters of all women (73%) and nearly 8 in 10 women of color (78%) say they regularly experience or witness sexual behaviors from customers that make them uncomfortable, compared to 61% percent of men."
What's different now? The culture of tolerance has changed, among workers and diners alike. What once felt like demeaning but unavoidable aspects of a job in hospitality — creepy boss behavior, leering customers, handsy coworkers — is now unacceptable.
Restaurant jobs returned midway through the pandemic but many workers did not, and those who remain can be more selective about where they work. Diners, too, increasingly want to spend their money at businesses that align with their personal values. 
The servers who spoke with the Cap Times expressed support for their colleagues who remain at the restaurant. But after repeated attempts to address the problem internally, they felt they had little choice but to speak out.
"There is no future of this restaurant if he's still running it, plain and simple," said Hayley Sperling, a former Botanist server. "None of us wanted to be put in this position.
"It's just frustrating to see someone act so brazen," she added. "It's a culture of toxicity that starts at the top and is permeated down."
In April, staff at The Botanist quit in waves, and those who left are worried for the new workers. They have little faith that the culture has changed.
"Nobody is safe," added Emma Larson, a Botanist bartender who left in mid-April. "The new girl who came in to train with me ... I looked at her and I was like, 'Hey, I know you just got hired, but you're not safe here. You need to go.'"
A restaurant family
Valbon Beqiri comes from a restaurant family. His father, Neim Beqiri, and another family member opened the River Front Family Restaurant (also known as Riverfront Café) in Fort Atkinson.
The younger Beqiri opened his first restaurant, Brickhouse Pizza Pub, in Fort Atkinson in 2011, a year after graduating from the University of Wisconsin-Whitewater. A barbecue spot called Rustic Smokehouse came six years later, in partnership with his family. After a Texas restaurant filed a trademark lawsuit in 2018, Beqiri renamed it Fort 88 Smokehouse & Bar.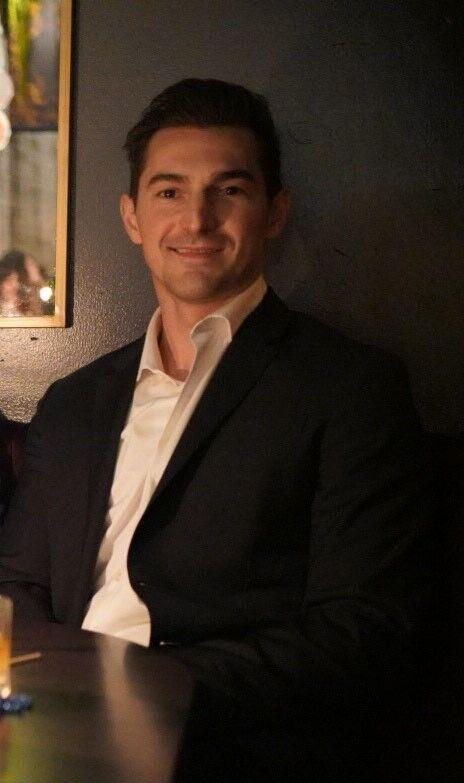 Erika Pedersen was impressed with how long employees stuck around at Beqiri's restaurants. When she took a job at Fort 88, "it was good," she said. Beqiri "had a little bit of a reputation of being like — a playboy," she said. "He was well known in the town. He went to high school in Fort Atkinson."
"He was known for making comments," Pedersen said. "He'd always comment on my lipstick — without fail, every shift, he'd comment on it."
Pedersen noticed that Beqiri's boundaries with his female employees were blurry in 2019 when he made advances toward a friend of hers. Both Pedersen and her friend were on staff at Fort 88 (though Pedersen was no longer working full-time there) and they had run into Beqiri while having some drinks.
After they left, Beqiri's pleading texts to the friend rolled in. Both of the women felt uncomfortable. Beqiri was their boss. It was just "really creepy," Pedersen said.
Still, Pedersen considered Beqiri a friend, and he insisted that he respected her. When Beqiri told her about his ideas for The Botanist, a botany-inspired gin bar in the former Icon space across from Overture Center, Pedersen was intrigued.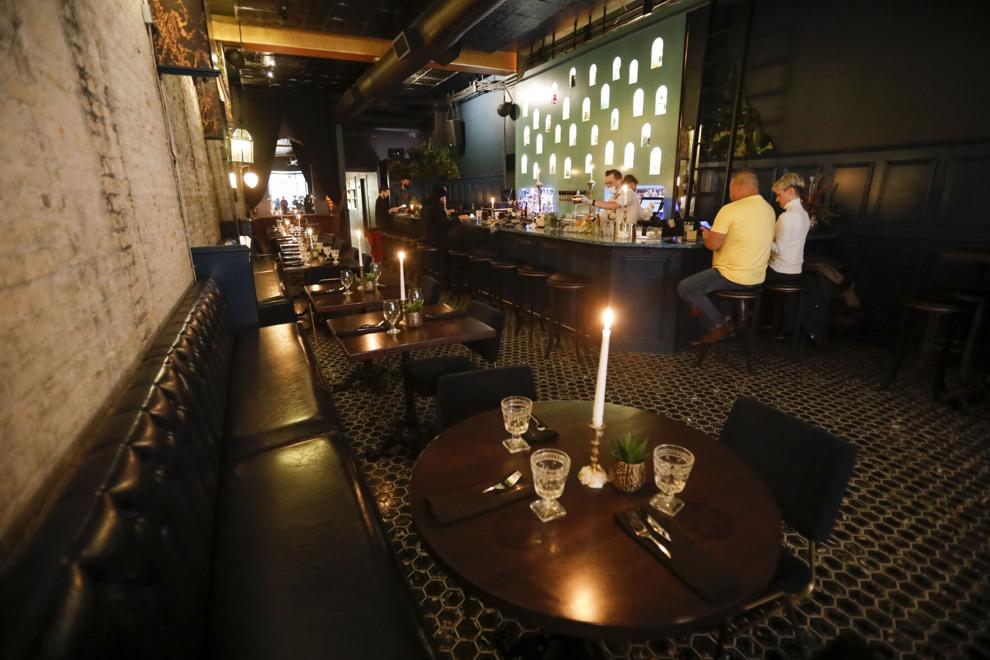 When fully staffed, Botanist Social (or The Botanist — staffers refer to it both ways) employs 40 to 45 people. It seats about 70 at tables and a sleek bar set in front of a wall of gin, with cubby holes, backlit liquor bottles and a ladder to allow bartenders to reach them. The interior is dark and lush, accented with plants and gothic candelabras.
The Botanist serves dinner most nights, late night burgers and wings on weekends, and weekend brunch. It has an Instagram account but no phone number, and a bit of a clubby vibe.
Pedersen signed on to work ahead of the opening on Nov. 9, 2021, and soon noticed something different about how Beqiri behaved in the restaurant.
"He drank often enough at 88," Pedersen said. "But he never got drunk the way he does at Botanist."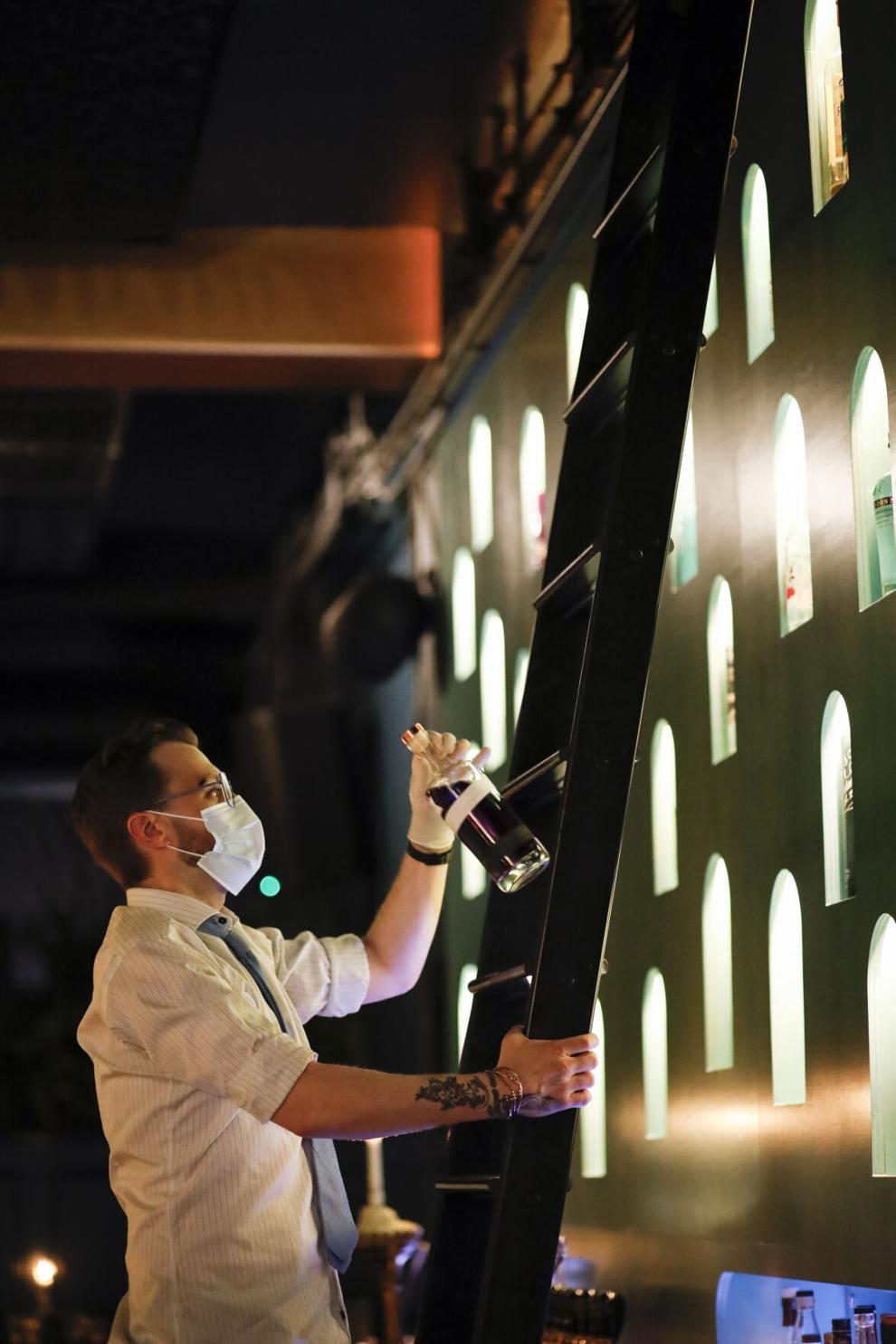 'Beyond qualified'
Eleanor Knauss served as general manager at The Botanist from the time it opened until early April, and she handled much of the hiring. For her front-of-house team, Knauss deliberately chose people with a background in service. Even the youngest hires were "beyond qualified."
"Every single person I hired because they had experience, they were easy to talk to, and they seemed like they would mesh well with the rest of the staff," Knauss said. She looked for "quick thinking, problem solving on the fly. Things you need to serve tables."
Her first impression of Beqiri was "suave," with an entitled air she had seen before among restaurant owners. Beqiri said he would be hands-off.
"Then it was like, OK, by hands-off he means he's going to come in and use this as his playground with his drunk friends," Knauss said. "And alcohol is becoming an excuse for a lot of behavioral things."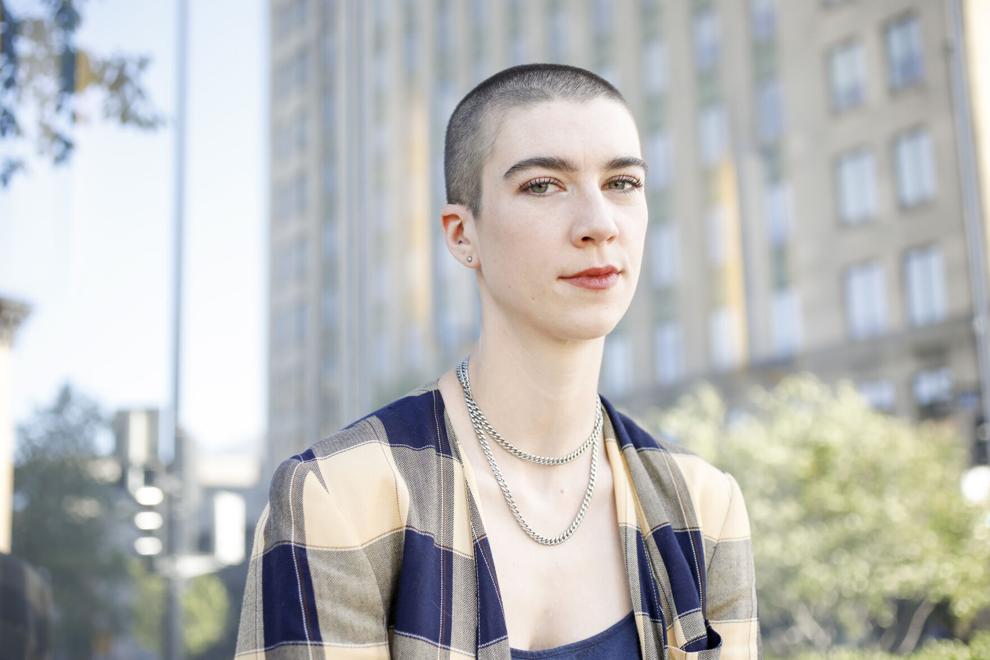 At first, the complaints about Beqiri that made it to Knauss were fairly minor, typical crass-but-not-unexpected comments on servers' outfits. This was annoying, but didn't send up major red flags.
Around Thanksgiving, Rachel Kulacz, an experienced bartender, approached Knauss. While she was up north visiting family over the holiday, Beqiri had sent her unsolicited photos, mirror images of his naked torso with a "U still up?" message. The tone of the texts was flirty. (Kulacz shared these with the Cap Times.)
Kulacz had matched with Beqiri on a dating app the year before, well before she worked for him, and even though nothing happened between them she told Knauss and the bar manager about it when she was hired. Now Beqiri was pressing her, asking why she had ghosted him, wondering if she'd heard he was "bad in bed."
One night while Beqiri was drinking heavily at Botanist, Kulacz noticed that he kept sending her up the ladder behind the bar. Later he sent Kulacz a message on Instagram: "Sorry you caught me staring earlier (face palm emoji) ... tonight was the first time I looked at your eyes directly. Usually I stare when you walk away."
For a moment, Kulacz had entertained the idea that maybe Beqiri was interested in her romantically. But soon she realized it was a "weird power dynamic." When she went into work, all she felt was dread.
"I was so uncomfortable, so scared," she said. "Not like he was going to hurt me, but I didn't know if he was scary or a harasser."
She told Knauss about the messages. She told the bar manager too. Then she mentioned the messages to some older friends, and they said: Quit. Right now.
Knauss remembered when Kulacz quit in early December. "She just didn't want that," Knauss said. "She didn't like it. He was not making her feel comfortable at work, and she did not want to be a part of it."
This felt ominous to Knauss. But then Kulacz left, and for a while, Knauss didn't hear anything else.
'Do something about it'
When Beqiri drank at The Botanist, he often brought along friends. One friend was known to drink excessively. He'd tell servers they looked beautiful or insist on one over another, making a show of playing favorites.
On Jan. 30, this friend came in the back door, stopped directly behind Glueck, pointed at her rear end and made a comment. The cooks in the kitchen were watching, and Glueck was mortified.
"I was already uncomfortable around him," Glueck said. "I was like, 'All right, this shit is weird. I need to say something.' I talked to Valbon and I was like, 'Please tell him to stay away from me? Please do something about it.'"
Beqiri said he would. In a text shown to the Cap Times, Beqiri claimed he'd talked to this friend, who "was very embarrassed ... (it) won't happen again."
But a few days later, Beqiri brought the friend in again while Glueck was at The Botanist and coyly tried to orchestrate an apology.
"He's gonna say sorry but only if I walk away, otherwise he'll be embarrassed," Beqiri texted Glueck. She was annoyed and frustrated, and Beqiri and the friend continued to drink together at The Botanist.
In the weeks that followed, Beqiri's interactions with Glueck turned patronizing. All of his friends wanted her number, he said, but he'd tell them no, "because you're like my little sister." He said they had a special connection. He told her, "I'll be your sugar daddy, as long as I get something in return."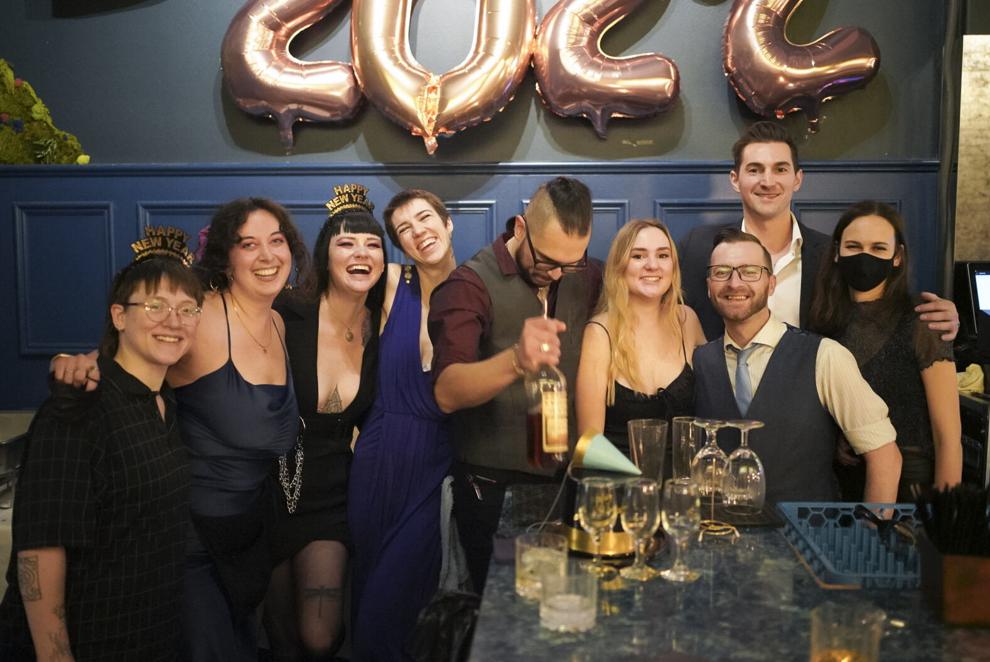 On Glueck's 21st birthday on Feb. 5, Beqiri made a crack about wanting to choke her. ("I know you'd like it," he said.) Several other Botanist staffers remembered this night, and while Glueck didn't know it at the time, Beqiri had made a similar remark to server Courtni Fedie.
As Fedie described it, she'd approached Beqiri, wanting to know why he didn't trust her serving skills. She was good at her job. Why didn't he want her to wait on his friends?
"I was like, 'What is it?'" Fedie said. "He caught me completely off guard."
Beqiri said he wanted to "grab (her) by (her) throat," then described a fantasy of forcing a sex act on her. Fedie was stunned. What about his girlfriend? she asked.
"I didn't know what to say," she said. "He said, 'I can tell that you're not vanilla. (She) is, and I don't want vanilla.'"
Sperling, a fellow server, was sitting on Fedie's other side and overheard the remark. "I was like, 'What the actual f— just happened?" Sperling said. "I really thought that I hallucinated that."
Turning point
A few weeks later, at a work staff party at Madison's, Glueck was standing at the bar when Beqiri came up behind her and grabbed her butt, hard. The bar was crowded, and at first Glueck wasn't even sure who it was. She tried to brush it off.
But Beqiri's girlfriend had noticed, and 10 minutes later, Beqiri found Glueck. "You almost got me in trouble back there for touching your ass," he said. He mentioned it to others too, like it was a joke — "Maisy almost got me in trouble."
Confused and angry, Glueck went to the restroom with several other servers and told them what had happened. They started to see the pattern. Many of the women felt betrayed and furious.
Pedersen, the former Fort Atkinson server, felt she had the strongest connection with Beqiri and approached him first. This is ridiculous, she told him. You need to stop.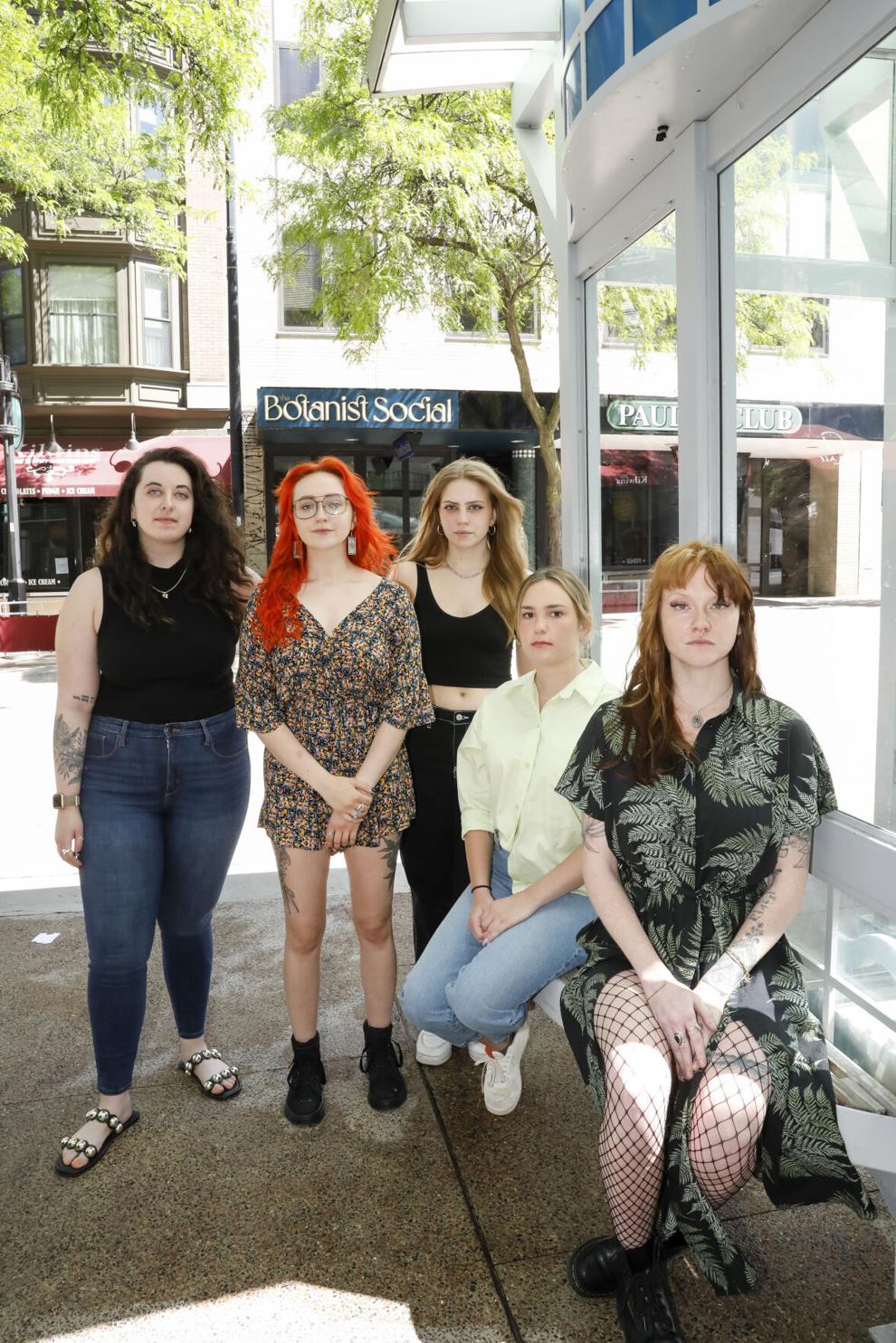 "You are crossing so many lines," Pedersen said, recalling that conversation. "He looked me in the face and he was like, 'Do you know how hot I think you are when you yell at me like this? Do you know how long I've been sexually attracted to you?'"
"I looked at him. I was like, 'Are you serious right now? Is that what you're taking away — you're going to double down on it?'" (Pedersen detailed this incident in her discrimination complaint.)
The night did not improve. As the party moved locations, Glueck said Beqiri continued to seek her out. He'd stand close to her, not looking directly at her and talking under his breath, telling her he wanted to have sex with her. Over and over, he pressed.
"He said, 'If you weren't my employee, we'd be f—ing right now,'" Glueck said.
The next day in the afternoon, Beqiri contacted Glueck. "Definitely drank too much last night," he wrote in a text message that was shared with the Cap Times. "I always keep things professional at work as I value u so sorry about that! Won't happen again. Hope you guys all had fun."
Glueck told him it was fine. Then she reconsidered. She felt hurt and confused, and she told him that.
"I feel taken advantage of," she texted Beqiri, "especially by you touching me. I am not going to quit out of respect for Eleanor and the rest of my coworkers, but I would appreciate it if you kept your distance."
In his second response, Beqiri was more contrite. 
"Honestly I don't remember grabbing you at all and I had no idea until Erika told me," Beqiri responded in a text dated March 5. "That was like a wrecking ball hitting me ... I feel awful ... being drunk or not remembering is no excuse so I sincerely apologize and absolutely will keep my distance. This has been one of the worst weeks in my life and I wish I would have avoided drinking that much. ... I really am sorry."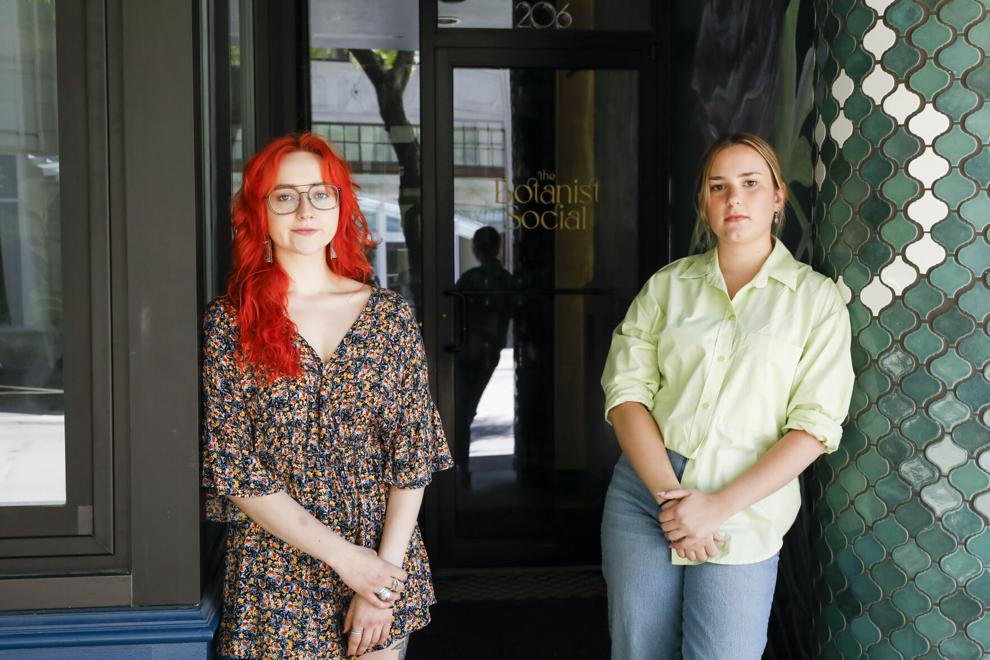 Critical mass
By this time, a chorus of complaints had made their way to Knauss. Like many small restaurants, Botanist Social has no human resources department, so the general manager was the logical person to address it.
Knauss had never had to draft a sexual harassment policy before. She sat down with Beqiri first. She wanted to give him a chance to save himself and the restaurant. 
"I wanted to let him know all the information I had, and what could potentially happen to him if he doesn't change," Knauss said.
Knauss wasn't naïve — she didn't expect Beqiri to suddenly respect women and their personal boundaries. But she hoped for some kind of middle ground. She told herself, "I'm going to make this restaurant work in a way that's sustainable and good for the people who work here," Knauss said. "And he can continue having the restaurant that he has, and we can feel good about coming in."
At their meeting, Beqiri appeared remorseful, though later she realized he'd been vague in his apology. He said the meeting had been weighing on him, Knauss said. She said he told her, "I'm so ashamed of what I did. It doesn't sound like anything I have ever done before or that I would ever do."
On March 4, Knauss sent an email to current and former employees of Botanist Social. Her tone was firm, the message unflinching.
"Valbon has been making sexually explicit comments, allusions, and advances to a number of staff members since the restaurant opened," Knauss wrote in the email, which was later shared with the Cap Times. "These incidents have ranged from verbal harassment, late night texts (and) general leering, to direct propositions.
"This shows an ongoing pattern of harassment and is unacceptable and disgusting behavior from anyone, especially someone in a leadership position," she wrote. "I am really, truly sorry to those of you who have had to put up with this environment."
Knauss linked to a Google form that could be filled out anonymously, encouraging staff to "detail any instances of workplace conduct, offer suggestions, ask questions." Four people filled out the form, and five more contacted her separately.
One of them described another incident from a staff party involving unwanted physical contact. "I do not think Valbon should be allowed onsite during late night hours," the employee wrote in the Google form. "He has showed a pattern of behavior that demonstrates that he is dangerous to be around when he thinks no one is looking."
Pedersen quit over Beqiri's harassment, and Glueck, anxious, began to call out of her shifts. But Knauss decided to stick it out. She drafted a contract for Beqiri to sign, "to ensure his professionalism."
She intended to make sure Beqiri was never at the restaurant during service, and wrote it into the contract that he couldn't come in while he was drinking. "If this is going to be an excuse for the bad behavior ... that behavior is showing me that you don't care about actually making a safer work environment," she said.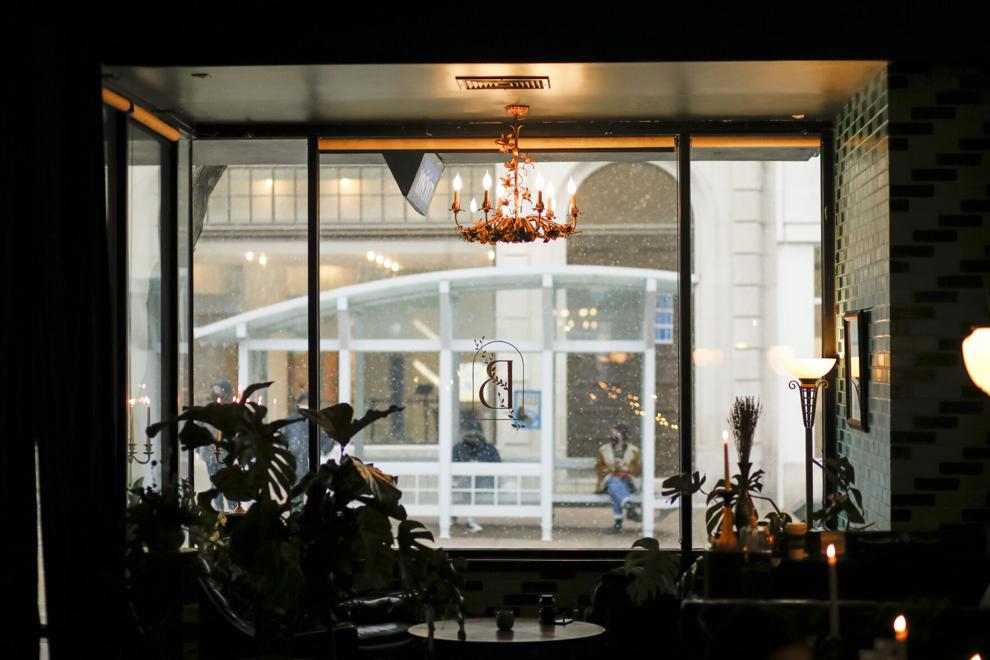 The last straw
Knauss thought she had things somewhat under control when, just after midnight on April 3, she was out with a couple of staffers at a nearby bar. It was nearly 1 a.m. when she got a call from The Botanist.
Beqiri and his friend (the one who'd gestured to Glueck) had been drinking next door to The Botanist at Paul's Club. The friend attempted to enter The Botanist and when the bouncer turned the man away, he assaulted the bouncer, according to a police report.
The manager on shift called the police but she'd just been promoted, and was worried about her job if she filed a report. Ultimately no one pressed charges. But the whole thing was disruptive and upsetting, and undermined the improvements to their workplace culture Knauss had been working toward.
"That was it," Knauss said. "I'm standing there, apologizing to the bouncers, apologizing to the servers, on behalf of this person that I don't respect. And I'm like, 'Why am I doing this?'"
Beqiri made himself scarce for a few days after that. But by the following Wednesday, Knauss had drafted her resignation letter.
"I will not continue to direct my time and energy toward a business owner that does not respect women or personal boundaries and is actively undermining any efforts to create a safe, healthy and fun environment for everyone — not just your friends," Knauss wrote.
"This repeated poor behavior is not just embarrassing for those of us associated, but also disrespectful to the countless hours the people on the floor have done to ensure the success of your business."
Knauss had tried to shift the company culture, but "it has become clear that I am the only person on our management team committed to this mission and I have no desire to be a martyr. ... You seem to show no remorse or urgency to change your reckless and unprofessional behavior or the parameters and people that help enable it.
"If you would like this venture to succeed, you need to think long and hard about your priorities, beliefs and the character of the company you keep," she wrote. "Because, frankly, you are the only person standing in the way of the Botanist Social's bright future."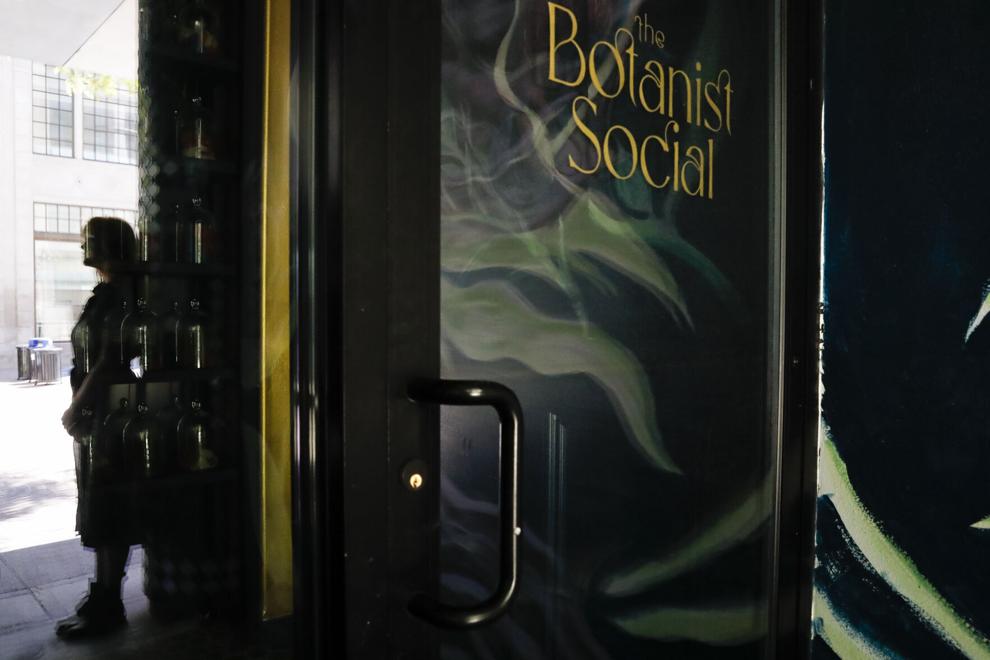 Legal action
Several of the women who experienced Beqiri's harassment have been in conversation with a lawyer and are working on discrimination claims. They're disappointed and angry with Beqiri. They're sad to no longer work together, while determined to see some kind of change.
"It's very frustrating," Sperling said. "We all want to see each other happy and to see each other succeed. We were doing so well."
Beqiri declined to answer questions about what Botanist Social's anti-harassment policy looks like now (if one exists), how he intends to ensure that current employees are safe from mistreatment, and what recourse they might have if they experience harassment.
Several of the workers in this story have decided to leave the industry, perhaps permanently. Knauss said she's done working in restaurants. Pedersen, too, is taking a break.
"The Botanist is like a pretty little Venus flytrap," Pedersen wrote in a follow-up email to the Cap Times. "This industry is permeated with men who have money and means to do whatever they want, until women like us say something."
Pedersen wants Beqiri "out of the industry. I don't want him to hurt any more women. I don't want any more women to suffer or feel small because of him or men like him. He does not deserve success ...I want justice. I want the truth to be told."
Glueck is currently tending bar at a downtown pub, and she's more hopeful about the future of restaurants. That's part of why she decided to speak up.
"It's such a thing in this industry, like, 'Everyone in restaurants flirts with each other. Everyone sleeps around,'" Glueck said. "That always ends up f—ing women over, because that type of environment is always going to be so destructive for women.
"Make this industry more safe for women. Men shouldn't be getting away with this stuff."
Editor's note: This story has been edited to remove the name of a business partner who is no longer involved with the restaurants in Fort Atkinson.
On the day this story was published, Beqiri sent an email to several members of the current Botanist staff. According to a copy of that email obtained by the Cap Times, Beqiri wrote, "I have not harassed or engaged in improper behavior with any of my employees at The Botanist Social or my restaurants in Fort Atkinson." He added, "There has been no such allegations ever in the past 5 years."