As the Green Bay Packers enter the playoffs hoping for a Super Bowl berth, halfway across the country in the chic West Village neighborhood of New York City, one basement bar will be packed with fans celebrating at a historic neighborhood haunt: Kettle of Fish.
The bar at 59 Christopher St., established in 1950, has a rich literary history and was once frequented by writers like Jack Kerouac, Gregory Corso and Allen Ginsberg. On Packers game days, patrons don't care. They're not looking for the stylish décor found at the neighboring New American and French restaurants.
They're at the Kettle because the atmosphere feels familiar from the very first visit.
Patrick Daley, 66, has owned the bar since 1998 and aims to recreate a Lambeau sensibility at the Kettle. Amongst Packers fans, "there's a camaraderie, but there's more than that," he said. If "you go to Lambeau Field and you're wearing the opposing team's colors, you're going to be taken in in the parking lot and fed and given drinks." 
Wearing an apron, cargo shorts and hiking boots, the Wauwatosa native greets regulars and strangers alike, giving a fist bump with one hand and holding a cigar in the other.
"Anyone is welcome at the Kettle," Daley said.
On Sundays (and sometimes Mondays and Thursdays), New Yorkers and tourists may stand in line for over an hour before game time to secure a space inside Kettle of Fish. One couple living in Queens, Vanessa Salguero and Justine Fierro, queued up before a Sunday game in December.
Salguero has no connection to Wisconsin. She became a Packers fan more than two decades ago when she beat her cousin in PlayStation NFL GameDay '98 with Green Bay.
"It's our anniversary," said Fierro, 30. "We met next door at the Stonewall Inn."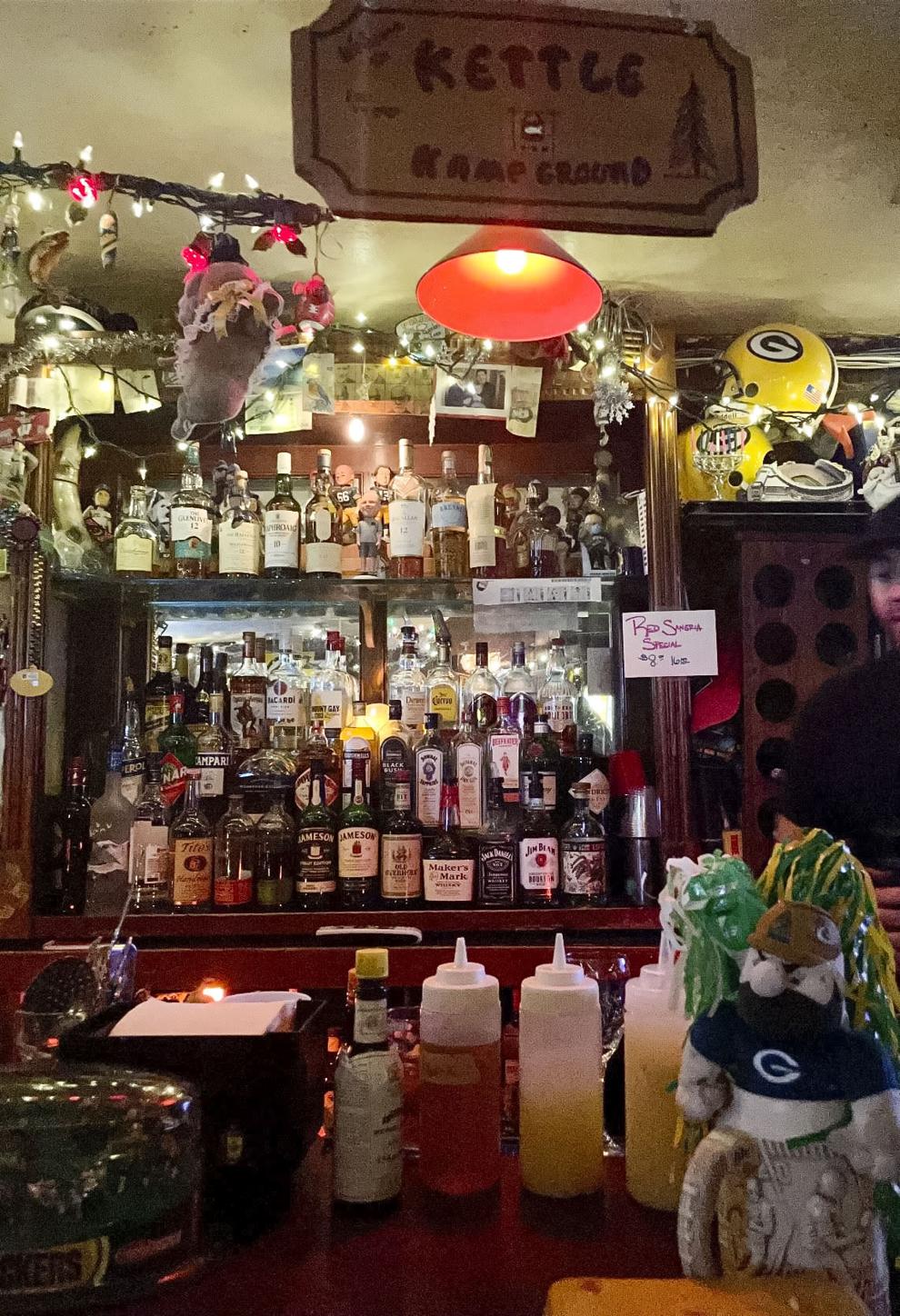 Like grandma's basement
When the doors open, the Kettle of Fish enforces a two drink minimum with a $20 cover charge. In exchange, patrons receive two yellow tickets that can each be redeemed for a drink or a bratwurst, served by Daley on game days in the otherwise foodless bar.
After presenting proof of vaccination, each visitor receives a yellow card, punched each time they attend a game. This helps reserve a spot inside during the playoffs, as those with the most punches are let in first.
Finally, when green-and-gold-clad visitors descend concrete steps, they become immersed in what looks like a Midwestern grandma's basement. Kettle of Fish smells like a combination of cheap beer, floral perfume and sauerkraut.
Silver Christmas garland and strings of multi-colored lights, snowflakes, ornaments, and one wooden fish "signed in drunken Gaelic" by Liam Clancy, hang from the ceiling year-round. Between shelves cluttered with Packers memorabilia, bobbleheads and books with "Obama" and "baseball" on the spines, bartenders reach for liquor and $5 canned Miller Lite.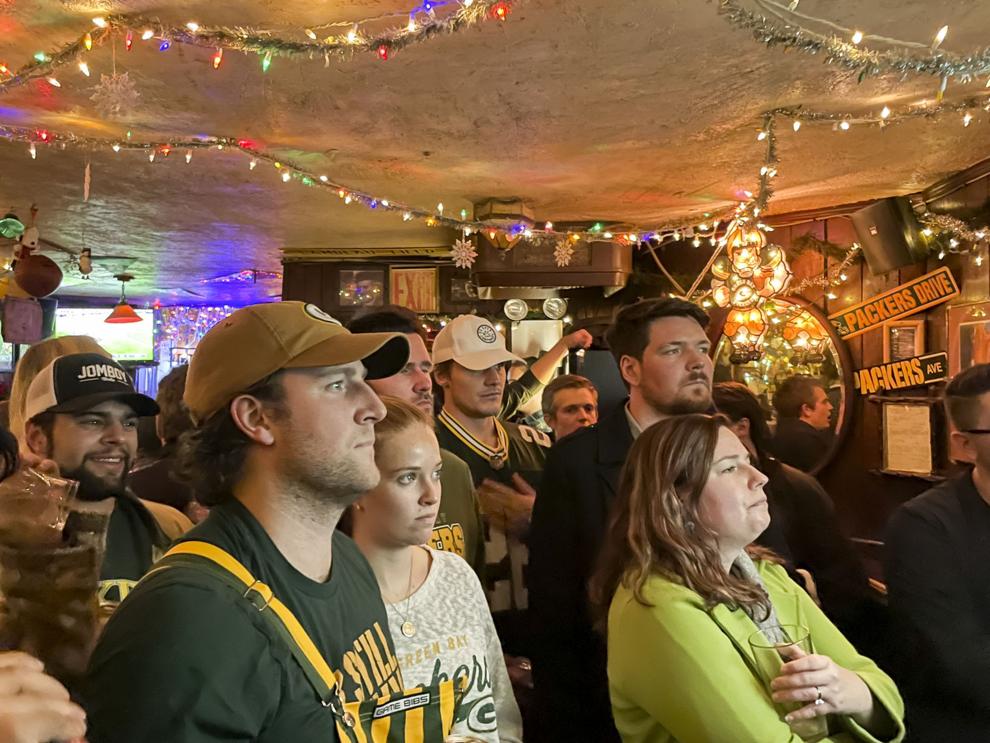 One Kettle regular, Maria Artemis, 27, said the only one other bar that reliably showed Packers games, Mad River, closed during the pandemic. "This is the one to go to," she said. "It feels really homey."
Artemis said even her friends who care less about football appreciate the bar. Her friend, Emma Stockert, 29, comes once in a while because "it's nice to feel attached to something."
Some patrons take their drinks to the wood-paneled back room to claim a spot on floral or leather couches, setting their drinks on the coffee table and their dogs on a side table. Others sit at folding tables and chairs in front of an abandoned fireplace, below dart boards surrounded by halos of shredded wall where all the steel tips have missed their target. Nearby, a neon "BAR" sign was famously photographed behind Jack Kerouac.
Elliott Zaagman, a tech writer and analyst who moved to the city just a few months ago, has become a regular at the bar.
"When I was young, I was drawn to how intense the Packer fandom was, a religious level of devotion," said Zaagman, a Michigan native with family ties to Wisconsin. He's met "Packer friends" at the bar, people he only knows from Kettle of Fish. He appreciates how friendly the bar feels. "It's Midwestern. It's Wisconsin," he said.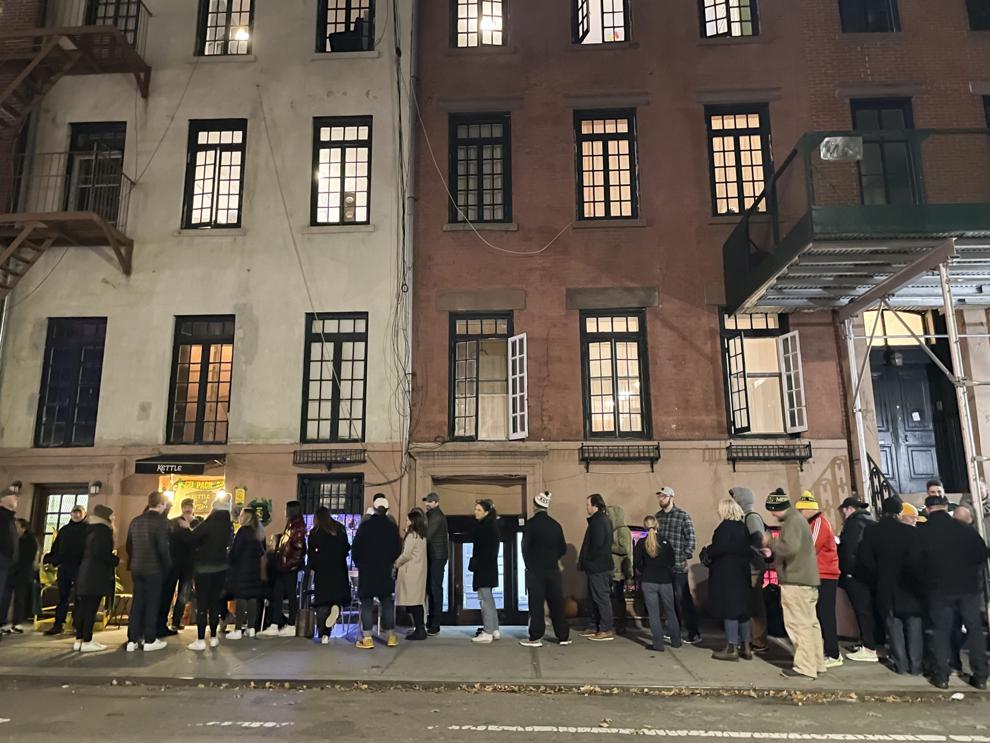 A friend of the Kettle
Many former Packers including John Brockington, Dave Robinson, Jerry Kramer and Tim Boyle, have visited the Kettle. Aaron Rodgers visited in April 2019.
"Aaron has always been a friend of the Kettle," said Daley. "He's everything you'd hope for a guy to be."
After a tumultuous year plagued by the COVID-19 pandemic and Rodgers' misleading comments about immunization, not all Kettle patrons agree. Fierro said she was upset.
"I didn't wear his jersey for like three weeks because I took COVID so seriously," said Fierro.
"I don't like the deception," said Wisconsin native Matt Jenson, 36, another regular.
Yet according to Artemis, "Packers fans are very forgiving," and Rodgers' jersey remains dominant among the sea of green and gold at the Kettle.
After almost closing its doors in December 2020, Daley is relieved that the Kettle of Fish is "here long term." Following negotiations with landlords, a GoFundMe retweeted by Rodgers himself and an email titled "one last shot," Daley and Packers fans saved New York City's slice of Lambeau. Daley gives credit to the fans' determination and optimism.
"The Viking fan thinks they're going to lose," Daley said. "Packers fans, even if we suck, we think we're going to win! I mean just in life that's a huge difference."
The Packers have a bye this weekend. The team will have its first playoff game next weekend, either Jan. 22 or Jan. 23. New York's favorite Packers bar is sure to be packed.