---
Electric vehicle (EV) sales soared in early 2022 to account for more than 5% of all U.S. new car sales as EVs continue to gain traction among consumers.
Madison Gas and Electric (MGE), in coordination with city officials, is racing to expand city-wide EV charging infrastructure to meet growing demand.
Inconsistent plug types, expensive up-front installation costs and potential interference from state lawmakers pose challenges to charging network expansion.
---
Madison resident Michael Wagner bought his first electric vehicle, a Volkswagen ID.4, this past March.
"Rising gas prices were part of it, but I also really like the direction that EVs are going and they finally hit a price range and driving range that was suitable," Wagner said. "The barriers to entry finally became low enough."
Wagner's not alone. According to the Wisconsin Department of Transportation, 9,039 EVs are currently registered in Wisconsin, a 20% increase from September 2021.
With gas prices remaining above $4 per gallon, consumers are switching to electric vehicles at a record pace. EV sales shot up 60% in the first quarter of 2022, and 71% of Americans expressed interest in buying or leasing an EV in a recent Consumer Reports survey.
In fact, EVs now make up over 5% of all U.S. new car sales, according to Bloomberg. Its data analysis of 18 other countries with higher EV sales than the U.S. shows that 5% is the threshold for widespread market adoption, meaning EVs could account for a quarter of all U.S. new car sales by 2025.
Charging up
Like all batteries, EVs only charge using direct current (DC) power. However, the U.S. power grid operates on alternating current (AC) power, meaning EV chargers require an inverter to convert power from AC to DC.
EV chargers have three charging levels — Level 1, Level 2 and DC fast charging — all of which require different infrastructure based on what size power inverter is needed. 
Level 1 chargers plug into conventional outlets but charge at just three to five miles of range per hour. An EV would have to charge for nearly a day and a half to make a round trip between Madison and Milwaukee, making Level 1 chargers inadequate for drivers with long commutes.
DC fast charging is far quicker and can charge up to 80% capacity in a half-hour. Fourteen public DC fast charging locations are available in Madison.
But not every car can charge at every station since there are multiple plug types for fast charging.
"Not counting Tesla's Superchargers, there are two standards (CCS and CHAdeMO) for fast charging," Madison Gas and Electric (MGE) spokesperson Steve Schultz said in an email. "EVs made by Nissan and Mitsubishi use the CHAdeMO connector for fast charging while other non-Tesla EVs use the CCS connector. Our fast chargers provide for both standards, which are used across the world."
To help resolve charging network inconsistencies, MGE is installing a comprehensive DC fast charging station on the corner of East Washington Avenue and South Livingston Street. The new station features eight Tesla superchargers and eight ChargePoint-brand fast chargers, making it the first station in Madison where Teslas and other EVs can charge up in the same spot. 
The Tesla chargers are operational, and the ChargePoint chargers will go online this fall.
"With power levels up to 350 kilowatts, the hub has some of the most powerful EV chargers in the Midwest," Schultz said. "These chargers will support charging for EVs with even larger batteries and greater driving ranges in the future while serving EV models with smaller batteries." 
DC fast charging is the quickest way to fill up an EV, but fast chargers cost thousands of dollars to install and are not the most popular charging method. 
"Most people don't need it for day-to-day city driving," Madison fleet superintendent Mahanth Joishy said. "Superchargers become more important for long-distance trips."
Instead, most drivers use Level 2 chargers that cost anywhere from $500 to $2,000 and provide enough power to adequately charge an EV battery overnight. There are at least 45 public Level 2 charging stations in the Madison area, but since 80% of charging takes place at home, according to MGE, the greatest demand for Level 2 chargers is in residential buildings.
"We are lucky to have a Level 2 charger at home now," Wagner said. "We were charging via the included trickle charger (Level 1), which wasn't optimal, and occasional trips to a fast charger or Level 2 charger if we were parking in a city ramp."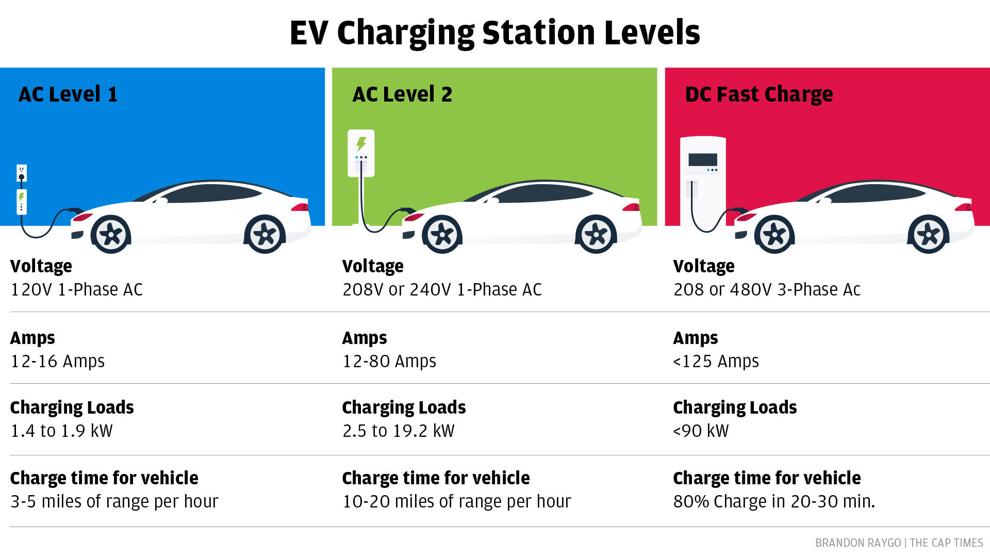 Barriers to installation
Not all residents can easily install Level 2 chargers, though. According to local electrician Gerard Breuing, most older residential buildings' electrical service panels only provide a budget of 200 amps for everything including heating, cooling and lighting.
"It doesn't matter how many solar panels you put on, it doesn't (matter) if you put another generator on, you're limited to that panel and what's available in that panel," Breuing said.
Installing a Level 2 EV charging station requires at least 30 amps of free space. After accounting for all existing electrical uses, most residential buildings have an average of 24 amps to work with, Breuing explained, meaning they would have to upgrade their service panel and other electric gear if they wanted to install a charging station. 
Though his prices change by the hour due to fluctuating parts supplies, Breuing estimates a minimum cost of $105,000 just to make the upgrades necessary to install the charger. That price quickly increases the further a charging station is from the service panel, resulting in a cost most landlords refuse to pay.
"Everything's possible for a cost. But that's the kicker," Breuing said. "Most building owners aren't willing to put that upfront looking into it unless someone else is willing to pay part of that cost."
To alleviate Level 2 charger installation cost barriers, Madison Gas & Electric launched their "Charge@Home" initiative in 2016. The program provides EV drivers with ChargePoint Level 2 chargers, including installation, at no upfront cost. Customers then pay roughly $20 per month to use the charger, with discounts available if they schedule charging at off-peak hours on nights and weekends.
"Demand for electricity to charge EVs can be unpredictable as drivers charge at their convenience," MGE's Schultz said. "Managing demand serves all customers by helping to reduce the need for electric system upgrades and new generation facilities over time."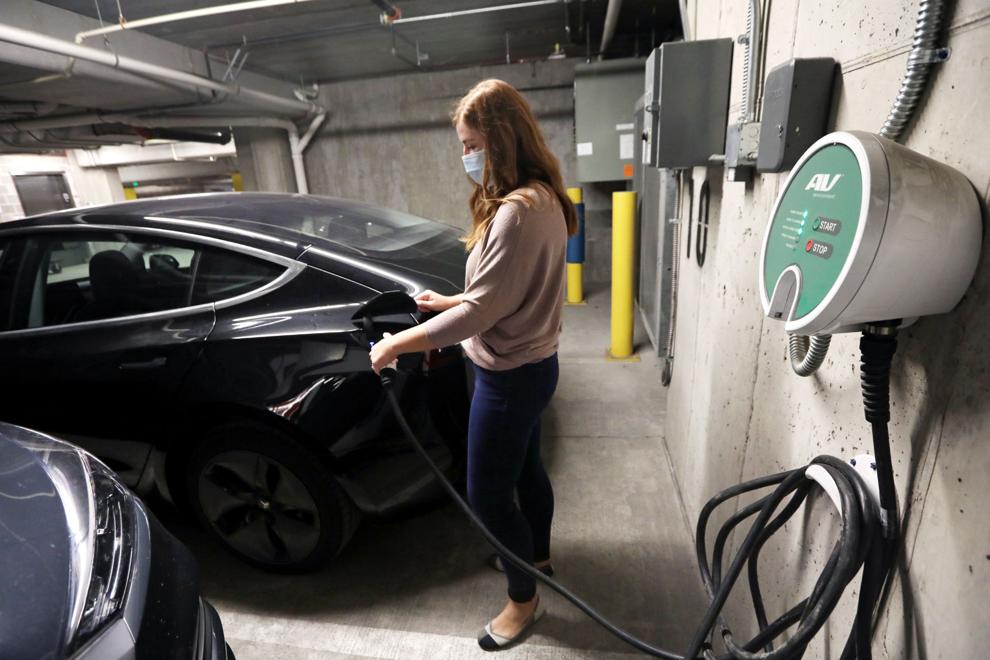 Ambitious city goals
Madison officials are creating new programs for expanded charging access as more EVs hit the road.
The Madison City Council passed an ordinance in early 2021 requiring any new multifamily residential building with over six spots and most commercial parking lots to provide EV charging in at least 1% of spaces, according to the Wisconsin State Journal. The same ordinance also requires wiring for future chargers to be present in at least 10% of spaces. 
"If we are serious about achieving our climate goals in Madison, we have to transition to clean technology and build a city that embraces it," Madison Mayor Satya Rhodes-Conway told the State Journal. "We must ensure that new developments in Madison are built for the 21st century, and this legislation helps to do that."
The city is also partnering with MGE for an ongoing pilot program that placed EV charging stations in 12 parking ramps downtown to study their use and reliability. Other city pilot projects include engineering curbside EV chargers and solar-powered EV chargers that operate completely off-the-grid. Three solar chargers already exist, according to Madison fleet superintendent Joishy, with more planned in the future.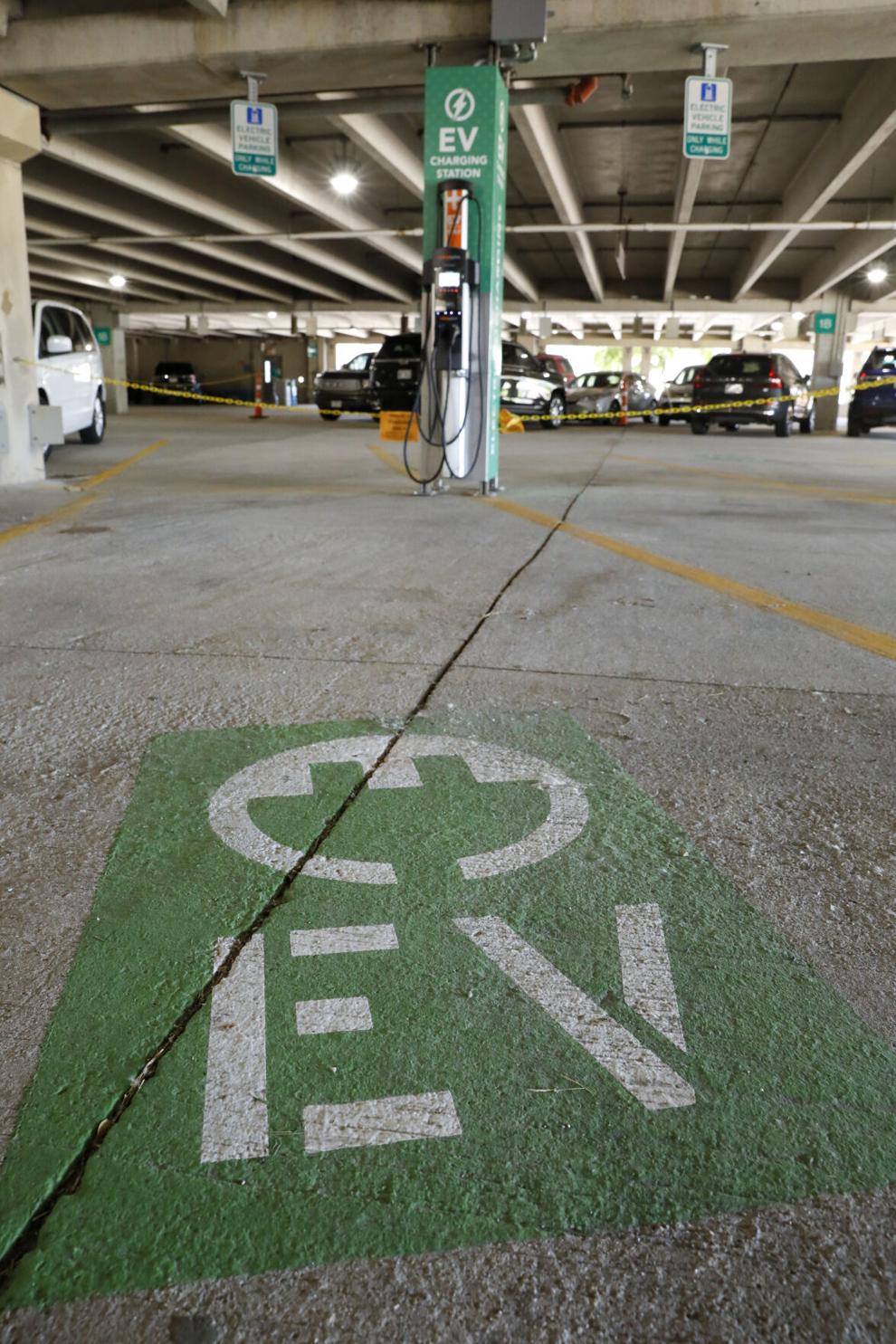 City officials encourage offices and other workplaces to install chargers outside their buildings for employees to use. 
"My building that I work at, I actually charge up on our solar chargers with my own personal car," Joishy said. "We're trying to encourage buildings, companies and other groups to do that."
Madison's most ambitious goal is a 100% zero-emissions fleet by 2030. According to Joishy, all 900 light- and medium-duty vehicles would be electric and all 500 heavy-duty vehicles would operate on 100% soybean-based biodiesel (BD100). 
Some of the city's notable EVs include the nation's first electric fire truck and three electric buses, with more planned to join the fleet when the East-West bus rapid transit route opens in 2024.
Though just 8% of light- and medium-duty vehicles are electric and the city's 500 heavy-duty vehicles run on 20% soybean-based biodiesel fuel (BD20) as of this month, Joishy said Madison is still on track to meet its 2030 goals.
"We want to be a global model for a large fleet," he said. "If we're one of the first large cities to eliminate fossil fuels completely, we can prove to any city in the world that it's possible."
Joishy added that getting vehicles is easy but installing the charging infrastructure is going to take considerable time and financial investments.
"I can just say next year I want to buy 12 electric fire trucks, that's easy," he said. "The hard part is getting the charging infrastructure for it."
Charging 'not great' outside Madison
Though Wagner said accessing EV charging in Madison is "reliable and easy," he's concerned that infrastructure outside of the city isn't sufficient to support increasing EV demand.
"The charging network outside of Madison is not great," Wagner said. "The lack of fast chargers outside of Madison really limits taking an EV on a longer trip — we won't even take it outside of a 60 to 70 mile range."
To resolve long-distance charging gaps, MGE has partnered with the Edison Electric Institute and more than 60 other nationwide utility companies to form the National Electric Highway Coalition. To date, the organization has received $3.4 billion in private corporate funding for its goal to establish adequate national EV charging connections by 2023.
Wisconsin utilities also received $79 million last November from the federal bipartisan infrastructure bill to build an expanded statewide electric vehicle charging network along interstates and other major Wisconsin highways.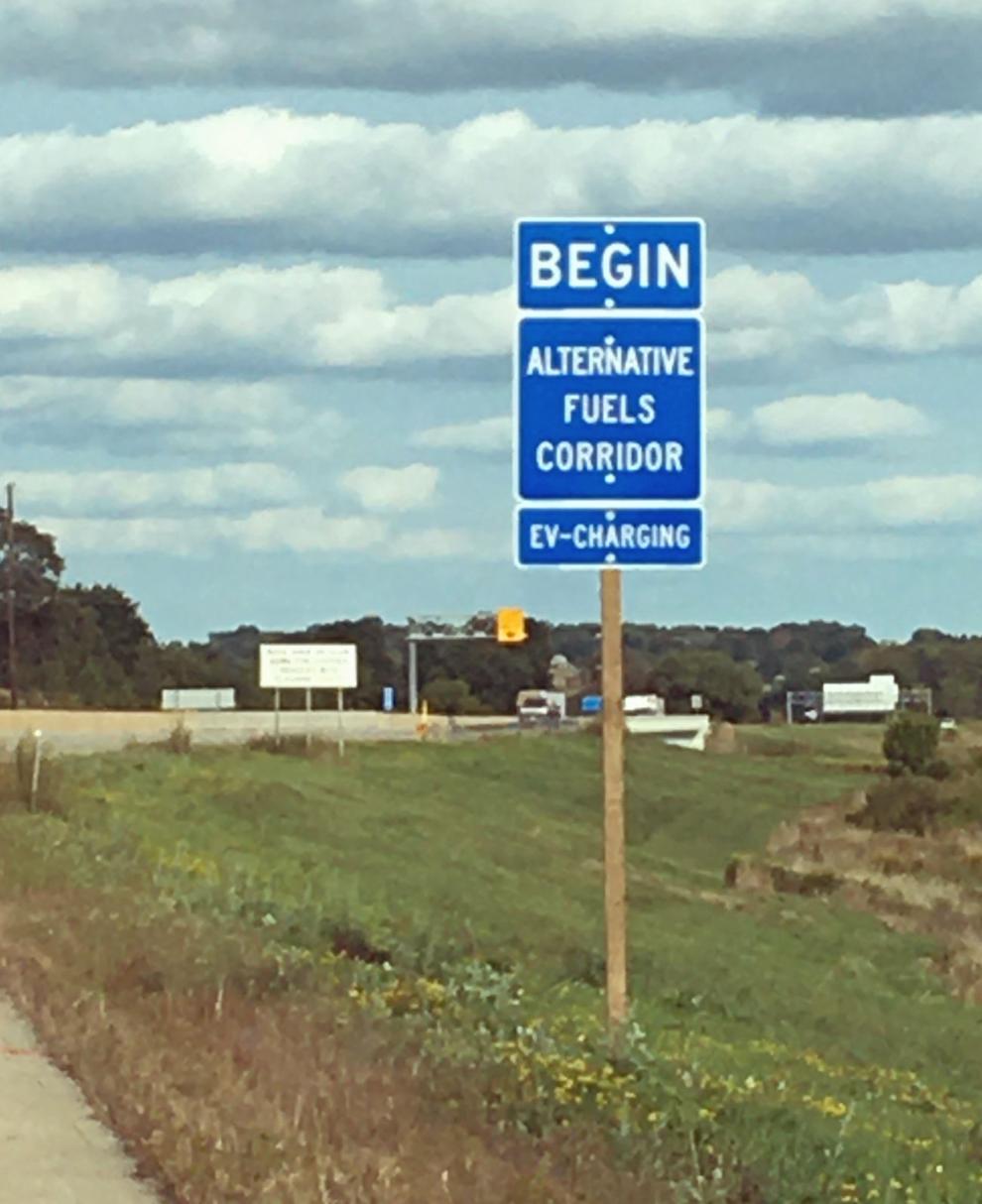 Republicans in the Legislature want to see those investments funneled into private EV charging stations for quicker growth. They proposed a pair of bills last session that would have allowed private businesses to own and charge fees for EV chargers, but the effort stalled after it was amended to ban local governments from owning and operating public EV chargers.
If passed, the bills would have stifled Madison's numerous public-private electrification partnerships and thrown the city-owned EV charging network into legal uncertainty.
"The amendment… would significantly impact the city's ability to respond to needs in the future, and gives energy and private companies full control of the future of EV infrastructure for public use," Rhodes-Conway's chief of staff Mary Bottari told the Cap Times in February.
Wisconsin officials are required to disclose their plans for spending the $79 million investment to the federal government by Aug. 1, according to WisDOT's public affairs office. The plan posted to WisDOT's website on Thursday, and public comment on the plan is open until July 24.
For Wagner and other EV drivers, new chargers can't come fast enough.
"Right now, the only real options are the Electrify America (charging) stations at some Walmarts along interstate highways," he said.