In the months between when Rebecca Ryan put together her Cap Times Idea Fest panel on the future of work, the "Great Resignation" of April — when a record four million people quit their jobs — became the Great Wait of early fall.
As much as companies pin their hopes on vaccines and throw out new return-to-office dates, one thing is clear to Ryan: "There's no going back."
"This is unprecedented," said Ryan, who founded NEXT Generation Consulting and brought it to Madison in 2005. "Nobody expected this.
"So here's my question: What the hell is happening with the Great Resignation?"
Well-being at work
Mark Richardson is the president of the Madison company Unfinished Business, which helps organizations acquire and retain talent, and professionals navigate career transitions. Speaking to Ryan in the Memorial Union Play Circle Theater, Richardson said that while reasons to quit vary across generations, it comes down to how we want to spend our time.
"And that goes to how are we treated," Richardson said. "'Oh, you're essential.' Well, pay me like I'm essential, right? And our consumption has changed. We were not out spending money, because we couldn't be out spending money.
"So now, maybe I don't need that job I had. Maybe I'll go get a different one, where I'll be treated better. Or if I'm a boomer, maybe I don't want to work at all. Maybe I tap out, or maybe I start my own thing. Entrepreneurship for 45-plus is through the roof."
Jason Lauritsen, a management trainer and author of "Unlocking High Performance: How to Use Performance Management to Engage and Empower Employees to Reach Their Full Potential," conferenced in from Nebraska. He called the Great Resignation "a reckoning."
"People remember how they were treated when they felt unsafe," Lauritsen said. "Now they have more options. The other thing is, people are burned out. They feel a lack of control, a lack of agency, so they're taking control of what they can.
"One of the things they can control is whether or not they keep showing up to the job they may not like, or may not believe in anymore."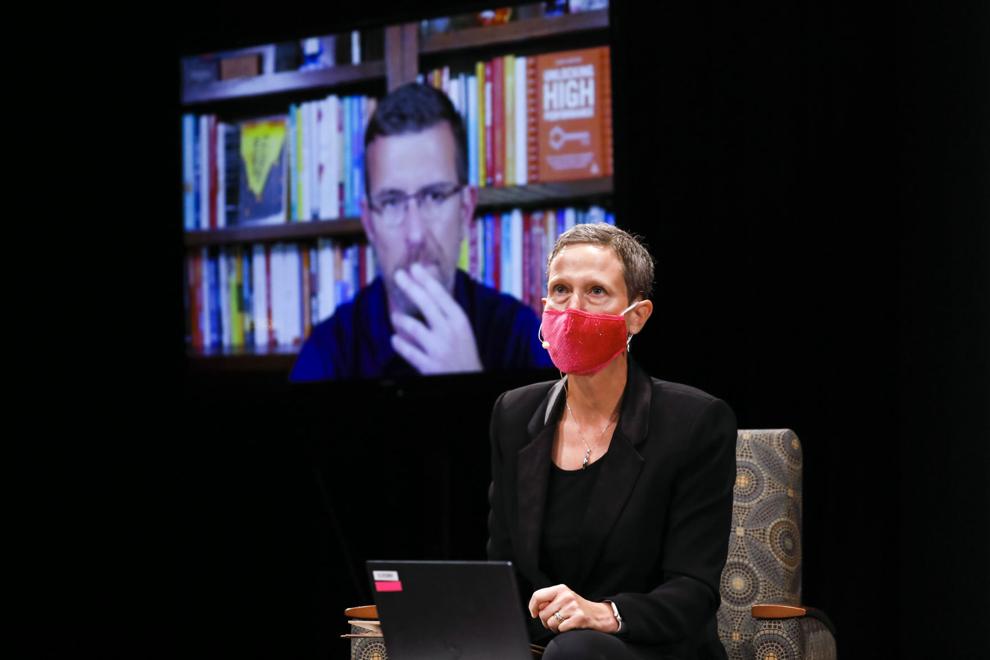 Companies that want to retain workers must learn to treat them with compassion, as whole people, Lauritsen said. Well-being is more than a "corporate wellness program parked in a corner," he said.
"I think of compassion as a competency," he said. "Developing it in leaders and managers and your employees … not only will make our workplaces and work experiences better. If you teach this to people at work, you may very well change their lives and change the world."
To Shahar Erez, co-founder and CEO of the freelance management platform Stoke, the Great Resignation is one more step in how our relationship to work and the workplace has evolved. Erez conferenced in from Israel, where it was nearing midnight.
"People have had enough of tying their destination, their future, to a single workplace," Erez said. "People have this understanding that they should get paid for the work they do and the value they bring, and they don't necessarily need to be anyone's employee."
Some may believe companies are the ones pushing to have more independent contractors rather than employees, Erez said, but that's not the case.
"The majority of the trend is coming from millennials and Gen Z wanting a different social contract," he said. "People are realizing that future-proof careers need flexibility, working on your network, developing your skills, and most importantly, having lifelong learning." 
Power swing
So what's next? For one, several panelists said, companies need to change how they hire.  
"Companies are still insisting on recruiting the way they recruited a decade ago, regardless of the pandemic," Erez said. That means trying to hire full-time employees versus contractors and offering weak incentives like signing bonuses.
Companies need to "start thinking differently, strategically, and realize that the effects of the pandemic are not going to go as soon as everyone's vaccinated, but these changes are for good," Erez said. "We're going to see a completely different work environment from here on."
Panelists pointed to CEO screw-ups during the pandemic that proved illuminating, like refusing to accommodate remote work, requiring staff to have Zoom on all day (to simulate an "open culture") and setting arbitrary dates for returning to a physical office.
The lack of transparency, and not understanding that communication goes two ways, are major fails, Richardson said.
"Don't pretend to have an answer you don't have," Richardson said. "You should be listening to your employees, because they're going to tell you what you should and should not be doing."
Lauritsen agreed. "Any CEO that definitively says, 'We're going to do this and everybody's getting treated the same' is a blatant screw-up," he said. "That hasn't worked ever."
Leaders need to build trust to retain their staff. For years, Lauritsen said, employees have been asking for flexibility and executives have denied them, saying it wasn't possible.
"You'd have a person say, 'It would really help me if I could have a couple days off a week or go home early so I can pick up my kids from school,'" Lauritsen said. "And it's like, 'Nope, your job can't be done that way.' And then bam, March 2020, we made it happen in a week.
"The employees were like, 'Now we know you've been lying to us. ... We don't trust you.'"
Richardson advised that employers keep "talent pipeline profiles" on hand for staffers, a kind of internal dossier. Go beyond their current job performance, he said, and put stuff in there about what they went to school for, what they did prior to this job and what their aspirations are.
"If that person is going to progress, which quite frankly Gen Z and millennials expect to, they're going to progress with you or they're going to progress somewhere else," Richardson said. "So we should be looking at what they want to do."
Ultimately, what the Great Resignation tells Ryan is that confidence and power are beginning to swing to employees.
"Corporations for a long time have had all the psychological benefit of having the power in the relationship," she said. "What the Great Resignation has proven is that workers are starting to come into their own.
"We are living through an experiment in the free market system and the relationship between workers and their employers. This is an enormous opportunity to re-oxygenate the economy, to put different people with different skills doing different things.
"In my opinion, it's long overdue."