Polling places hadn't even closed on Nov. 3, 2020, before the legitimacy of last year's presidential election between President Joe Biden and former President Donald Trump was called into question. 
Accusations of ballot dumping, miscast votes and improper ballot processing mired the election in doubt, fueling what's seen as a disinformation campaign to stoke fears about widespread voter fraud known as "the Big Lie." Despite a lack of evidence and Biden's Jan. 6 certification as the 46th president of the United States, belief in the "Big Lie" and efforts to prove its claims persist. 
During a Saturday Cap Times Idea Fest session titled "Dark Money and Democracy," New Yorker investigative reporter Jane Mayer spoke with Washington Post associate editor David Maraniss about how the "Big Lie" fits into broader attempts to influence the electoral process in the U.S. Mayer, an expert on "dark money" who began investigating its role in American politics around the advent of the tea party, also attempted to lift the veil on the secretive groups funding these efforts. 
Mayer described dark money as "undisclosed money flowing into American politics from people whose identities are not known," including nonprofit or tax-exempt charities. This is problematic, she said, because the IRS prohibits tax-exempt charities from using donations to influence partisan politics. 
"This is philanthropy that's become weaponized," she said. "And it's really become a huge force in American politics.
"What we've seen in the last 40 years, especially in American politics, is that a number of just spectacularly rich, very, very far-right fringe political ideologues have taken their fortunes and poured them into political activism under another name," Mayer added, nodding to conservative figures like Charles and David Koch.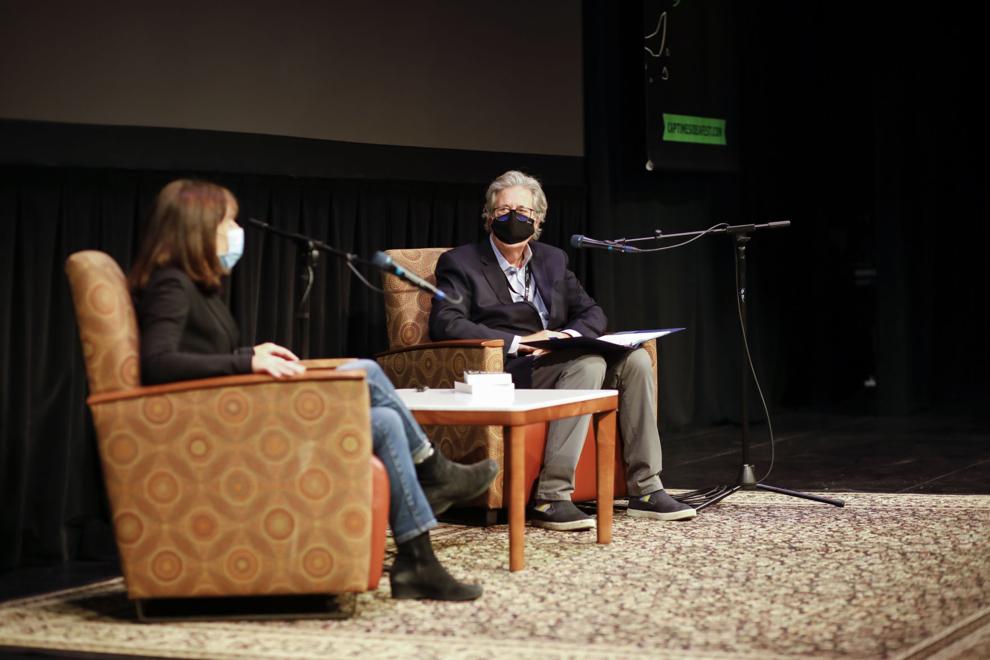 As an example of this so-called political activism, Mayer discussed the controversial "forensic audit" of 2020 presidential election ballots in Maricopa County, Arizona, where she traveled to investigate the behind-the-scenes players keeping the belief in the "Big Lie" alive. 
One of those players, Mayer found, includes Milwaukee's Lynde and Harry Bradley Foundation. It's a group she dubbed in a recent article "an extraordinary force in persuading mainstream Republicans to support radical challenges to election rules." 
Since 2012, Mayer reported, the Bradley Foundation has given $18 million to groups focused on influencing election laws in the U.S. The Bradley Foundation released a statement disputing some of the claims from Mayer's article — particularly those related to its monetary contributions — and characterized their donations as "doing election integrity work."
Challenges such as these — many of which have been introduced with the intention of improving "election integrity" — will only serve to undermine America's democratic process, Mayer said. Some challenges to the 2020 presidential election outcomes are even ongoing, including litigation in Georgia and a Republican-backed investigation in Wisconsin.
"It is an American presidential election that is still being contested now, and what message does that send to Americans?" Mayer said. "It suggests that you can't rely on our democracy — that our elections are faked, that they're corrupt."
"It's not just about what happened in 2020. It's laying the groundwork for 2022 and 2024," Mayer added. "If you can say that the state of Arizona's election was in some ways stolen, then it becomes an excuse for cracking down on election laws all over the country. … It's kind of a dangerous game, really."
"Is this the new normal? Do you think that the Republican Party will be challenging every election from now on?" Maraniss asked, citing the recent, unsuccessful recall election of California's Democratic Gov. Gavin Newsom and early claims of election fraud from conservative challenger Larry Elder.
Yes and no, Mayer said, noting that some Republican leaders have come to acknowledge the accusations of election fraud as "self-destructive" and ineffective. But that hasn't stopped everyone from leaning in. 
"What fascinated me was so much of the Republican establishment ... has gone in on it now," she said. "So you see big, powerful and prestigious organizations putting money into spreading the idea that American elections are rife with fraud and that they can't be relied on. And that is a lie."
So, what's to be done?
"I think the IRS could play a great role if they had the guts and also the wherewithal," she said, while acknowledging a Republican-led push to slash the agency's budget. "It could really bring down the hammer on these groups because no group is supposed to get charitable status that is involved in partisan electoral politics ... I would love to see a good suit brought before them."
"I feel like I'm doing some good," Mayer later added, acknowledging her role in raising public awareness around the topic. "The idea that motivates me is if I tell this country what's going on and give readers facts that, if something's wrong, they can fix it. So, I feel like I'm part of a process of reform and renewal, I hope."