It would be so easy to hate Belmira, the younger sister in "The River Bride."
The emotional center of Marisela Treviño Orta's marvelous mythological romance, now running in American Players Theatre's Touchstone Theatre, is arguably older sister Helena (Melisa Pereyra).
Helena is thoughtful and practical, a bit of a wallflower. "My only sister," Belmira says, "who hides her true feelings. Who's too afraid to go after what she wants."
In the storied tradition of younger sisters onstage, Belmira is a lot more fun. "Love is for the bold!" she cries. Played by Gabriela Castillo with a heart-shaped face and a light step, Belmira's name means "beautiful sight," and she's as restless to fly her tiny Brazilian fishing village as Belle was to quit the French countryside.
Belmira knows how to soothe a man, which words and gestures to use to get what she wants. Belmira takes from her sister without thinking — attention, clothes, boyfriends.
As Helena, Pereyra's eyes flicker with pain and frustration. But there's affection there too, and as the silk slips from her hands she does not protest.
We could hate Belmira, and I'd wager some audiences will. But Belmira simply wants to be seen. She wants to see new things. Who would begrudge her this?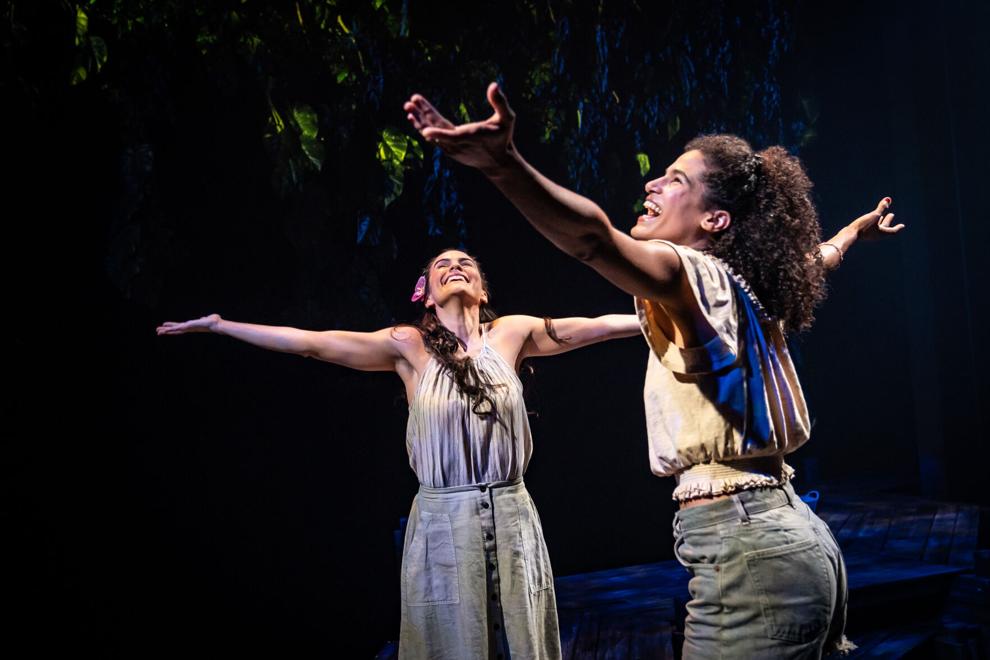 Inspired by Brazilian folklore, "The River Bride" unfolds over the three days before Belmira's wedding to Duarte (Eduardo Xavier Curley-Carrillo), a quiet fisherman. Amid ominous weather, Duarte and his future father-in-law pull a young man dressed in fine white clothes from the river.
The man introduces himself as Moises (Ronald Román-Meléndez) and casts his eye toward Helena, to the sisters' mutual surprise. Around their budding romance, an "old wives' tale" swirls, about river dolphins who can turn themselves into men for a few days in June.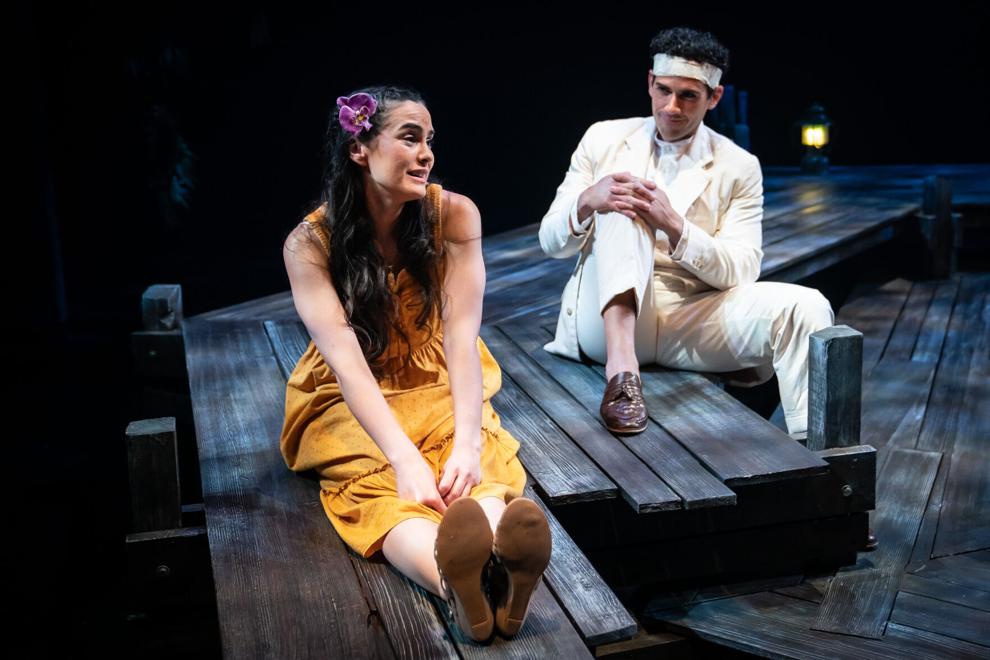 Where there is magic, there are rules, and the clock is ticking for Moises. "I don't have the luxury of a more measured courtship," he says. Will Helena take a leap of faith?
Director Robert Ramirez was a voice and text coach for the world premiere of "The River Bride," six years ago at Oregon Shakespeare Theatre. (Actor Triney Sandoval reprises his role as the father at APT as well, in a wonderful, warm performance.)
Ramirez returns to the play this summer in a production rescheduled from 2020. His sweeping, atmospheric staging blends the fantastical and the real, honoring the poetry in the script and drawing us fully into the world of the play.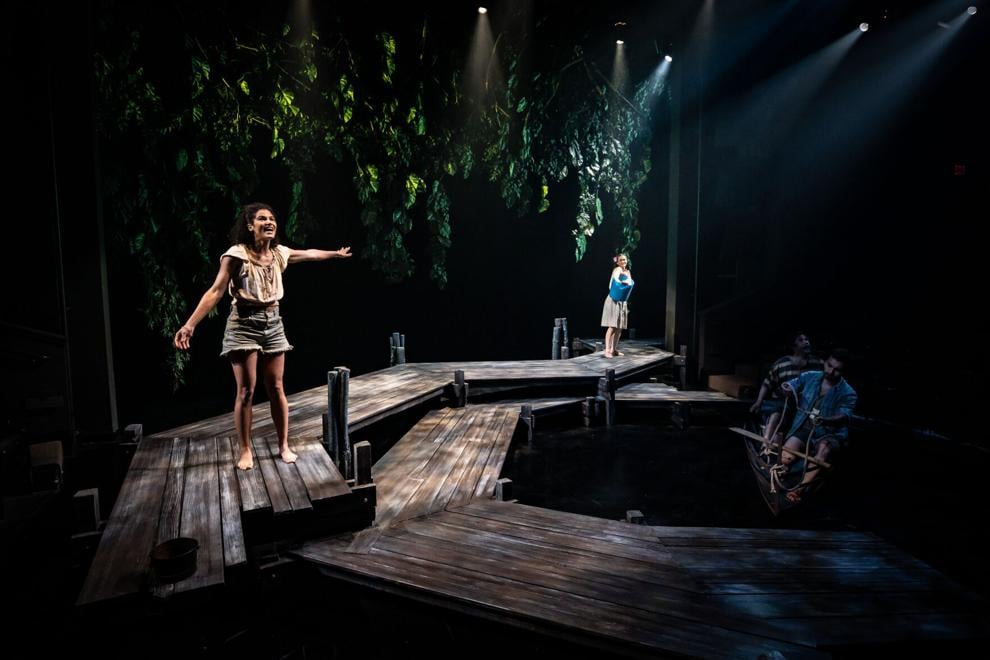 To that end, scenic designer Regina Garcia drapes the stage with vines. Above a wooden pier, Garcia fills the playing space with a misty haze, like steam rising from the river below. Sound designer Brandon Reed creates a 360-degree soundscape of thunder, moving water and chimes that, paired with Jesse Klug's vivid, golden light, can stop time.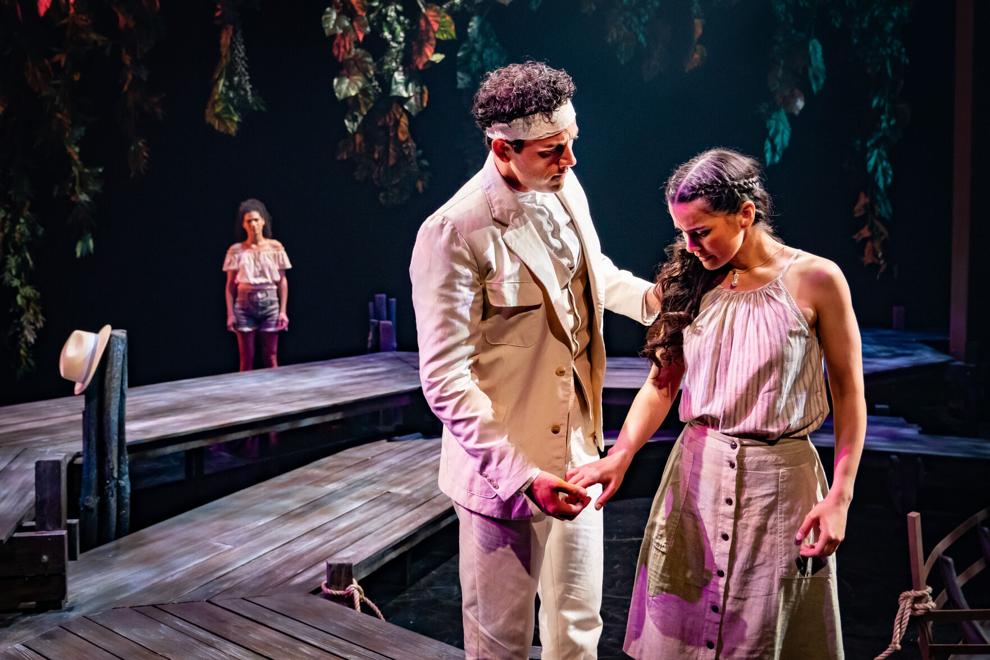 As the lovers, Pereyra and Román-Meléndez match each other's energy, allowing each pause to breathe. Pereyra is such an expressive, grounded performer, and Román-Meléndez keeps his character's hope and worry at a constant simmer.
The legend of pink river dolphins who transform into humans in search of love ("boto encantado" or "boto cor-de-rosa") was new to me, and seems to have some very dark origins. Treviño Orta has said she began the play as a cautionary tale. Viewers might take away a moral lesson or two about the sacrifice inherent in making a choice, or perhaps the cost of waiting too long to make one.
But I'd say the truest pleasure of "River Bride" is in the sinking, a 90-minute surrender to the sounds of the river and the mist and the vines.
This is a story that can pull a person in and carry her like a current. Why not let it?