At the start of "The Brothers Size," three shirtless actors move steadily and rhythmically toward the stage, stomping on the stairs from three separate directions.
They pause as the music changes and lights shift, illuminating each man from above. This is Ogun Size, older brother. Oshoosi Size, younger brother. And Elegba. He's ... a friend.
As cast for American Players Theatre's insightful new production by director Gavin Lawrence, Ogun and Oshoosi appear close in age. Before they smile or speak — before one gaze hardens and the other melts into earnestness — it would be possible for either actor to play either role.
Not Elegba, though. Elegba's canny, a trickster. As embodied by Nathan Barlow, the impishness in his mouth and sly cant of his gaze hint at mischief just beneath the surface, before he says a single word.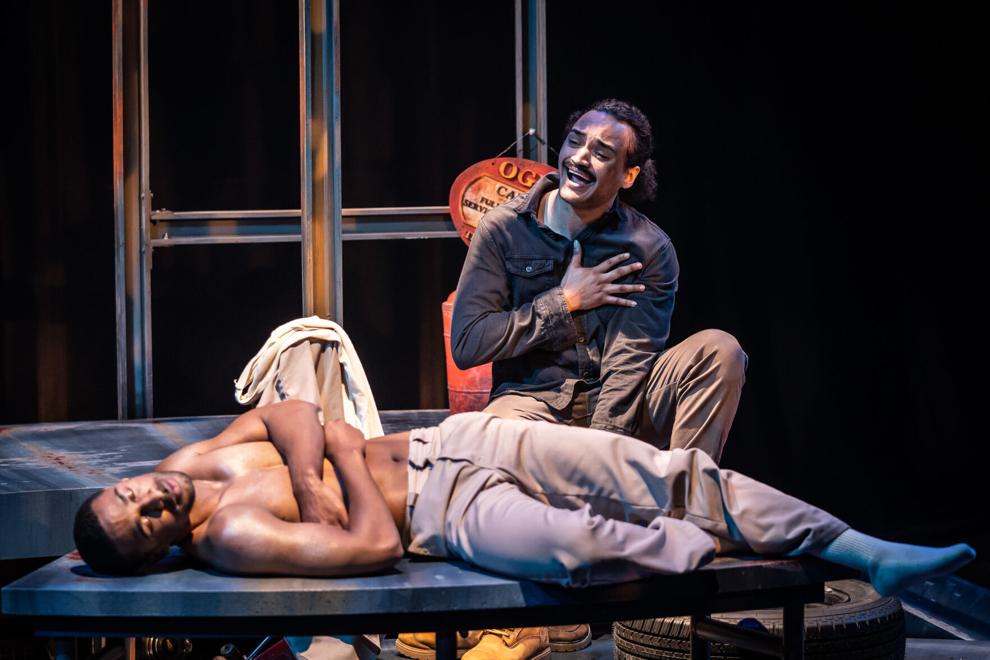 First produced in 2006, Tarell Alvin McCraney's "The Brothers Size" explores brotherly love, the lingering trauma of prison, race and sexuality using a poetic, musical style. It's the second play in a trilogy by McCraney, known best for his 2016 Oscar-winning film "Moonlight."
As the play begins, Oshoosi (Derrick Moore), recently out of prison, is adjusting to life outside bars while living with his brother, Ogun (Rasell Holt), a mechanic with his own shop in their southern Louisiana hometown.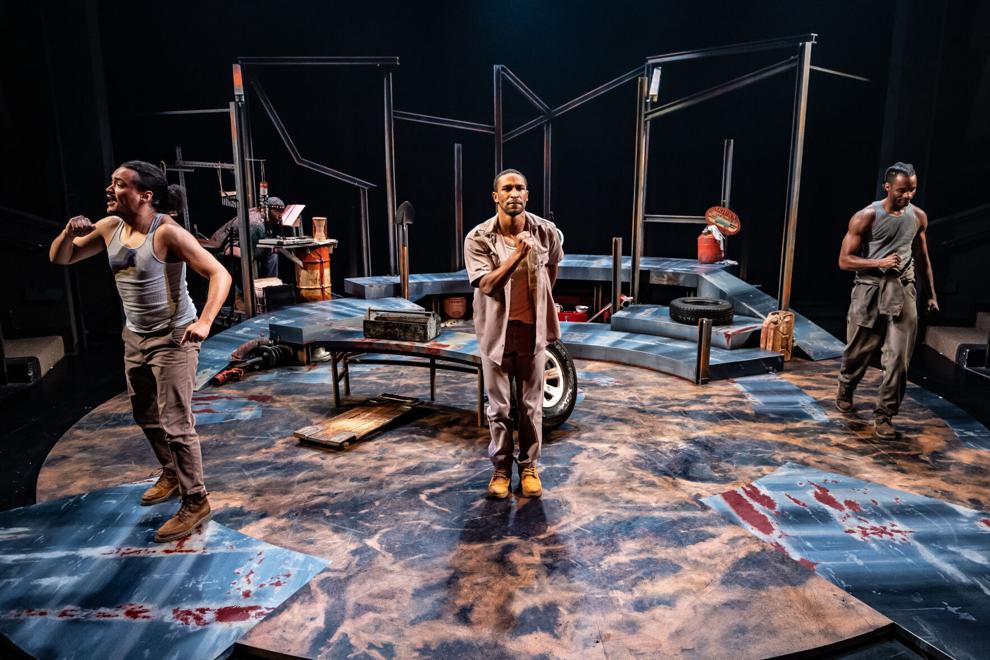 Though prison haunts him at night, Moore's Oshoosi has a sincere, open face and a trusting nature. He's all kid brother, dragging his heels to work and chafing at Ogun's paternalistic attempts to set him straight.
"Why you got to be so hard all the time?" he pouts.
But Oshoosi relies on his brother, and has since they were orphaned as kids. When Ogun leaves him one morning to get to work on his own, Oshoosi wails like he's been abandoned. "You left me!"
For his part, Ogun loves and resents Oshoosi in shades specific to siblings. As he listens to Oshoosi prattle about cars and girls, Holt taps into Ogun's quiet strength and, later, his pain and loneliness. In dream sequences, Ogun writhes like he's being tortured. (Lawrence's choreography throughout is often punctuated by percussive breathing, pushing a thrumming intensity through the story.)
To Ogun's irritation, Elegba calls Oshoosi "brother" too. The two met in prison, and Elegba stays as close as he can, proffering a souped-up car as a lure. Barlow plays Elegba with a soulful voice and puckish grin that seems to extend to the ends of his curly hair.
"You know me," he drawls. "I don't mean nothing. Talk too much and too slow."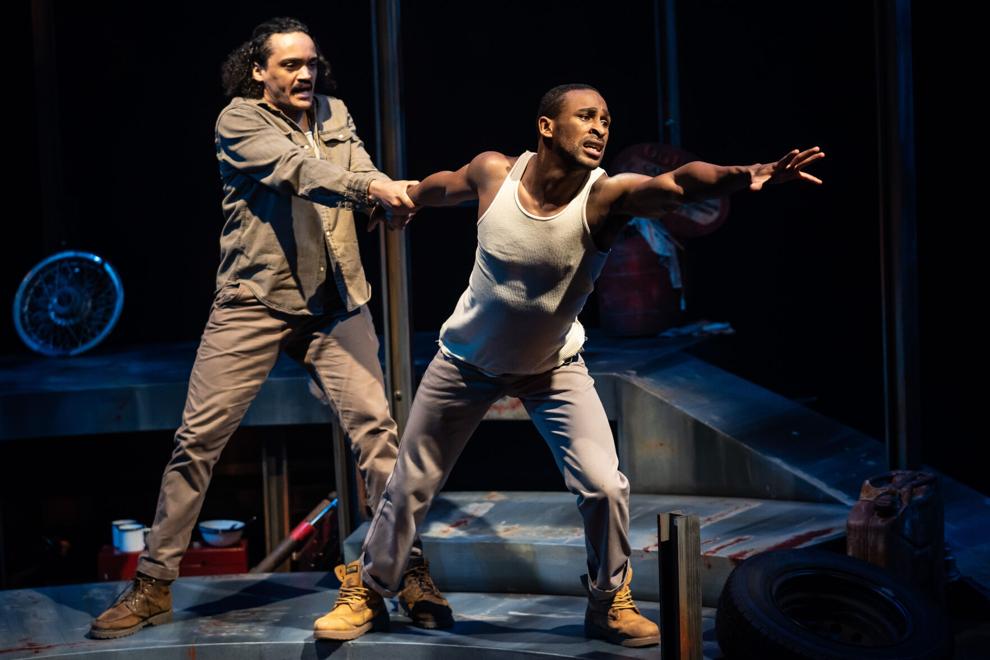 "The Brothers Size" freely draws on Yoruba storytelling traditions. Characters dream prophetic dreams, and their personalities are drawn from that mythology. Lawrence leans into this heritage further in his Touchstone Theatre staging.
To rich, African-inflected sound design by Josh Schmidt, Lawrence adds a new character, The Griot (Jamaque Newberry), or storyteller. Newberry guides the feel of the action with a steel drum, chimes and other instruments. As Ogun tells a story of lost love, a single, ringing note can cast a spell.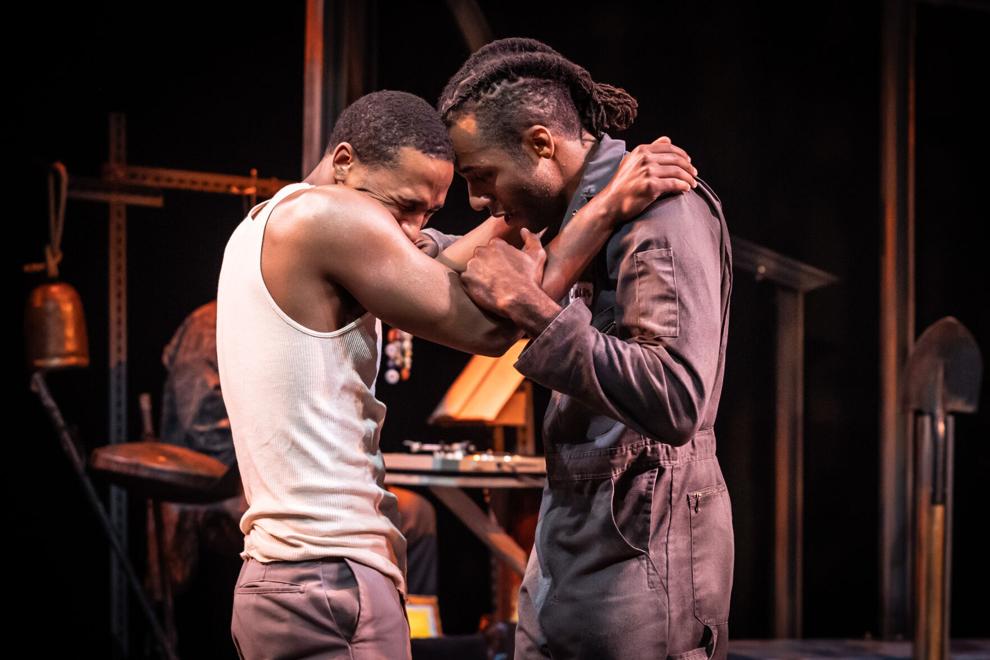 Accompanied by Michael A. Peterson's impressionistic lighting design, these sound cues give the play an out-of-time quality. McCraney sets the action in the "distant present," and no technology pins it down.
"The Brothers Size" is a fitting brother to "The River Bride," also running in the Touchstone. Both explore fraught relationships between siblings; both are intimately linked with folklore. The characters wrestle with hope and fear in similar ways.
Though "The Brothers Size" has a more masculine energy, Lawrence focuses on the tender underside of the pain and anger, and the delicate moments of peace these men find. It's a moving reminder of the fragility of freedom for Black men living in America, which is what Lawrence clearly intends.
"Still we try," Lawrence writes in his director's notes. "Still we share. Still we love."