CHICAGO — I used to play a game at my house called "speck of dust or flea."
My husband couldn't see them. He believed me, but the bugs were invisible to him, tinier than cracked pepper. I'd strap a light on my head, stare at the floor and find them — a speck on the rug near the dresser, two more at the foot of the bed. Jumping. Looking for a "blood meal."
Few things are so distressing to the mind as a threat that's menacing and unseen. "Bug," now at Chicago's Steppenwolf Theatre through Dec. 12, builds a sense of unease and dissociation gradually. It's a horror that lives at home.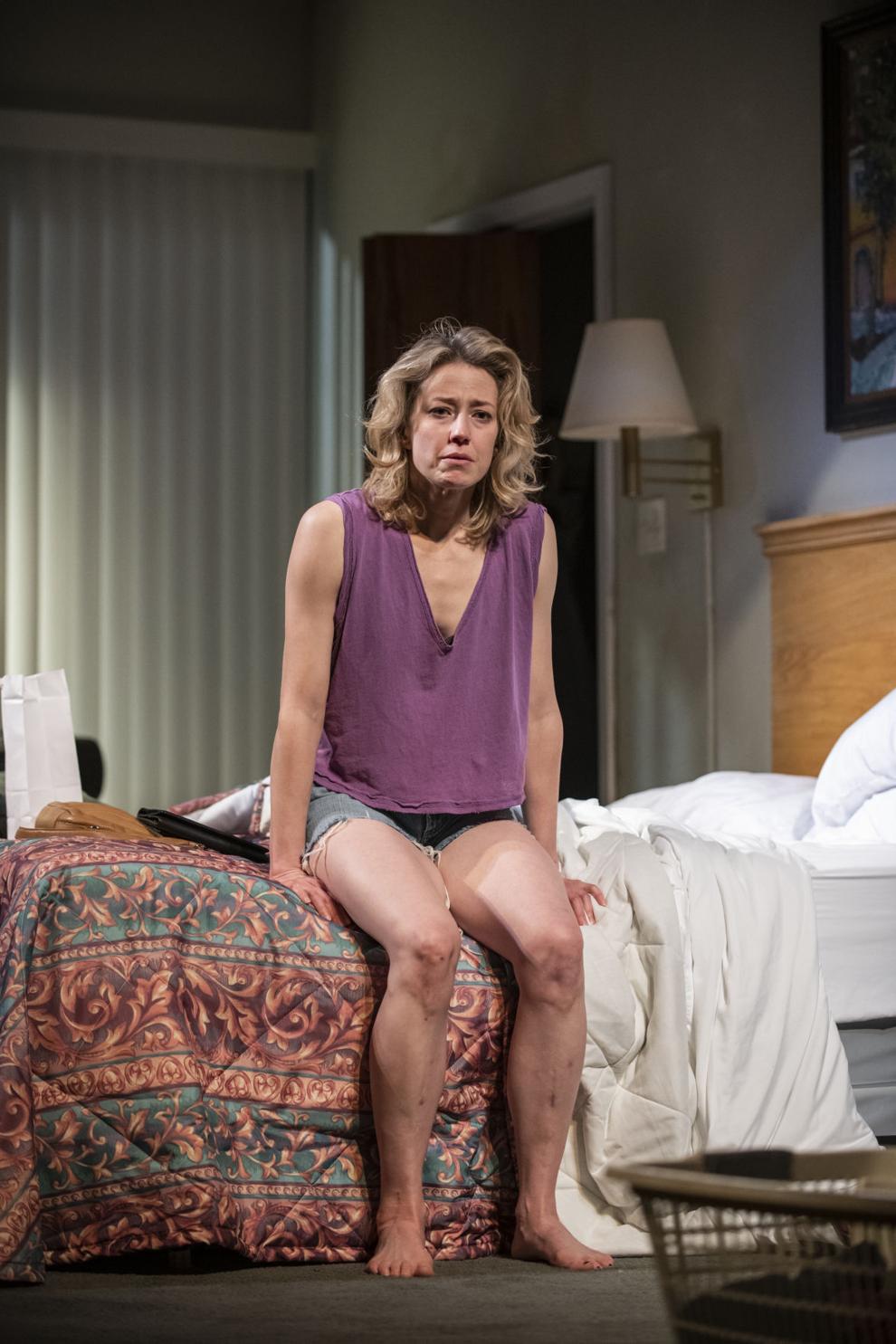 Playwright Tracy Letts wrote "Bug" in 1996. Since then, this play of mundane paranoia has popped up in community theaters and college programs; it was made into a trippy film with Ashley Judd in 2008. Steppenwolf put up a production starring UW-Madison grad Carrie Coon (Letts' wife) in February 2020.
The company remounts it to kick off the live 2021-22 season, after "we have all experienced … our own alienations," new artistic directors Glenn Davis and Audrey Francis write in their program notes. Our relationship to conspiracy theories has shifted a bit, too.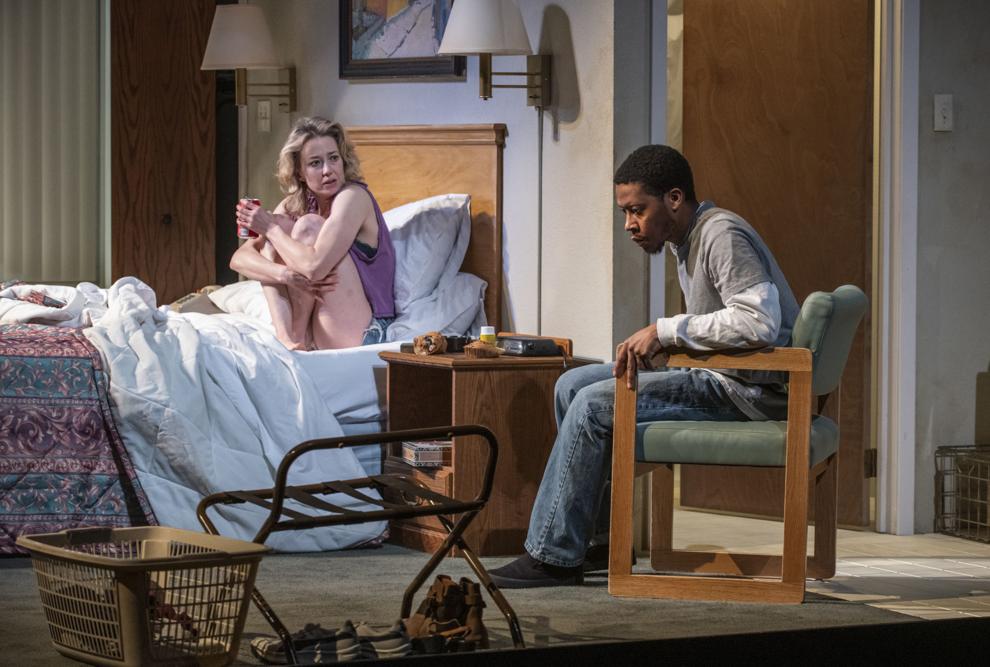 Coon plays Agnes, an Oklahoma waitress with a flimsy lock on the door of the motel room where she lives, an abusive ex newly out of prison, one pretty good friend and a low-grade crack cocaine habit.
That one friend, R.C. (Jennifer Engstrom, no-nonsense and forceful) introduces her to Peter (Namir Smallwood), a tiki cocktail of red flags. Agnes extends to him her floor, then her bed, as he mutters about the radioactive chemicals in her smoke alarm.
"You're never really safe," Peter insists. "We'll never really be safe again. We can't be, not with all the technology, and the chemicals, and the information."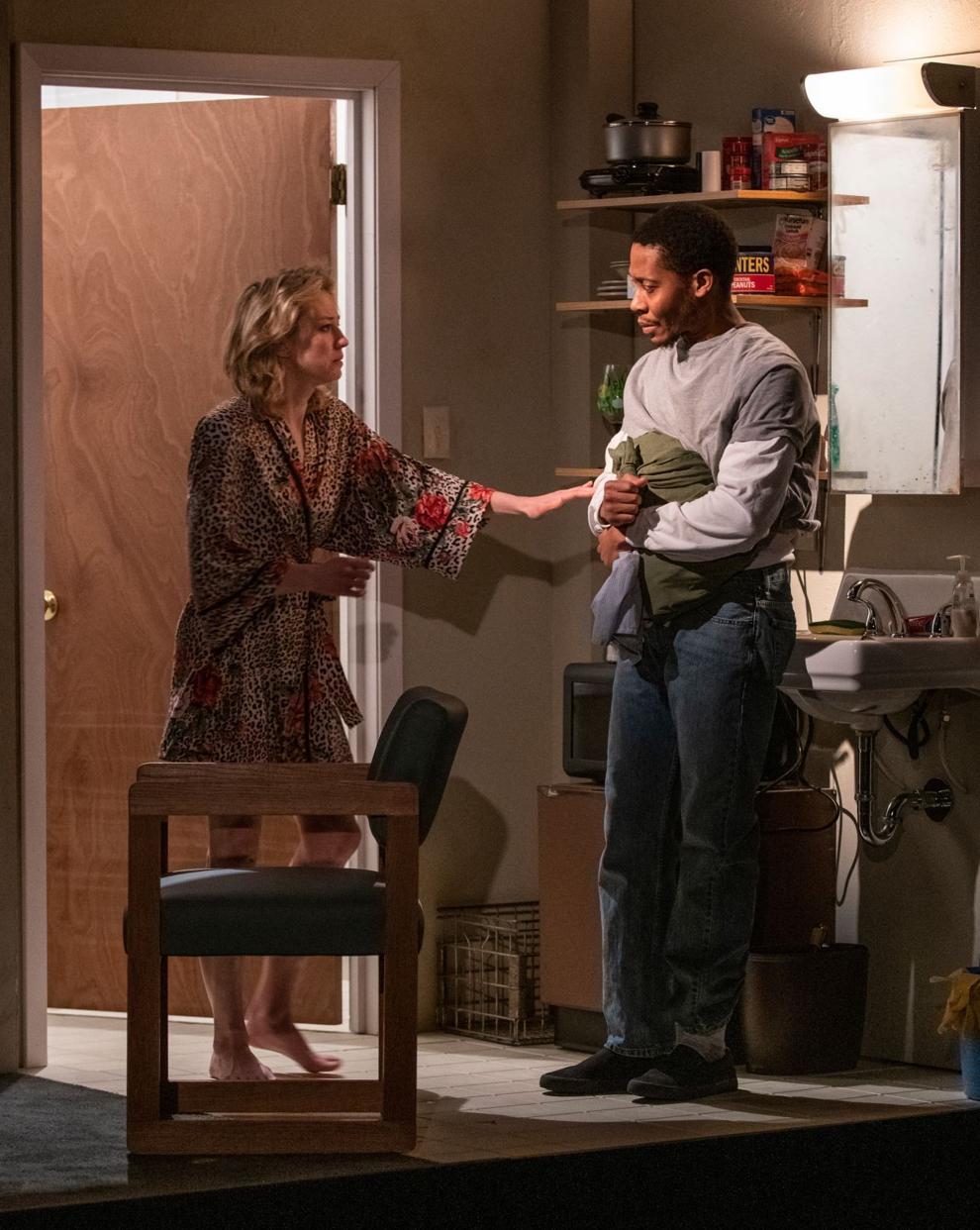 Agnes's volatile, violent ex-husband (Steve Key, instantly terrifying) has just shown back up on the scene. She's scared at night. She already believes that Peter is right when the first bug shows up in their bed.
As the little room fills with bleach and fly paper, director David Cromer inches from mundanity to nightmare, each step chillingly close to the next. Takeshi Kata (who frequently works at American Players Theatre) designed the intensely detailed and realistic set, set off by slanted sunlight from outside and a fuzzy fluorescent fixture above the sink-top vanity (Heather Gilbert designed the lights). Sounds designer Josh Schmidt's buzzing, swarming sound effects lend a palpable unease.
Few actors can make a moment feel as lived, and lived in, as Coon, with her raw, expressive face and fearless physicality. As Smallwood's Peter gets twitchier, she begins to mirror him, absorbing and reflecting his jitters. She throws herself across the bed after a slap, throws a phone, throws her body on top of Peter's as he seizes under a blanket. The ability to look so natural onstage feels like a kind of magic.
As Peter, Smallwood looks wound as tightly as a tourniquet. Paranoia with hints at military trauma roll off him like smoke from the pipe that's very likely making it worse. Together, Coon and Smallwood share the least sexy nude scenes ever staged, both of them needy and tortured.
I've seen, in previous productions, the character of Agnes have a moment of clarity where she decides that the world of neurosis and conspiracy in which Peter lives is better than the crushing loneliness, pain and fear of her daily life. Cromer makes this evolution more subtle, and Coon makes it more maternal. Peter seems almost like Agnes's lost son, even as she trades one kind of abuse for another.
Like many of Letts' plays ("August, Osage County," "Mary Page Marlowe"), "Bug" endures because of how well Letts writes complex, damaged people. It's unsettling in part because it doesn't seem so unlikely, at a time when some Americans appear to believe that the COVID-19 vaccine can implant a microchip.
That's the appeal of a conspiracy theory, right? Something massive and organized is trying to eliminate us, but also cares enough to make you the center of the plot. Your pain is important. You are important.
Into this twisted thinking sneak the bugs, creeping and near-invisible, maybe unkillable.
I don't play the "dust or flea" game at my house anymore, thank Advantage. But when I got back to the hotel, I checked the edges of the mattress. Just in case.