Warning: 106-year-old spoiler alert ahead. I don't think I really got the twist ending of O. Henry's classic 1905 Christmas short story "The Gift of the Magi."
I mean, I understand the irony of a husband selling his watch to buy his wife a comb for Christmas, while the wife has sold her hair to buy her husband a watch fob. But what was the meaning of it, other than maybe you should plan out your gift giving a little better? Why were these foolish lovers compared to the Three Wise Men?
I get it now, thanks to American Players Theatre's marvelous production of "Gift of the Magi," adapted into a musical for the stage by James DeVita and Josh Schmidt and directed by Malkia Stampley. This revival, running through Dec. 19 in the Touchstone Theatre as well as online (Dec. 6-19), retains every ounce of the slender story's original charm while broadening and deepening its themes. O. Henry (as played by Brian Mani) calls the story a "modest gift," reinforcing the well-worn notion that sometimes the best things come in small packages.
That gift is especially welcome at the end of a 2021 season which saw APT return to live performance after being sidelined by the pandemic for 2020. "It's such a simple thing to gather together," Mani says to the audience at the start of the performance. "And yet, it is everything, isn't it?" He then conducts the audience in singing the last line of "Joy to the World," ("let earth receive her king"), a magical act of fellowship to open the show.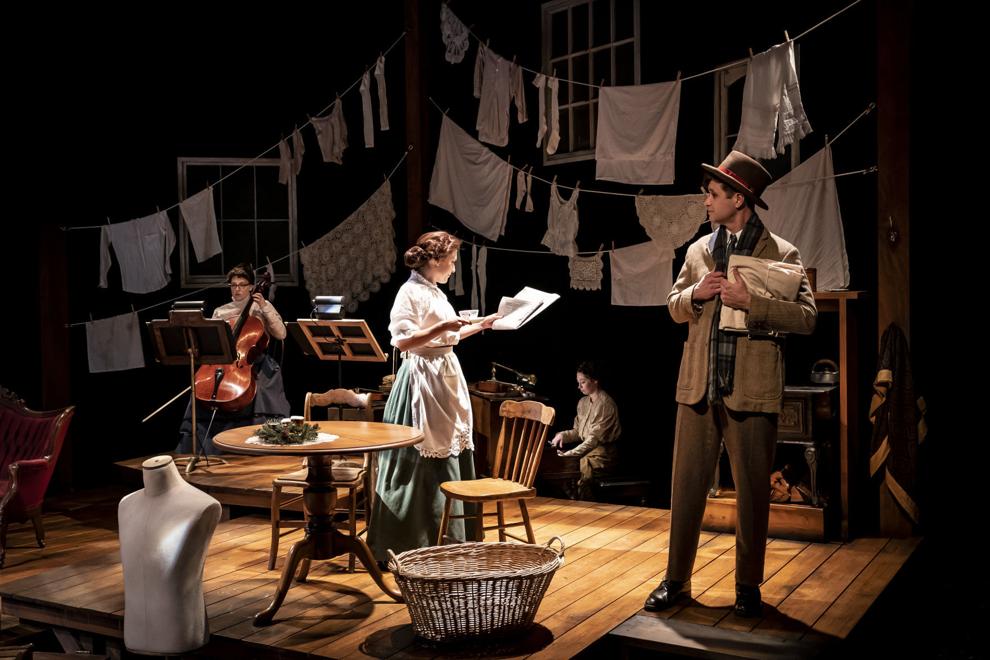 The audience first sees Jim (Marcus Truschinski) and Della (Kelsey Brennan) in a pantomime of early courtship. But when they speak, they are well into a marriage on the margins of 1908 New York, living in an eight-dollar-a-month tenement. Madelyn Yee's stage design emphasizes both the warmth and the weariness of their lives, with an elevated wooden stage representing their home. At the rear, white undergarments and bedsheets hang on criss-crossing wires to represent the "clothesline canyon" view out the tenement window.
Downstage, more planks of wood reach out to the audience but don't quite make it all the way, as if the production ran out of money halfway through. It's this area that represents the world outside the couple's cozy abode, which can occasionally seem cold and forbidding under lighting designer Jared Gooding's harsh blue light.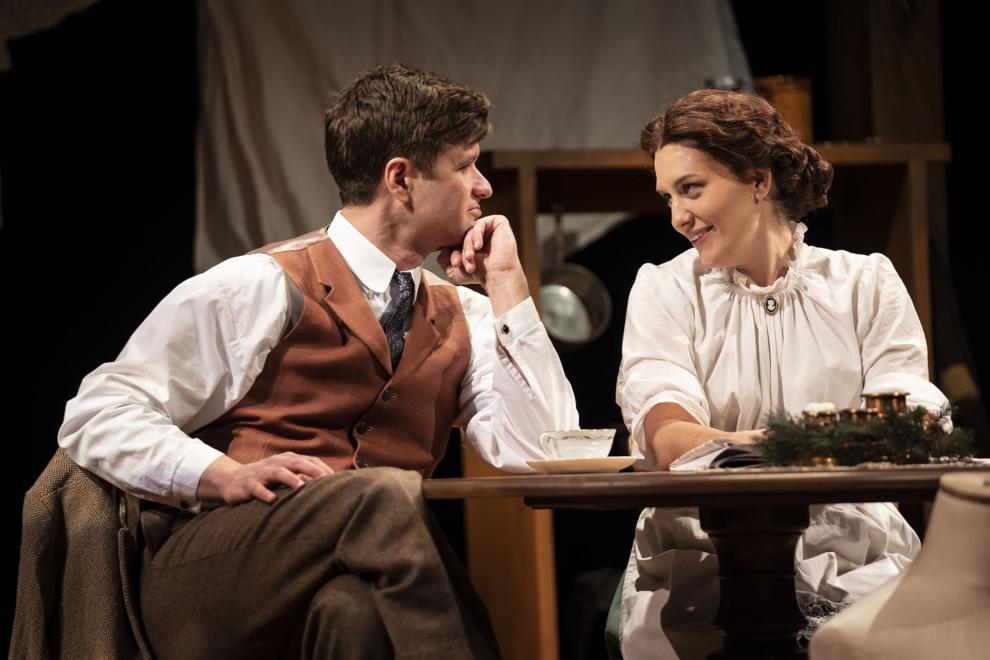 Mani provides avuncular narration as the story unfolds, as Jim and Della scheme privately on Christmas Eve to buy each other the perfect gift. Jim, a tailor, is counting on a Christmas bonus from a well-heeled customer, while Della has been saving up and counting pennies all year.
DeVita's book expands on the story to depict the couple's adventures outside the apartment. Brennan shows how the devoted wife becomes a seasoned negotiator in the shops, cocking an eyebrow at a bruised piece of fruit or sweetly browbeating a grocer into selling her four eggs at a discount instead of six.
Truschinski gives Jim more of a puppy-dog tenacity as he begs a shopkeeper to hold the comb for him until he can get that bonus. Mani delightfully plays all these supporting characters, drawing from every accent in the five boroughs, tousling his hair to play Jim's harried boss or pulling a wig out of a trunk to play the woman who shears Della for twenty dollars.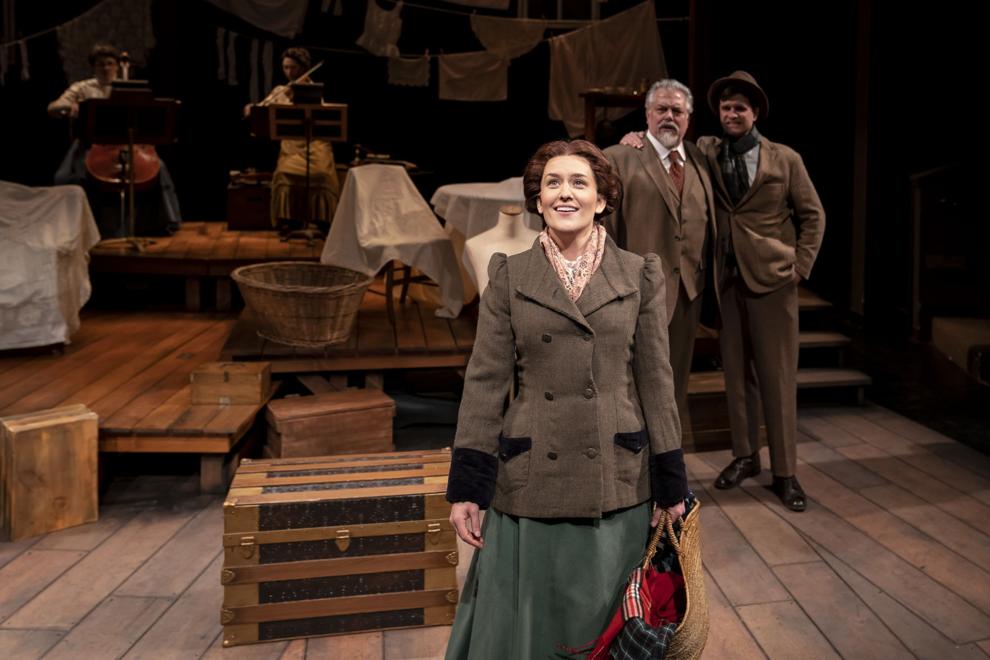 The musical numbers (lyrics by DeVita and Schmidt, music by Schmidt) are all small-scale charmers. Truschinski and Brennan sweetly croon to each other, and you can almost imagine the full orchestra and line of high-stepping dancers behind Mani on the show-stopping "Moxie." Cellist Alicia Storin and multi-instrumentalist Hilary Caldwell provide gorgeous accompaniment, with Caldwell stepping into the frame to play a busker at a key moment in the play.
One of DeVita's seemingly small additions was, for me, the key to unlocking the love story of the play. In the original text, Jim's watch is referred to as being handed down from his grandfather. And in the play, DeVita describes Della's hair as "her grandmother's hair."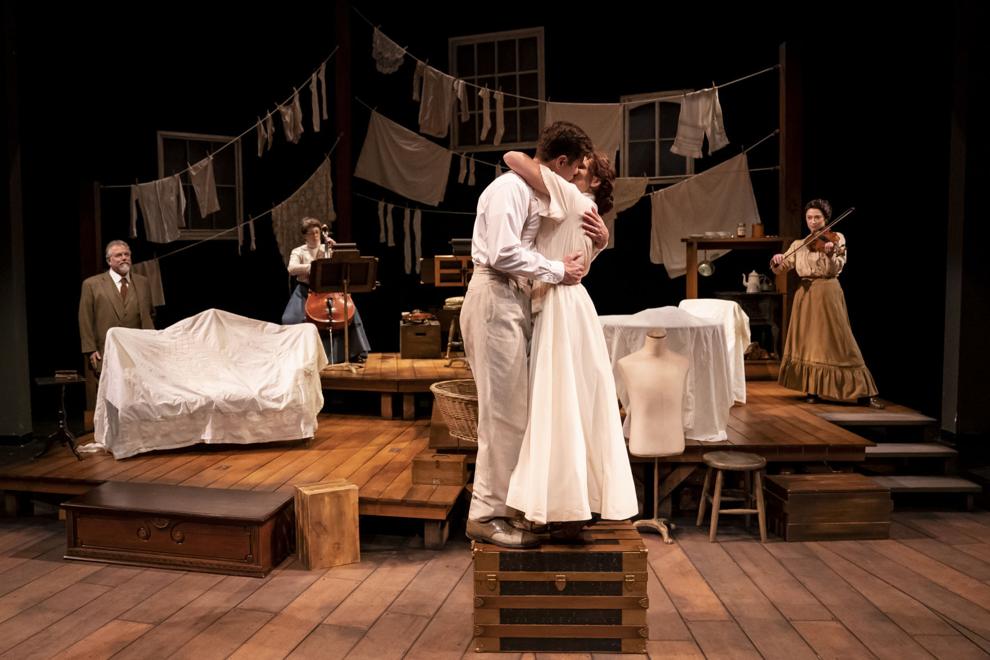 Both spouse's act of sacrifice, then, signifies more than money. In a marriage, stepping forward together to start a new family means stepping away from the families we grew up in and the identities we forged there. It's the wise couple who steps forward this way into a new life together.
My only complaint is that, once the play reaches its much-anticipated destination, the stage fades to black rather abruptly after the short second act. Perhaps Mani could have led the audience in one more singalong? It's cold out, and it's been so long since we've all been together. We're in no hurry to leave.