When Faisal Abdu'Allah first strolled through a pathway of stone slabs at Quarra Stone, the Madison company that would help create a sculpture of him, he felt like the materials had souls. 
He bypassed the marble and granite, which seemed too pure, instead gravitating toward Indiana limestone. "There were imperfections within the stone that, for me, made it very conversant," he recalled. "It felt like the limestone was always in flux." 
A year-and-a-half later, the material has been crafted into a 7-foot statue of the University of Wisconsin-Madison art professor as a prelude to his upcoming DARK MATTER exhibition at the Madison Museum of Contemporary Art, which opens Sept. 17. Titled "Blu³eprint," the art will be installed in the next few months in front of MMoCA, on the corner of Henry and State streets, pending weather and permits from the city. 
The statue — which depicts Abdu'Allah sitting in a barber shop chair — is a true Madison collaboration, said Leah Kolb, curator of exhibitions at MMoCA. In 2018, when conversations began to take place on the removal of Confederate statues, she initially brought the idea to Abdu'Allah, who also serves as the Chazen Family Distinguished Chair in Art at UW-Madison.
Employees at Quarra Stone scanned Abdu'Allah's body and programmed six-axis robots to cut the raw material. In November, Abdu'Allah then posed beside the initial sculpture so that Martin Foot, a renowned sculptor who lives in Italy, could finish carving the stone by hand.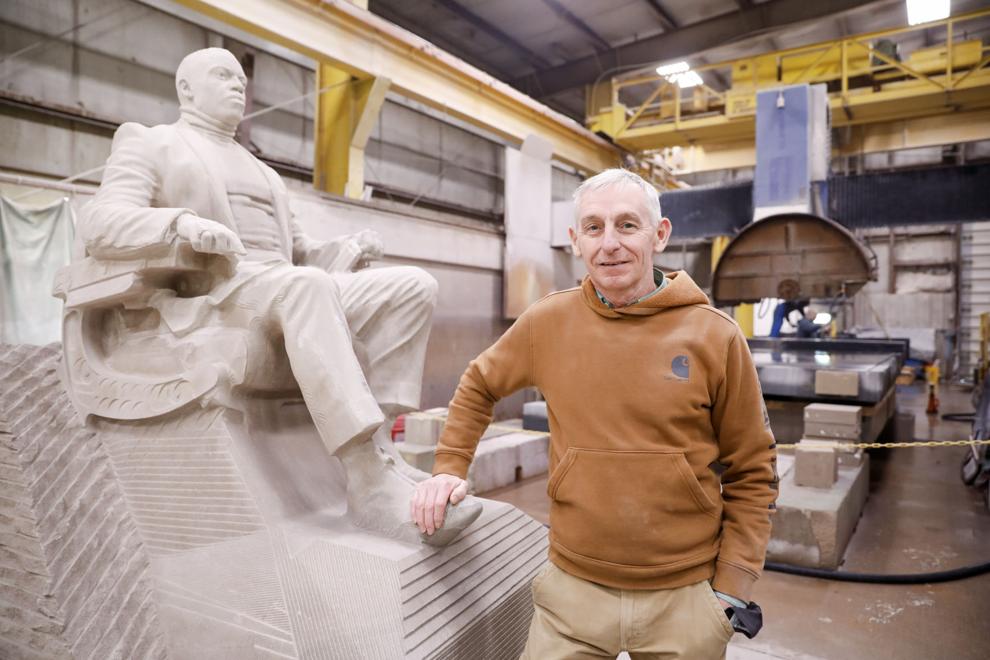 With Abdu'Allah and the statue side by side, Foot's eyes flitted back and forth between the two, ensuring the volume of the sculpture's head and neck were accurate to real life. Foot said it took him more than three weeks to add all the details, from the shape of Abdu'Allah's irises to the tiny marks on his face. 
"It's a true hybrid of the contemporary, working with robots and stones, and the traditional — having the handwork all done by classic master carving," said Heather Schatz, Quarra Stone's director of fine arts. "I think it's a story of Madison and all of us coming together to make something pretty amazing."  
While Quarra Stone has done architectural and artistic work worldwide, Schatz said this is the first time the company has created a statue with a local figure. 
A message of humanity
For Abdu'Allah, every part of the sculpture holds meaning. The title, "Blu³eprint," includes the letter U to the power of three as a symbol of the Zulu term "ubuntu," sometimes translated as, "I am because we are."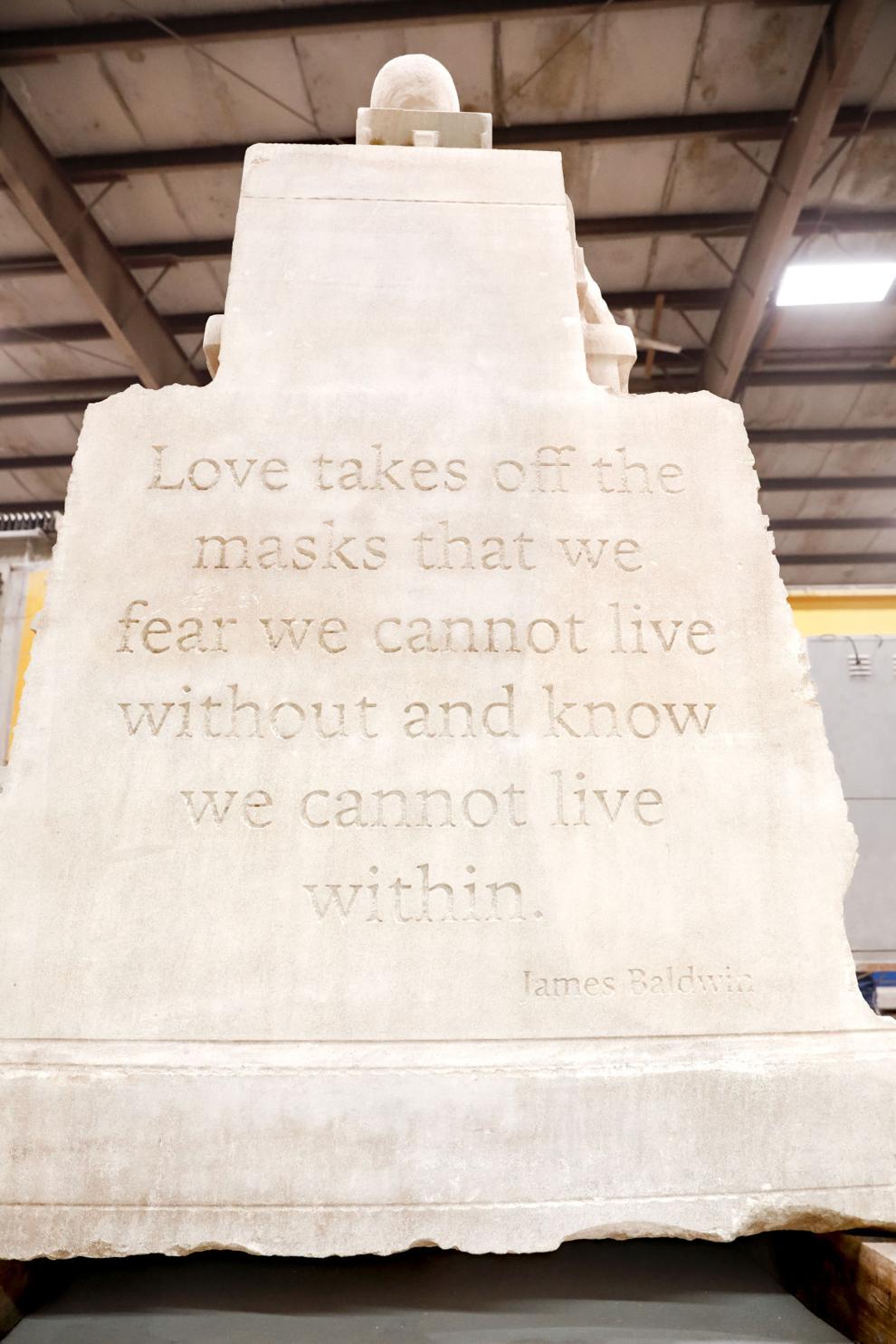 "It's more of a philosophical way of looking at yourself," Abdu'Allah said. "You are who you are through the contribution of other individuals, whether that be society, family, education, love, joy or discrimination. This is symbolic of everything that has brought my being to where we're at now." 
The barber's chair is a reflection of Abdu'Allah's experience cutting hair, a job he took up while earning his bachelor's degree in London, where he was born and raised. Years later, he also opened his own barber shop in the city before coming to the United States to teach at UW-Madison. The symbolism of hair is often included throughout his artwork. 
"The barber chair is a portal that allows a lot of people to reposition themselves," he explained. "Getting a haircut is a shared human experience, a ceremony of losing the old and breaking into the new." 
Hair also carries the history of our ancestors, he said. Even when people try to disguise those traits by changing their hairstyle, he said their natural roots eventually prevail and "the hair always wins." 
A counter-monument
Abdu'Allah described the sculpture as a "counter-monument," bringing in multiple perspectives, identities and ways of being into existence.
The installment also comes at a time when Americans are engaging in discourse on famous statues, Kolb said, many of which are now considered problematic in today's society due to their racist origins. Instead of pouring money into removing statues, she said MMoCA wanted to invest in artists of color who could create counter-monuments that speak to their own history and experiences.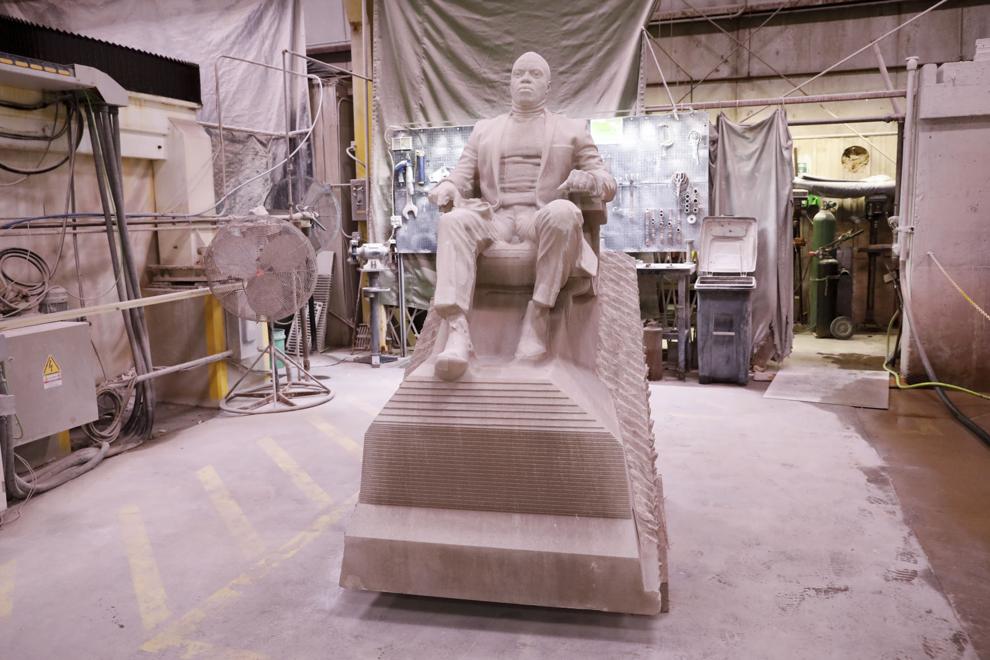 In the statue, Abdu'Allah is featured in the same pose as Abraham Lincoln in the Lincoln Memorial, as well as the statue atop Bascom Hill at UW-Madison. 
"No, I'm not trying to be Lincoln. I'm not celebrating Lincoln," he said. "What I'm trying to do is create that conversation and the curiosity as to why this person is sitting in the same spirit and body language as him. 
"To me, a monument talks about a single person, a single moment," he added, "whereas this piece talks to hopefully everyone."
In 2020, at the height of Black Lives Matter protests nationwide, UW-Madison students began circulating a petition calling for the removal of the Lincoln statue on campus. Meanwhile, the state of Virginia hired Quarra Stone to remove 20 controversial statues, including one of slaveholder and Confederate general Robert E. Lee.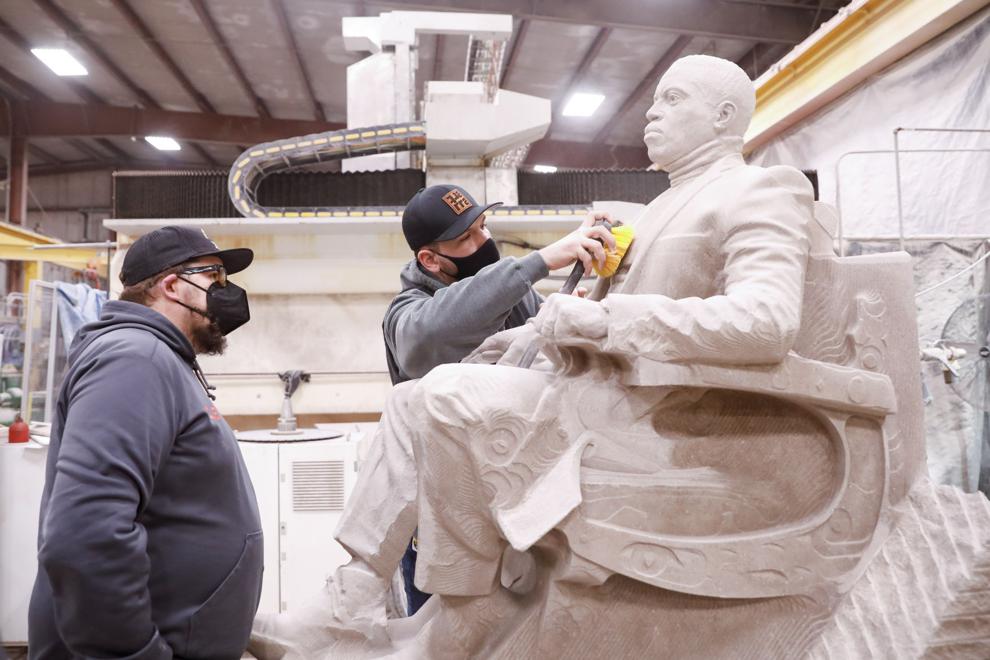 Quarra Stone founder and president Jim Durham said the company typically cuts stone for artistic and architectural purposes across the globe, including facades for the state Capitol, UW-Madison's Grainger Hall, the Kohl Center and Chazen Museum of Art. But the organization has evolved throughout its 33-year history as a "reflection of public commentary at the present time," becoming more involved in conversations of tearing down monuments and putting others up in its place. 
"The common thread of all these issues — racism, slavery, inequity — is really about voice and who gets a say," Durham said, describing statues of Lincoln as a message of promise. "What we're seeing is more fine artists wanting to talk about this promise and who has access to it."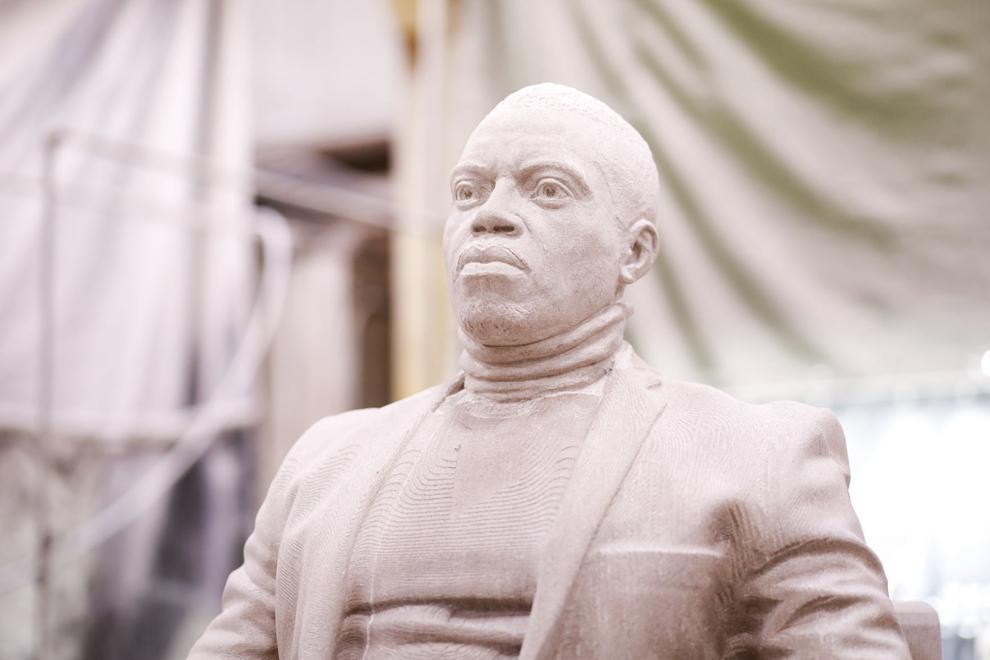 Abdu'Allah hopes his statue will encourage people to look into Lincoln's history and consider why such monuments are revered. 
"But what's more important is the fact that I'm able to be here in living memory so people can have a conversation with the subject," he said. "Most of the memorials that we're talking about, those people aren't here. There isn't a way that we can have this conversation." 
After living in the U.S. for eight years, Abdu'Allah said the statue feels like a capstone of his time in Madison. "But take me out of the picture," he said. "This talks about our collective and shared humanity."