Tickets go on sale Saturday for the 2023 Wisconsin Film Festival, which will bring 160 movies to Madison for eight days from April 13-20. The festival is organized by staff in the Department of Communication Arts at the University of Wisconsin-Madison, who are willing to tell you about 159 of them.
The 160th is a "secret screening" at 8:15 p.m. Friday at the Union South Marquee Theatre. Audience members will buy tickets blind and won't know what they'll be watching until the lights go down. While such "secret screenings" are a big draw at other festivals, like the Sundance Film Festival, this is the first time in the Madison festival's 25-year history that they've gone incognito with a film.
The full schedule is now available online at wifilmfest.eventive.org. Festival passes are available now, and passholders could secure tickets as of noon on Friday. For all others, individual tickets ($12) can be purchased beginning at noon on Saturday.
The festival will take place at four campus locations — Shannon Hall, UW Cinematheque, Union South Marquee Theatre and the Chazen Museum of Art — from April 13-16, and at the former AMC Madison 6, now rebranded "Wisconsin Film Festival Hilldale," from April 14-20.
The lineup includes a typically eclectic mix of premiere films, documentaries, short films, children's films, restored classic films and movies with Wisconsin connections. Here are 10 movies that caught my eye while perusing the schedule.
"Luxembourg, Luxembourg" (7 p.m. Thursday, April 13, Shannon Hall) — The festival kicks off by standing with Ukraine, with this warm comedy from Ukrainian director Antonio Lubich about two estranged brothers (one a cop, the other a low-level drug dealer) who drive to the titular tiny country to visit their gangster father on his deathbed. An opening reception takes place at 6 p.m., and the winners of the Golden Badger Awards for Wisconsin filmmakers (which is neither golden nor a badger) will be announced.
"The Connection" (5:30 p.m. Friday, April 14, Chazen Museum of Art) — Groundbreaking director Shirley Clarke mixes fiction and documentary in this 1961 film about jazz musicians awaiting their heroin fix. New York Times film critic Manohla Dargis selected the film for the festival, and will talk about women and film in a post-show discussion with festival director Kelley Conway.
"Judy Blume Forever" (8 p.m. Saturday, April 15, Shannon Hall) — The beloved author of "Are You There God? It's Me, Margaret" and "Tales of A Fourth-Grade Nothing" tells her own story in this documentary that will likely draw generations of readers.
"We Are Not Ghouls" (3 p.m. Saturday, April 15, Shannon Hall) — Milwaukee filmmaker Chris James Thompson returns to the festival with his new documentary about an Air Force Lieutenant Colonel, Yvonne Bradley, who serves as a public defender representing a prisoner at Guantanamo Bay. Thompson and Bradley will be at the screening, and UW Chancellor Jennifer Mnookin will introduce the film.
"Beyond Human Nature" (4 p.m. Saturday, April 15, Union South Marquee Theatre) — Wisconsin filmmaker Michael Neelsen has spent nearly a decade working on this atmospheric true crime documentary about an infamous murder case at a Green Bay paper mill.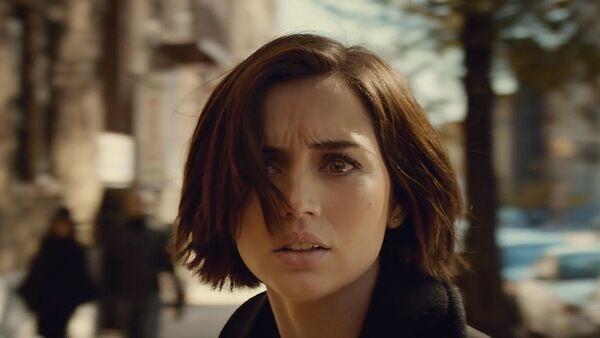 "Daughter of God" (5:30 p.m. Saturday, April 15, UW Cinematheque) — After you see Keanu Reeves in "John Wick 4" and Ana de Armas in "Blonde," catch them in this 2016 film about a haunted New York detective who encounters a woman with religious visions. The film was taken away from writer-director Gee Malik Linton and severely recut by the studio, but this is the theatrical premiere of Linton's original cut, with the filmmaker in attendance.
"Showing Up" (6:45 p.m. Saturday, April 15, Union South Marquee Theatre) — Every new film by Kelly Reichardt ("First Cow," "Old Boy") is an event for me. She reteams with Michelle Williams in this movie, more of a comedy than many of her features, about a sculptor juggling her obligations as she struggles to finish her work.
"Hundreds of Beavers" (4:15 p.m. Sunday, April 16, Shannon Hall) — Cap Times social media strategist Beck Henreckson went to the "First Look at the Fest" event Wednesday and said the trailer for this film spoke to her above all others. How could it not, as the Milwaukee filmmakers behind the bananas "Lake Michigan Monster" return with a film that's a mash-up of Bugs Bunny and Adult Swim, with lots of people (although perhaps not hundreds) in beaver costumes.
"Chop & Steele" (6:15 p.m. and 8:30 p.m., Tuesday, April 18, Hilldale) — Stoughton natives Joe Pickett and Nick Prueher are best known for creating the Found Footage Festival. But a few years ago, they were pranking local morning news shows by pretending to be fake guests, such as a physical fitness duo named Chop & Steele. And then they got sued. This entertaining documentary looks at their legal fight. Pickett and Prueher will be at both screenings and will show a mini-"Found Footage Festival" as a bonus.
"The Last Picture Show" (8:30 p.m. Thursday, April 20, Hilldale) — The final movie shown at the former Sundance Cinemas 608 is, fittingly, Peter Bogdanovich's 1970 drama about a small Texas town where the last movie theater is shutting down. Thanks for the celluloid memories.