Richie Morales is fascinated by memory. Early last summer, several dozen of Morales' acrylic paintings filled Arts + Literature Laboratory (ALL) on Madison's east side with that connecting theme: "The Effects of Time on Memory (Los efectos del tiempo sobre la memoria)."
"I have a really bad memory," said Morales, a self-taught painter who works out of a studio on ALL's third floor. "My grandfather had Alzheimer's ... I had the opportunity to have a closer relationship with my grandfather in his last years, and I noticed how memory is just — in another place. I feel like, sometimes, it's a little scary. But I don't want to freeze because of the fear."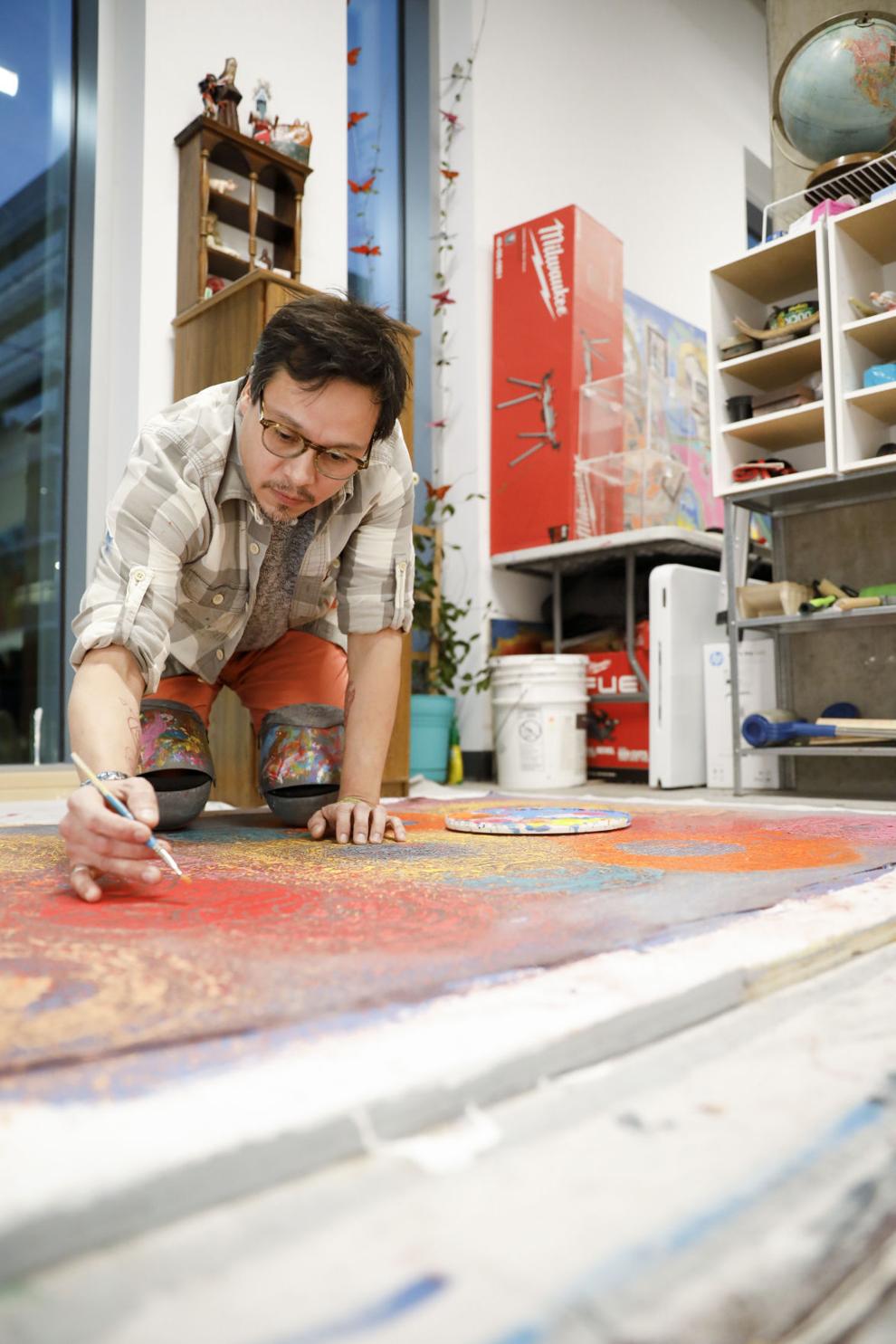 Morales is from Antigua, Guatemala, a "very Spanish city." His grandmother is Kaqchikel and the family of his mother is Ch'orti', two groups of Indigenous Mayan people. Mayan civilization has roots in modern-day Guatemala and part of Mexico, Morales explained — "I have Mayan blood in my body." 
Growing up, Morales' hometown was "full of violence." He drew and painted decorative things as a kid, but as his questions grew, his work became more topical and political. He was influenced by research into the United Fruit Company (now Chiquita Brands International), its history of violent interference in the Guatemalan government and "the implication of politicians in the United States in Latin American countries."
"That impacted my life, and my feelings about the U.S.," Morales said. "In the beginning, it was like, 'U.S. is the enemy.' I had only one conception of the United States."
Morales' paintings took on dark themes: the skull of a woman, raped by soldiers and killed; an excavation of bodies without names; people looking for their loved ones. A child behind bars, in a pattern that looks like the stars and stripes.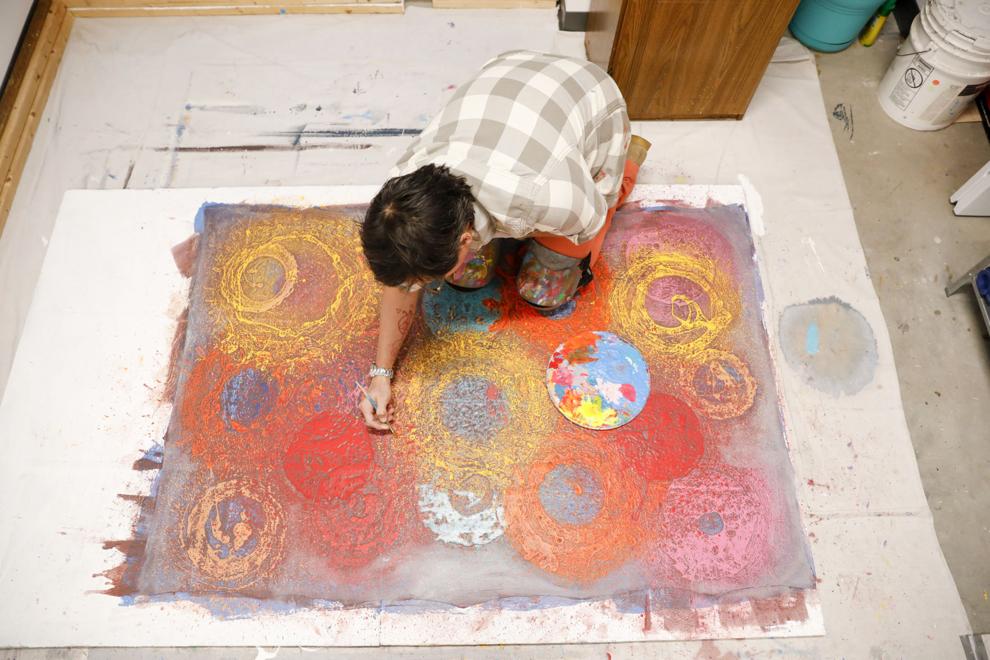 He had a planned exhibition of a series about the Guatemalan Civil War ("Voces del Genocidio"), but the Guatemalan political situation in 2013 made it too risky.
"The curator told me, 'We cannot exhibit this. They can kill us.' It was dangerous," Morales said. "I was depressed, because I put in a lot of effort, time, money." (The works were eventually shown in 2017 at the Museo Mayor de Santo Tomás de Aquino in Antigua.)
Doors had closed in Guatemala, but one opened in the States. At the encouragement of writer Deborah Clearman, Morales came to the U.S. for the first time in 2013 as an artist fellow at the Vermont Studio Center.
"I came to the United States with a bunch of feelings," Morales said. "And when I came, I met with a lot of nice people, really great artists. In that moment, I started to deconstruct my ideas about the United States, healing my feelings. I realized then the structure of power with regular people in the United States and in Latin America, we are like — victims of the same bullshit system, you know?"
Morales moved to Madison in 2015. He married a poet from Bolivia, Geraldine Paredes Vásquez (now YWCA Madison's Race and Gender Equity Director) and they lived in Costa Rica for two years.
Since returning to Madison, he's been an artist in residence at Centro Hispano of Dane County as well as The Bubbler (in 2017). In 2020, he secured a studio space at Arts + Literature Laboratory.
The new studio led to "an explosion of colors" and a flurry of new work. Lately Morales has been in his studio every night, often for hours. Weekends, too. The current works in progress will eventually go up next spring at Latino Arts, Inc. in Milwaukee.
Madison collectors are still pretty conservative, Morales said, more interested in "landscapes, portraits, dogs, things like that" than in some of his more uncomfortable work. That's fine with him. He's gotten positive responses (and sales) from the "Effects of Time on Memory" series. It's saturated with "Indigenous colors" (deep reds, yellows and pinks), populated by insects, hummingbirds and floral patterns.
In his bio, Morales writes that art is the only place "where light and darkness, grotesque and beautiful, love and fear can integrate with each other to birth a fuller whole."
"I will continue painting until the end of my life, Morales said. "It's what I love to do. I feel like art chose me. ... While I'm painting, I am thinking about my own life, my memories, my wounds. How we can heal as a person, and as a society too."