In March 2020, gathering to sing in a choir became a public health hazard. Because COVID-19 is easily transmitted through respiratory droplets that can hang in the air for hours, choirs were advised to stop gathering in person in order to prevent mass outbreaks.
In late March 2020, the Seattle-area Skagit Valley Chorale went ahead with in-personal indoor rehearsals anyway, with no masks, ventilation, or other precautions in place. Three weeks later, 45 members of the chorale were infected with the coronavirus, three were hospitalized, and two lost their lives.
But in the Madison area, several choirs have found a way to keep singing together, by becoming much more careful and creative about practicing their art. For three local choruses — The Wisconsin Chamber Choir, The Yahara River Chorus, and The Madison Choral Project — working through the immense safety challenges of the last two years has not only strengthened their organizations. It has built audiences, attracted new participants, and boosted members' resolve to keep sharing their music with the community.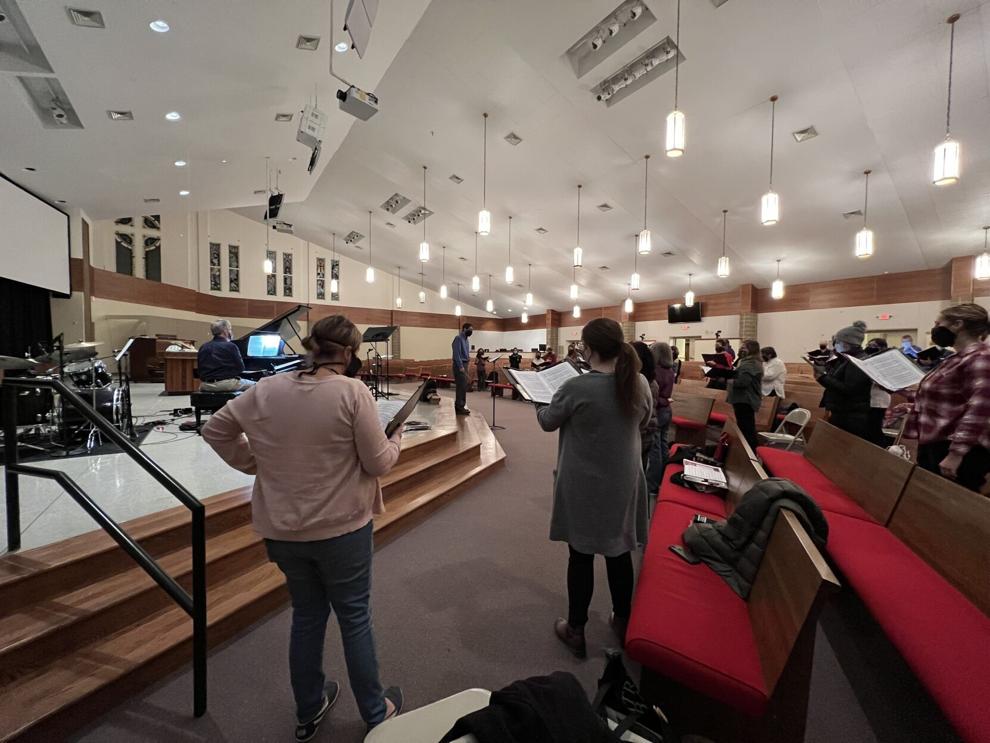 From the rehearsal room to the front seat of a minivan
For The Wisconsin Chamber Choir, the desire to keep singing together led the group to the top of the parking ramp at American Family Insurance. Artistic Director Dr. Robert Gehrenbeck suggested rehearsing as a "parking lot choir" after speaking with other choral music directors from around the country about how to address the dangers of COVID-19 transmission.
In this format, choir members sing into wireless microphones in their own cars, and all the signals are mixed and broadcast by an FM transmitter back to car radios, eliminating the lag time involved with internet connections. Since each singer is in their own sealed space, there was no need for masks, just a large enough parking lot to accommodate 50 cars arranged in vocal sections around their conductor, and a high speed internet connection.
"American Family was incredibly supportive of this unusual use of their space," said Joshua Schmidt, a WCC board member, singer, and the unofficial technical director for the organization. "They ran an internet connection out to the parking garage just for us."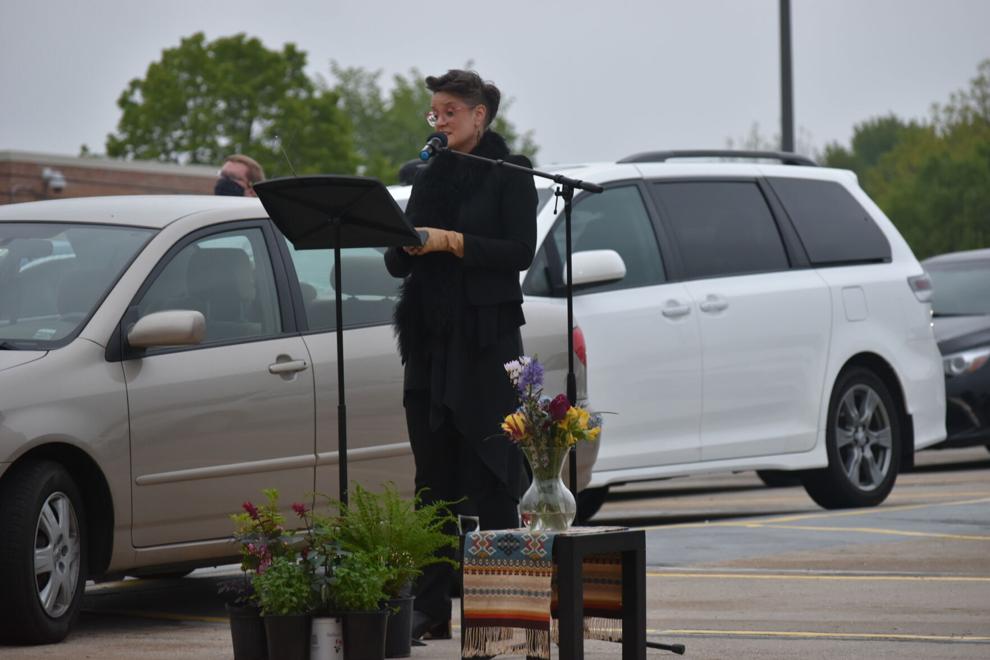 With the purchase of special sound and video equipment, WCC produced two live-streamed concerts from the parking lot during the pandemic, which are still accessible through the organization's website. By moving their performances online, the choir also dramatically increased their audiences. While most live, in-person concerts were attended by 300 audience members prior to the pandemic, their December holiday program received 5,000 views online.
This has inspired WCC to continue live-streaming concerts when it is no longer necessary from a health perspective. "We really value that aspect of the pandemic experience," said Schmidt. "Having the concerts accessible online is really important to us going forward. It makes our programs available to people who have financial, mobility, or transportation issues."
Appropriately, their upcoming in-person concert is themed around spring and rebirth. It will also be available online.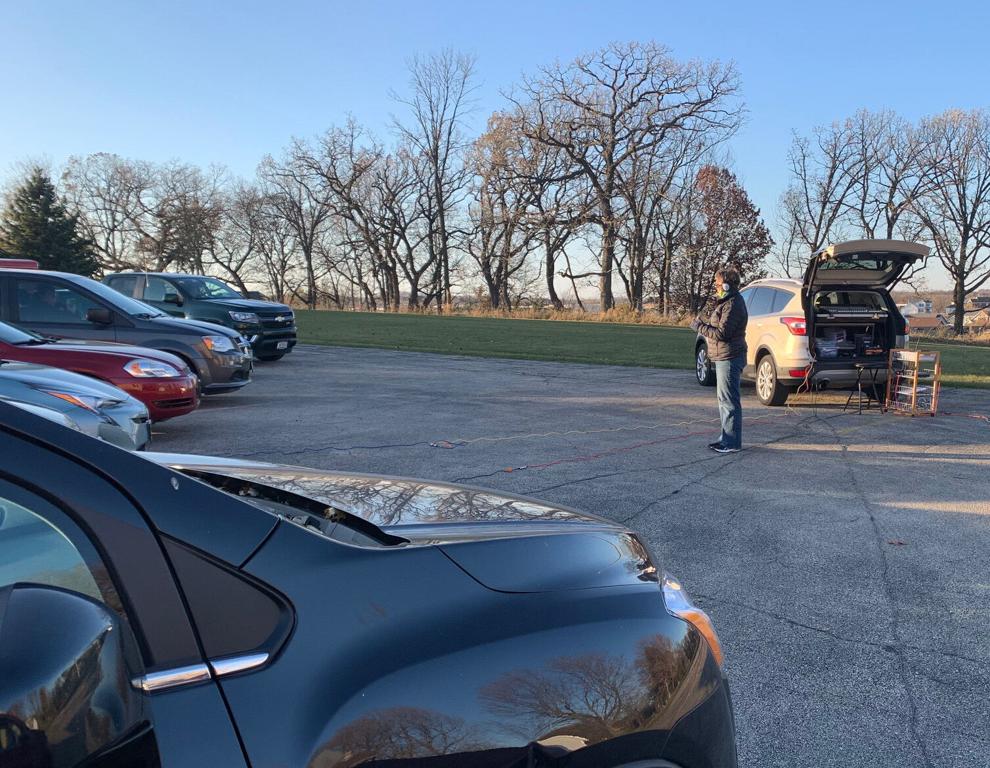 Creative ways to maintain connections and harmonies
Pre-COVID, the Yahara River Chorus had a very busy schedule of rehearsals, performances, and competitions. But after March 2020, this close-knit choir found other ways to make music together.
Like many musicians, they quickly realized that Zoom rehearsals were not ideal. "Group singing online has horrible sync issues, so we muted ourselves and sang with a group recording, or one brave singer soloed her part and the rest duetted with her," member Barbara Schultz explained.
In warmer weather, chorus members rehearsed outside, masked and socially distanced. But there were also downsides to this arrangement, including unexpected noise from planes, cars, dogs, or even a flock of geese that honked their way through one practice session.
Finally, the chorus used the "parking lot choir" model similar to the Wisconsin Chamber Choir. "Wearing a radio receiver headset, our director Jennifer Johnson led the rehearsal from the middle of the circle of cars. In spite of the staticky transmission, hearing the whole barbershop sound together again was a real thrill," Schultz said.
According to music director Jennifer Johnson, the Yahara River Chorus is now "singing better, and is more connected than ever." In addition, she believes their audiences are more appreciative than before, since they've been unable to attend live performances for so long. "We're still trying to be careful," Johnson conceded. "We will still be masked at rehearsal and indoor performances for the foreseeable future."
Through it all, Johnson says she is very grateful for the camaraderie of the choir community. "I think we were all really thankful we had those connections during the pandemic and now we're very happy to be back together again."
Bringing laughter to audiences from behind masks
Not all performing arts organizations soldiered through the COVID-19 pandemic. Some simply waited until it was safer to return to singing together, like the Madison Choral Project, which did not rehearse or perform during the quarantine.
"We normally rehearse only when we have a concert coming up," said MCP Artistic Director Albert Pinsonneault. As a result, the choir has not sung together as a group since March 6, 2020. And although he is grateful that face masks allow his choir to rehearse together safely, Pinsonneault explains that they pose their own problems for performers.
"The physical act of making sound is a lot more challenging when you're covering the mouth," he said. "Masks affect the diction that happens at the tip of the tongue, teeth, and lips. They produce a muffled sound, and there are differences in airflow when singers are breathing through masks. Also, so much of the art of music is in communicating expression to the audience. When you have 60 percent of your face covered, you can't be as expressive, so in effect, the singers don't have one of the tools they need to elicit an emotional response. It's noticeable."
In spite of the difficulty of singing through masks, Pinsonneault is looking forward to the group's upcoming concert of Menotti's "The Unicorn, The Gorgon, and the Manticore," which was originally scheduled to be performed in March 2020. "The piece is silly and filled with lots of love and comedy. It has a poignant moral to teach us at the end."
He continued, "One of the things that I missed the most over the last two years was the chance to laugh together. Now I'm so excited to do a piece of music that has depth to it, but doesn't take itself too seriously. It adds some levity that I think we all need right now. And coming back to this material two years later feels like reclaiming something that was lost. It shows our resilience, finally mounting this piece that we were all so excited about.
"When you get knocked down, one of the most beautiful things is getting up again and moving forward in the best way we can."