"Milwaukee, are you LOOSE?" Bruce Springsteen yelled at the sold-out crowd at Fiserv Forum on Tuesday night during one of the many crescendos of his show with the E Street Band.
It's a reference to a notorious 1975 show Springsteen played in Milwaukee that was interrupted by a bomb scare. But let's be honest. A lot of us in the crowd who have been there for the long haul with Bruce do not feel loose. Our muscles are sore, our bones ache, and we dropped our readers in the plastic bin when we passed through security.
But watching the 73-year-old Boss, not young but ageless, strut and shimmy in all his glory with his longtime band, sure made us feel loose for a while. His hair a steely gray, his features seemingly chiseled in stone, Springsteen wore boots, jeans and a black short-sleeved work shirt with the top two buttons unsnapped (and a couple more would come unbuttoned late in the evening, to the audible delight of many).
Springsteen and his band played a tight three hours at Fiserv Forum, and only in a review of a Bruce Springsteen show can the words "tight" and "three hours" be used in the same sentence. While previous trips to Milwaukee have found the band's shows nearing the four-hour mark, Springsteen kept the momentum going with surprisingly little chit chat between songs. He just rolled from one high point to the next, calling out "1,2,3,4" (abbreviated to "1,2" towards the end of the night) to launch the next broadside at the audience.
There's been some fan blowback against Springsteen, who traditionally has kept ticket prices low enough for working-class (or at least middle-class) fans to afford, embracing "dynamic pricing" on this tour. There wasn't a seat in the house going for less than $150 online Tuesday, and a few prime seats were at four digits.
I felt incredibly lucky finding, just two hours before showtime, a $60 ticket to sit at the rail at the Potawatomi Club at the top rear of the arena. I was probably as far away from Bruce as you could be in the room, and yet the emotion of each song reached out across the arena and grabbed me every single time.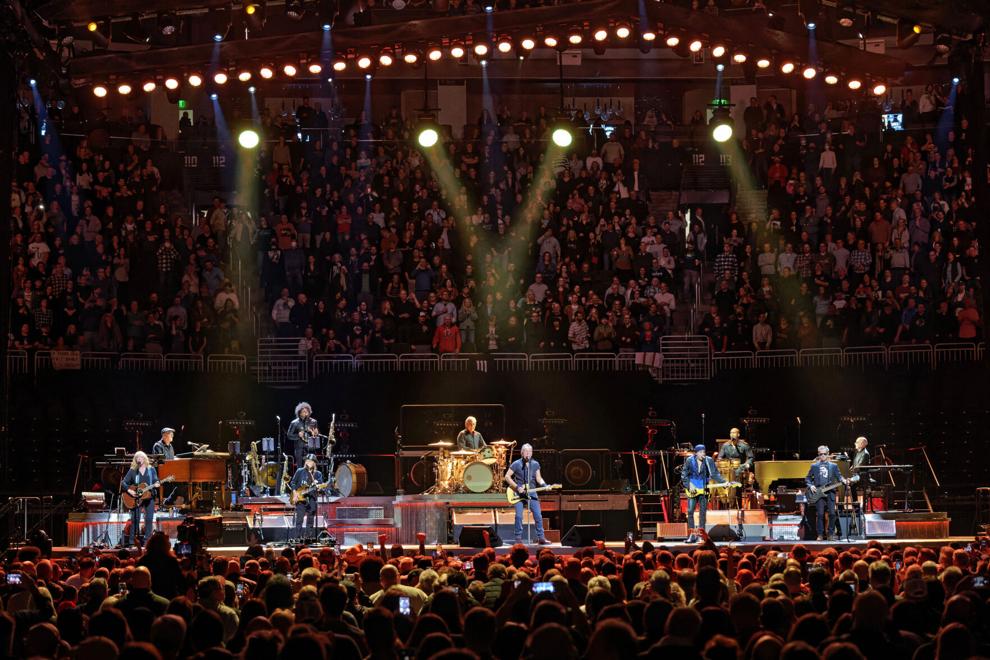 Springsteen has said in interviews that he's not sure how many more tours the E Street Band have left in them, but Tuesday didn't feel like a farewell show. He still seems to be pushing himself and the band, looking for new things to try. While the second half of the show was a litany of iconic favorites ("Rosalita," "Dancing in the Dark" and "Born to Run"), the first half was a surprisingly eclectic assortment buoyed by a five-piece horn section, such as on the jazzy, loose-limbed "Kitty's Back," with Springsteen conducting the horns with his right index finger.
Springsteen's newest album, "Only the Strong Survive," is a collection of covers of soul classics, and he crooned the Commodores "Night Shift" to show his weathered voice is still a potent instrument. The Weavers' "Pay Me My Money Down" had a Big Easy vibe with trombone and Dr. John-style piano. Then the vibe would quickly shift from joyful to serious, as Springsteen seethed "Death to My Hometown" as a drum and flute played.
The only extended story Springsteen told to the crowd was about his old friend and bandmate George Theiss, reminiscing about the two starting their first band, The Castiles, when he was 15. The story jumped ahead a half-century to Springsteen visiting Theiss on his deathbed in 2015, and then he softly sang "Last Man Standing" on acoustic guitar.
That song dovetailed perfectly into the wistful remembrances of "Backstreets" from "Born to Run." Springsteen, as if speaking directly to his departed friend, said he still has some old photos and 45 singles to remember him by. "Everything else I'll carry right here," he said, pointing to his heart.
From that elegiac note, the show hit the straightaway of the final hour with triumphant essentials like "Badlands," "Glory Days" and "Thunder Road," the crowd nailing every callback and fist pump as if we had rehearsed together in the parking lot before the show.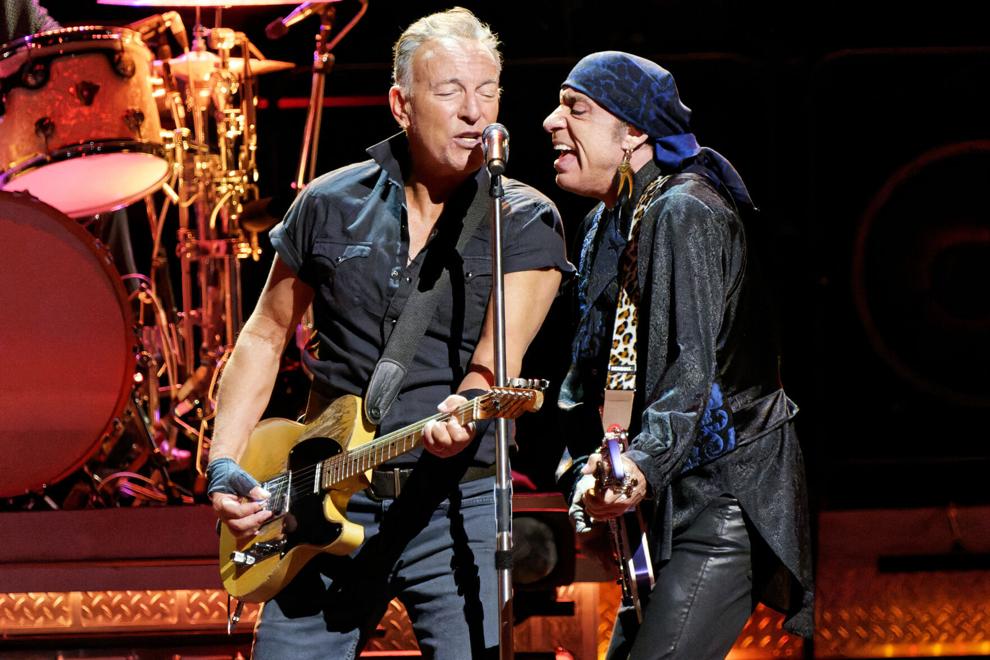 During the encore, Springsteen and much of his core group (including Jake Clemons, ably filling the shoes of his late uncle Clarence) crowded a tiny stage that jutted out into the first few rows, mugging for the cameras like unruly teenagers as Little Steven (Van Zandt) pinched the Boss's cheeks. The joy and camaraderie was infectious.
It felt in those moments like they could go on forever. But, of course, they can't. Threaded throughout the lyrics of Springsteen's entire career, but especially lately, is an awareness that time passes and things fade. My personal highlight of the night was a relatively recent song, "Wrecking Ball," written when Springsteen's beloved Meadowlands stadium was being torn down.
The stadium fell anyway, as all things do. But the song still stands as an anthem of defiance in the face of certain oblivion, and a reminder to stand tall, remember where you came from, and get loose when you can.