Maria Amalia Wood did not expect to fall in love with papermaking. Earlier in her education, she studied graphic design and architecture before coming to papermaking in graduate school.
"I'm a perfectionist," said Wood, who maintains a basement studio in Middleton. When she studied screenprinting, for example, if a little bit of paint went outside her lines or didn't look right, "I go nuts, and I have to do it again until it's perfectly done."
Papermaking, which Wood taught this summer as Pinney Library's first artist in residence, is more forgiving. It's a wet, hands-on, pulpy process that allows Wood to experiment freely, then take the fragments and make something new, something she could never recreate exactly even if she tried.
"I don't have to be making something with a preconceived idea of how I want it to end up looking," Wood said. "I'm just playing with the color, playing with the texture, to see what happens. And then I'm going to make something with what happens."
Wood grew up in Honduras. Her family spent four years in Madison when she was young, and she moved to the U.S. permanently when she was 17. She now keeps an intergenerational home with her husband, kids and parents, and teaches art three times a week at a K-8 Christian school.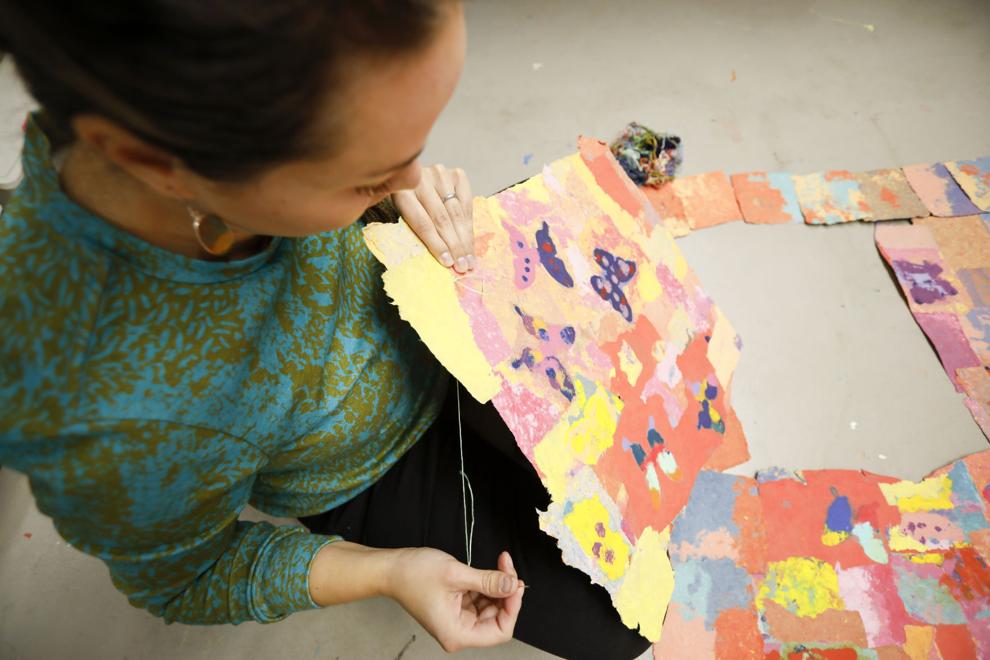 Wood's work is rooted in the community and "more about the process than the end result," but she does sell small pieces occasionally at local art fairs. As "Maria Amalia," she'll bring a collection of danging earrings and little houses made of paper and resin ("Memories of Home") to the Eastside Winter Market, co-hosted by Communication at Garver Feed Mill on Dec. 11-12. Both lines were created with a group of women in Mexico called Union Progresista Artesanal (UPA).
Wood is fascinated by decay and the passage of time, which was informed by decay in the environment in which she grew up. Much of her work is also about immigration.
For her MFA thesis at the University of Wisconsin-Madison, "Soñé una Milpa" ("I dreamed of a cornfield") Wood and printmaker J. Leigh Garcia interviewed 10 Latina immigrant women in their Madison homes. The women's stories inspired the art work, rendered in homemade paper and textiles.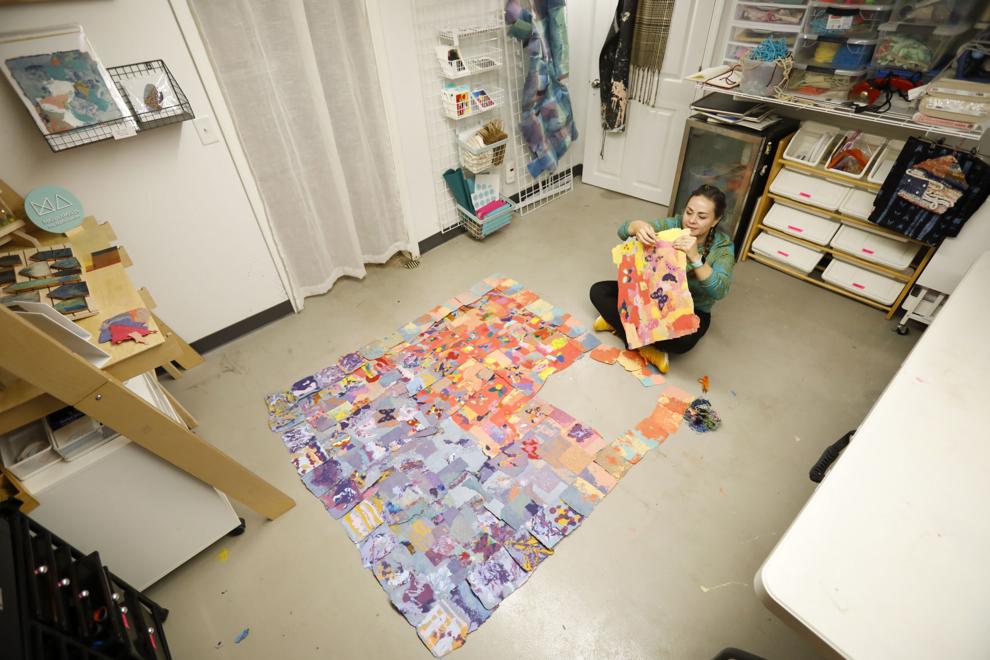 "These were women that I knew," Wood said. "They cooked a full meal for us, from their countries. Over the meal, we shared these very vulnerable stories about their journeys here.
"They had all been undocumented at some point in their journey, and I would say more than half of them came here by foot to the United States."
Wood is currently at work on a large-scale paper and embroidered piece made with contributions from students last summer, to be installed in Pinney Library next spring.
She credits connections with local women, like Eugenia Podesta, former board chair of the Latino Chamber of Commerce, and artist/entrepreneur Jenie Gao, for encouraging her. The Bubbler at the library, too, has opened doors.
"Networking is the number one key to stay afloat as a part-time or full-time artist here in Madison," Wood said. "If you don't have a network, you can't survive here. It's who you meet, and if they will recommend you."