The colorful scarves, handbags, tapestries and other textiles in the Lynn Mecklenburg Textile Gallery were just created this semester. But they've already logged a lot of miles.
The textiles are the result of an unusual collaboration between 15 University of Wisconsin-Madison students from a variety of disciplines and 15 artisans half a world away in India. Connecting them was Judy Frater, the UW Division of the Arts interdisciplinary artist-in-residence for the spring semester. Frater is an author and curator who lived in the northern Indian region of Kutch for 30 years, and founded a trust and design school there for local artisans so they could develop their own designs rather than doing labor for others.
For the class, Frater connected her students with graduates of that school, and the pairs worked together on WhatsApp to design new creations based on textiles from the school's collection. Then the artisans created the textiles based on the designs, and a couple of weeks ago sent them around the world to Madison.
The show, which pairs the new creations with the textiles that inspired them, is called "Coming Together: Cultural Inspired Creation" and runs through May 27 in the gallery, which is located in the School of Human Ecology in Nancy Nicholas Hall, 1300 Linden Drive.
An exhibition reception, which includes a trunk show where people can buy limited editions of the work, takes place from 1 to 4 p.m. Saturday, April 30, in The Link in Nancy Nicholas Hall. The students will also do a final presentation of their work and talk about the experience at 5:30 p.m. Tuesday, May 3, in the Wisconsin Idea Room in Nancy Nicholas Hall, and that talk will also be livestreamed on Zoom. 
Frater talked with the Cap Times about what fascinated her about the artisans she met in India, how the cross-global collaboration came about, and how handcrafts point the way to a more sustainable future.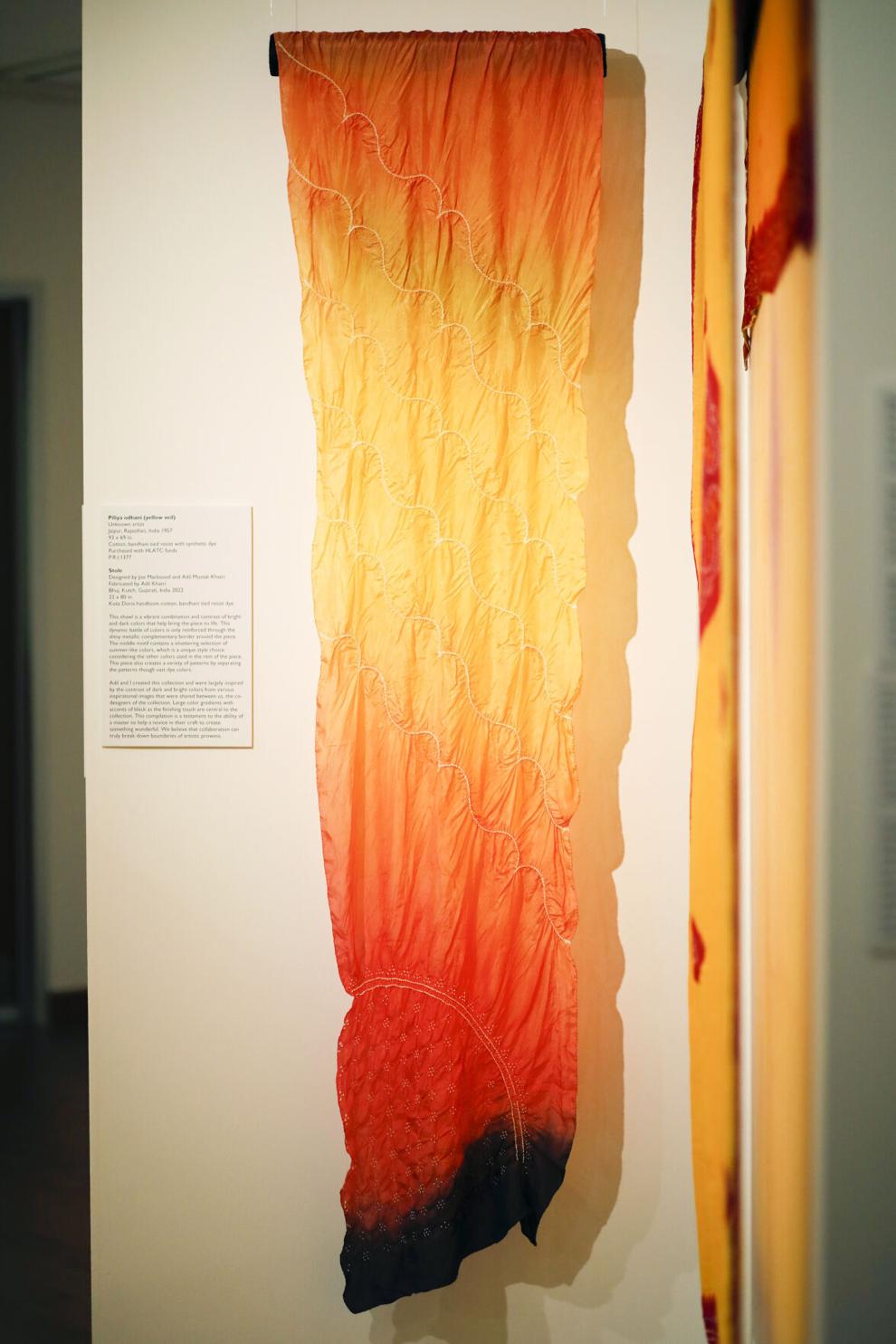 Describe the project and its purpose.
The purpose is to understand, recognize, maybe even enhance value for handcraft as a human activity and a human connection. And so, the students began by learning some craft techniques, very basic, but just so they understood what went into it and to sort of sensitize their way of seeing. And then they looked at objects in textiles in the Helen Louise Allen Textile Collection to see examples, to see if they could make that connection between what they had learned.
And then, I founded a program of design education for artisans in India, and it's been running for 15 years. So I teamed the students here with some of the graduates of that program. I asked them each to choose their favorite of all the pieces that we saw in the collection, and then accordingly, I teamed them up with someone from that craft tradition. Then through using the phone app WhatsApp, they communicated and co-designed a collection and what we have here are the inspiration pieces and the co-design pieces.
It's called handcraft. But when the collaborators are virtual, was that a difficulty? Or was that something they were able to overcome pretty quickly using the technology?
I mean, the designing part was virtual, but the making of course was in person. All of the artisans had done this before, and (UW professor) Jenny Angus and I have been doing this virtual co-design since 2016. So we've ironed out some, but not all, of the kinks.
When you collaborate with anybody, it's dependent on the relationship that you form. Sometimes I had two people and I thought, "They have the same personality, they will have a blast." It doesn't always work. It's two individuals, which is complex in and of itself, and then the relationship between them and trying to develop that in a fairly short time with time difference and language differences, it's a big challenge. It takes creativity, and it takes an open mind also.
How many of the students had backgrounds in textiles?
About half. This one fellow was a biomedical engineer. He came up to me after the first day of class in a panic, and said, "I don't know anything about weaving." I said, "Don't worry, that's what we're going to do."
Another student was pre-med, and I asked her why she took the course. She said she had wanted to do a program in international health, but because of COVID it wasn't possible. But she took this to get some cultural input.
But I think everyone's creative if they are given encouragement. The several people who had no design background were good. It's also learning to see and work with your partner, learning to get ideas from each other, being open.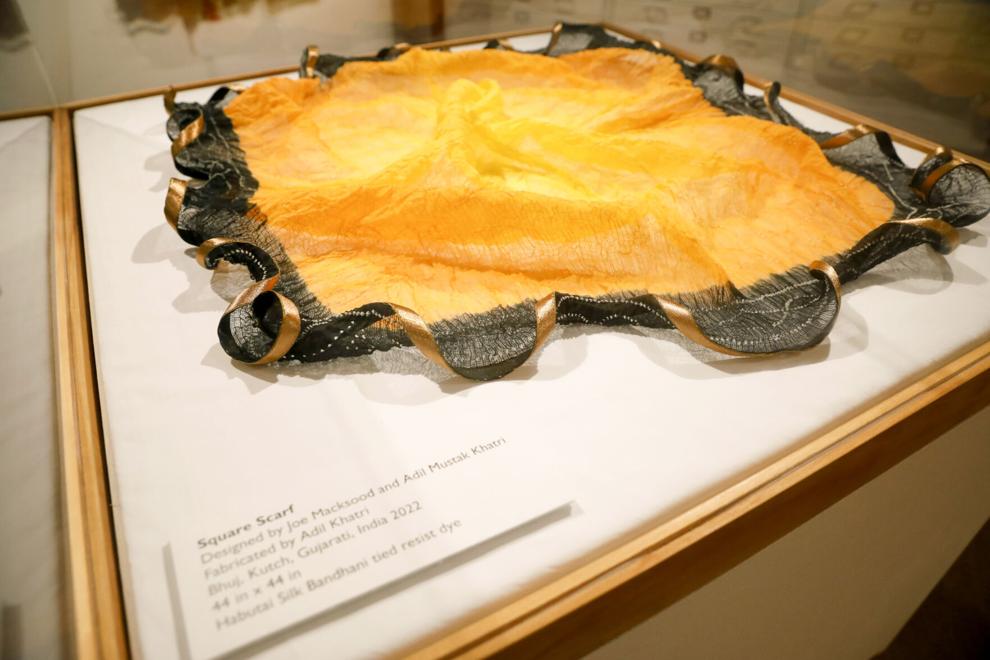 Tell me a little about your background. You first went to Kutch when you were 19, right?
I was. I was a textile artist and I was doing batik, and I wanted to get better dyes. I had only done one quarter of education, and I thought i would be a fine art student. And then I went to India and discovered anthropology, and traditional art and batik went out the window. I don't think I've done it since.
I was fascinated by embroidery, and I wanted to see what was behind what was coming out. The disparity between these women who were very austere and wearing black wool in the desert, and they're making these wild, colorful embroideries. What was going on inside their heads? It's not on their faces. Then I pursued that.
It all evolved. I was so impressed by the creativity of artisans, and also the fact that they don't get to use it now, because they're being engaged as workers to make work for designers. I thought that there had to be a better way. I started a trust for income generation, and that led to thinking of starting a design school for artisans.
What kind of value does handcraft have in a world where consumerism and constantly buying new clothes seems to rule? Does it have a lesson for how we deal with the world's environmental issues, like climate change?
The first thing I did in my class was to ask the students, think of something that you have that you will never throw away. And why. And I said, "I'll give you two minutes." And it seemed like it was a long time. It didn't take them two minutes, because they know what they have that's valuable.
That was very heartwarming. It was always something sentimental and personal. It wasn't that "This cost me $100,000 or anything." When you think about sustainability, value is directly connected. You will preserve something you value. That's my concern. How do we get people to think about preserving the environment, when they don't value it? In craft, the value is personal. I know who made this (gestures to scarf she's wearing), and that makes it a lot more valuable to me. I'm not going to throw it away.
And I think the other thing is that the alternative to fashion is not sustainable fashion. That's more of the same. It is style. So if you have a style, you don't need to have a whole lot of things in your closet.