Due to safety precautions required by the coronavirus pandemic, the flagship Dane County Farmers' Market isn't coming back in its usual form anytime soon.
But that doesn't mean summer market shopping is canceled. Across Dane County, smaller farmers' markets with fewer vendors and more physical space have found ways to adapt.   
"Our biggest asset at our location is space," said Ben Zimmerman, market manager of the Westside Community Market behind UW Digestive Health on University Row. "We have the space to really spread out. We switched our aisles so we're single-sided, and we've added a gap with every single vendor."
By mid-June, Zimmerman expects to have 35 vendors at the Westside market. "If we were confined to a smaller spot we would have had to kick people out," he said.
The Dane County Farmers' Market (DCFM) used to host, on average, 140 vendors each weekend (membership is 265 producers). Earlier this spring it switched entirely to local food pick-up. More than 1,100 people total participated last week on Wednesday and Saturday, pre-paying for produce through an aggregated system and driving (or biking) through Willow Island at Alliant Energy Center. Alliant has allowed use of the space for free.
Market manager Sarah Elliott said things have been going well, all told. The number of shoppers has trended up over the past four weeks.
Meanwhile, it's in a holding pattern for the downtown permit. The DCFM provided information to the state of Wisconsin regarding its Capitol Square site, "demonstrating our commitment to upholding public safety," Elliott said.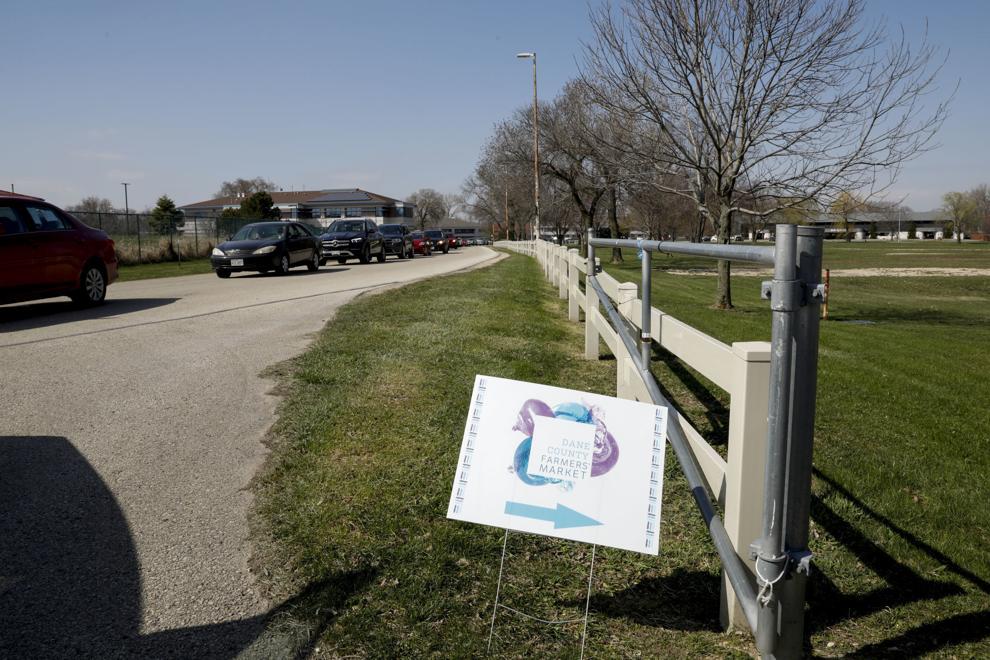 "We also understand the state isn't going to magically give us back our permit and we'll have 20,000 customers walking the Capitol Square," she said. "It's going to have to be a phased-in approach.
"For right now the local food pick-up is a model that's working for us and our customers feel very safe."
[As farmers' markets close over COVID-19 worries, small farms get creative]
In late March, UW Extension released guidelines for farmers' markets, which were included as essential businesses under the "safer at home" executive order. Currently, Dane County does allow outdoor seating with tables spaced six feet apart. Sampling of food is still not permitted.
Other guidelines include additional signage, increased spacing between vendors, handwashing stations and single-use bags.
While Dane County is aggregating, smaller markets don't, and vendors handle pre-orders in different ways.
Los Abuelos Farley Farm and Xiong's Tasty Produce, both vendors at the Monroe Street Farmers Market, are using Google forms. For a pre-order price list for Farmer John's Cheese (vending at four local markets), customers can visit their Facebook page.
Natalie's Garden and Greenhouse, a market vendor from Oregon, set up an online ordering system via Square. Before they head to market, customers can purchase starts for tomatoes and peppers as well as pre-assembled flower baskets of geraniums and begonias.
[The Corner Table podcast: Farmers market indefinitely postponed]
When people do show up onsite, farmers' markets encourage shoppers to observe similar precautions to the grocery store. Make a list before you go. Pre-order if you can. Send one person per household.
Shop early — some markets open as early as 7 a.m. — or late, to lessen peak time traffic. Wear a mask, stay six feet apart from other shoppers, and pay with a card. And of course, stay home if you're sick.  
"We're having really good compliance on our attempts to get people to shop safely," Zimmerman said. "It's a little different experience — it's not, 'catch up with your friends and neighbors,' it's come and shop. Plan your market trip, and be patient. We're all trying to adapt. Most of our customers have been grateful."
Note: This is not a comprehensive list. Visit ediblemadison.com/farmers-markets for links to more markets in south central Wisconsin.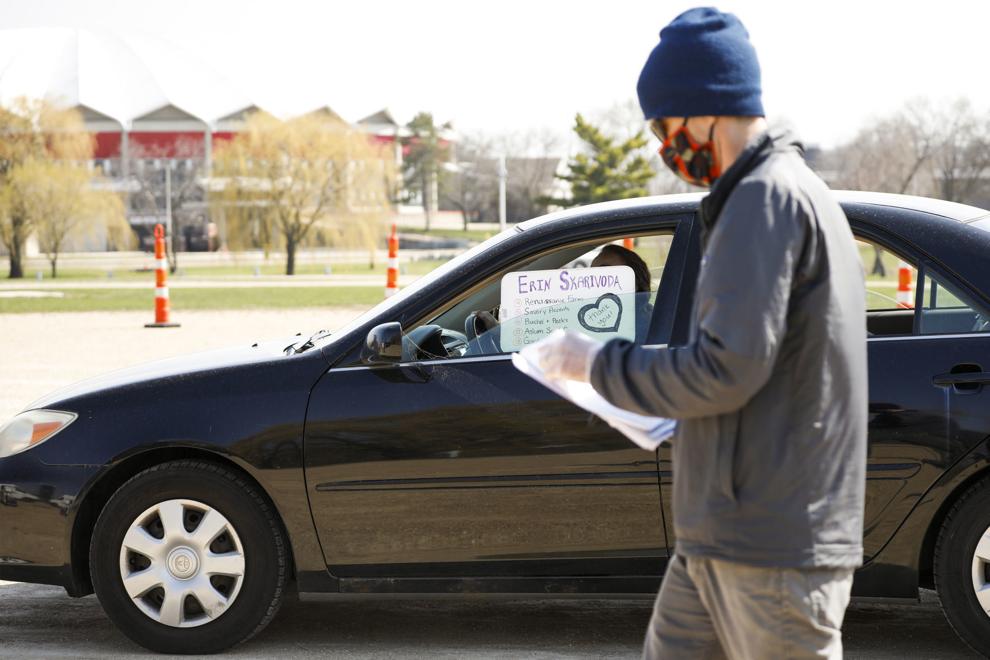 Eastside Farmers' Market: Tuesdays, 4-7 p.m.
202 S. Ingersoll St. (enter via Williamson Street)
Enter this market from a single entrance on the east side of McPike Park, closer to Willy Street. The market is requesting one customer at a time per stand and no reusable produce bags. There's an option to pre-order from eight of the market's current vendors by 4 p.m. Sunday in time for Tuesday pick-up. 
Hilldale Farmer's Market: Wednesdays and Saturdays, 8 a.m. to 1 p.m.
702 N. Midvale Blvd.
hilldale.com/about/farmers-market
Market manager Lisa Lewis said it's been a challenge to get the word out about this market because Hilldale shopping center itself has mostly been closed. But the market is open now, with one entrance and exit and a requirement that everyone mask up. Other precautions are similar to other markets, including vendor tents six feet apart and a hand-washing station. Visit their Facebook page for details (facebook.com/HilldaleFarmersMarket).
Dane County Farmers' Market: Wednesdays, 3-6 p.m., Saturdays, 8 a.m.-noon
1919 Alliant Energy Center Way (enter via Olin Avenue)
Order honey, bread, meat and much more from some 45 vendors currently listed via the WhatsGood app (sourcewhatsgood.com). The DCFM online store for local food pick-up closes 24 to 36 hours before the market itself. You'll want to make a big sign with your first and last name on it and the farms you ordered from, and there are time slots to pick up based on your first name.
Elliott said they've been quite successful with "very low contact delivery" and "processing a lot of vehicles in a short amount of time." There's also a dedicated time for bike and pedestrian pick-ups. Note: Be sure to enter through Olin Avenue, as Alliant also is hosting a COVID-19 testing site on a different part of the property.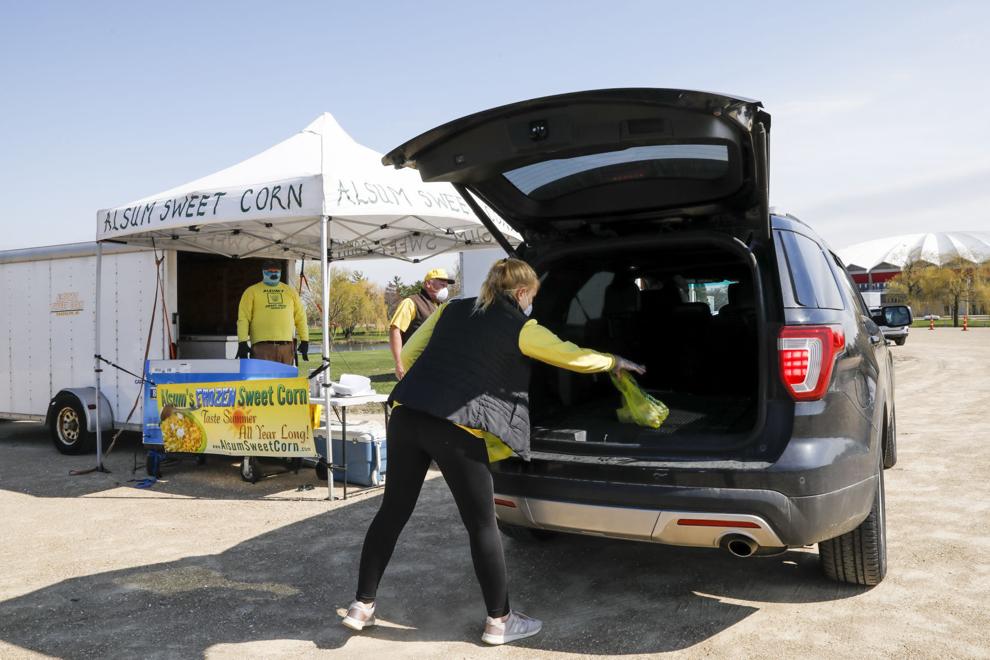 Fitchburg Farmers' Market: Thursdays, 3-6 p.m.
Agora Pavilion, 5511 East Cheryl Parkway, Fitchburg
This market is open for walk-up customers with safety protocols in place. Place an order for produce pick-up the day before, with bakery/walnut items by 4 p.m. Wednesday and all other items by 10 a.m. Thursday. Drive-thru (3-5:30 p.m.) is for pick-up orders only.
Westside Community Market: Saturdays, 7 a.m.-12:30 p.m.
Parking lot of UW Digestive Health Center, 750 University Row
The Westside market reopened on May 2 with a new design, with single-sided vendor aisles, spacing between vendors and one-way foot traffic. This market has a weekly newsletter from market manager Ben Zimmerman, which recently included 32 vendors from Stella's Bakery and Honey Bee Bakery to JenEhr Family Farm and Savory Accents.
South Madison Farmers Market: Sundays, 11 a.m.-3 p.m.
1602 S. Park St.
This market reopened on May 3 outside the Labor Temple. A Facebook post noted that they are "following the guidelines for social distancing." The South Madison market typically five times a week — twice at the Labor Temple, twice at the Novation Center on Rimrock Road and on Fridays at Villager Mall. For info on when those might return, check the website (above) and Facebook (facebook.com/southmadisonfm).
Northside Farmers' Market: Sunday, 8:30 a.m.-12:30 p.m. (opening May 31)
Northside TownCenter, 1865 Northport Drive
The Northside market delayed its start this year, but it's announced its return on May 31. An online vendor list includes Lo Farm, El Sabor de Puebla, the gluten-free Bean Bakery and fresh water trout from Big Spring Fish Company.
Monona Farmers Market: Sundays, 9 a.m.-noon
Ahuska Park, 400 E. Broadway, Monona
The Monona market in Ahuska Park opened for the season on May 17. Safety precautions here include face masks (required for all), only vendors touching products until they are sold, and an entrance/exit with hand-washing stations for vendors and customers.
Monroe Street Farmers' Market: Sundays, 9 a.m.-1 p.m. (opening May 31)
Edgewood High School parking lot, 2219 Monroe St.
Before this market officially reopens, pre-orders and pick-up are available Sunday mornings from 9-10 a.m. Currently seven vendors, including Tower Hill Maple Syrup, Morren Orchard and Unconventional Acres, note Sunday pick-up as an option. (Hours may change later to end the market at noon.)
Manager Luke Lippert expects about 20 vendors when the market reopens. They're taking all the usual precautions, including masks, vendor spacing, no toys or art supplies for kids and entrances/exits at designated spots with sanitizing stations.