For all that Wisconsin withholds in March, in early September it delivers. Everything seems to ripen at once. All of a sudden there are dozens of peppers and eggplants, broccoli and corn, squashes and endless cabbage.
This is all lovely and exciting until you're lobbing an heirloom tomato the size of a baby's head into the compost pile because fruit flies got to it first.
Our CSA box lately overflows with Red Dragon Napa cabbage and lion's mane mushrooms that I am working out how to cook (maybe in crab-ish cakes?). For the rest, I'm inclined to go back to old favorites. I made a big batch of pesto that, after two days on baguette with tomatoes, is already almost gone. I buzzed gazpacho in a blender, ate it at every meal for 18 hours, then made more.
The new things I've tried have had varying levels of success. Turns out swapping figs for ripe pears in a ricotta cake can make it sink, but adding dark chocolate helped us forget about it. And I may have settled on a favorite way to use turnips, a veggie that's always been tough for me to love.
I've been pulling from a mix of online recipes and cookbooks lately, so links will be shared when I have them. Happy cooking!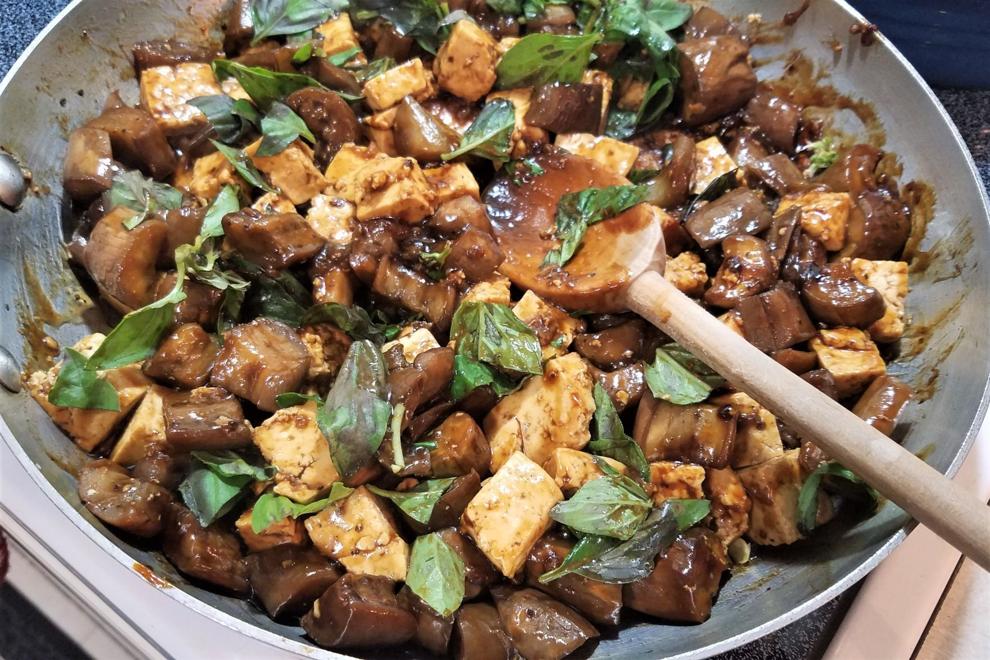 Baked tofu with peanut sauce and coconut-lime rice — I have been meaning to make this popular dish from Yewande Komolafe in the New York Times for a few weeks now. I minced up a hot chili from Savory Accents (currently at the Dane County Farmers' Market) to put in the peanut-miso sauce, in addition to baby bell peppers. I also added lots of extra greens. I could eat this for lunch for a week and not get tired of it. (Komolafe is a Nigerian-born chef to follow; check out her great interview on The Sporkful.) cooking.nytimes.com/recipes/1020530-baked-tofu-with-peanut-sauce-and-coconut-lime-rice
Hakka eggplant from "Myers+Chang at Home" by Joanne Chang and Karen Akunowicz — Whatever vegetable you toss with hakka sauce, a rich, sweet and salty blend of hoisin, vinegar and soy, will taste amazing. I happened to have a trio of lavender Japanese eggplants, which I filled out with a block of pressed tofu and jasmine rice to make a full meal. cbsnews.com/news/the-dish-joanne-chang
Simple sautéed corn with scallions from "Six Seasons" by Joshua McFadden and Martha Holmberg — When my partner brought home four ears of corn from the farm, I immediately stripped them and threw the kernels into a skillet with butter, scallions and chopped bell pepper. Honestly this is barely a recipe. (Similar: iowagirleats.com/summer-sweet-corn-saute)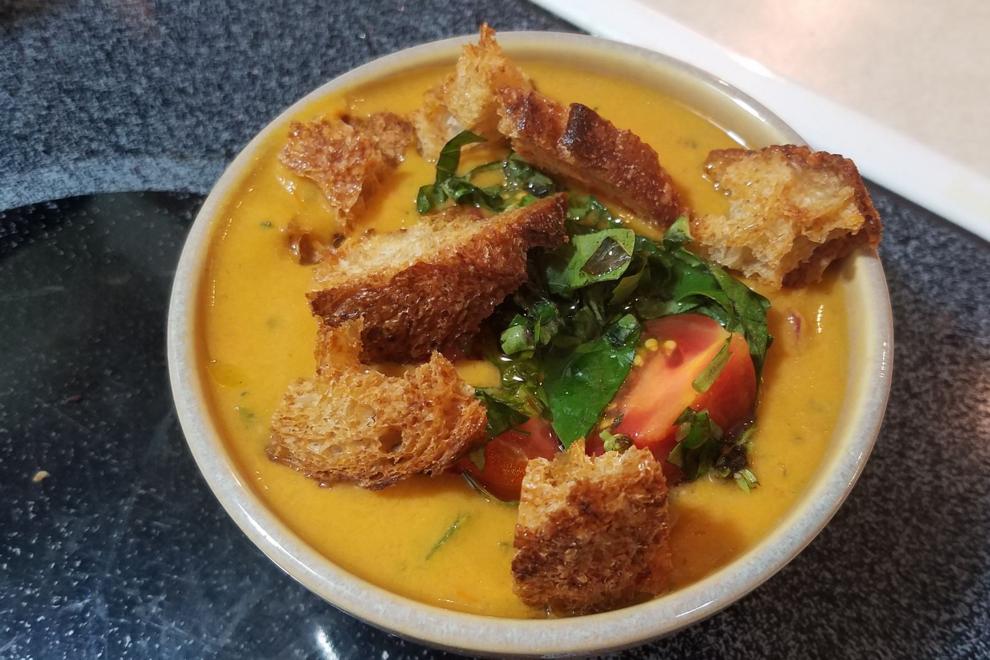 Roasted tomato tart with ricotta and pesto by Alexa Weibel in the New York Times — This is maybe the prettiest thing I've made all year. I made my own pesto but you don't have to; plenty of places have it premade. Swap out the ricotta for fresh goat cheese, change up the tomatoes; it's all glorious and super summery. cooking.nytimes.com/recipes/1020373-roasted-tomato-tart-with-ricotta-and-pesto
Pesto baked chicken thighs from Food and Wine — If you're making pesto for the tart, toss a quarter cup of it with bone-in chicken thighs and serve it all together. This is another combo I never tire of. foodandwine.com/recipes/pesto-baked-chicken-thighs
Gazpacho by Samin Nosrat — I started making gazpacho based on an Ina Garten recipe for which I purchased V-8 tomato juice. This one is even easier than that, with tomatoes, cucumbers, peppers, good olive oil and a slug of sherry vinegar. nytimes.com/2017/06/28/magazine/a-gazpacho-recipe-to-follow-then-discard.html
One-skillet chicken pot pie by Molly Baz in Bon Appetit — I love many (most?) vegetables but with turnips, man, I struggle. This is the single best way I know to use them. I cut the cream by more than half here, as the dish is already pretty rich. I also subbed in fresh carrots for frozen peas and added celeriac, since we had it from the farm. Get a bottle of cheap-ish white wine, like gruner veltliner or vinho verde, to put in this. bonappetit.com/recipe/one-skillet-rotisserie-chicken-pot-pie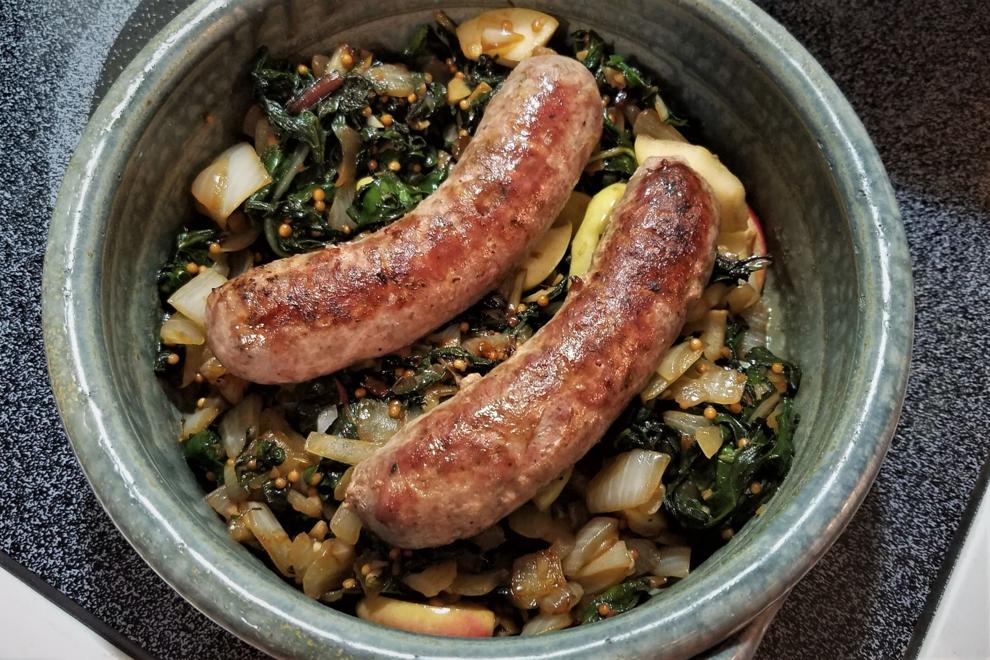 Sweet and salty grilled steak with cucumber salad by Melissa Clark in the New York Times — We were already in front of the Conscious Carnivore when we realized they were curbside pick-up only, no customers inside the shop, similar to Penzey's Spices nearby. We watched the Instagram video and then bought a flat iron steak sight unseen, as well as burger patties stuffed with cheese curds (YES), a whole chicken (for the pot pie) and lamb feta sausages. cooking.nytimes.com/recipes/1015080-sweet-and-salty-grilled-steak-with-cucumber-salad
Sausages with chard and apple adapted from Melissa Clark in the New York Times — Those lamb sausages were a perfect pairing with a bunch of rainbow chard and small tart apples. This takes 20 minutes, start to finish. cooking.nytimes.com/recipes/1016290-sausage-with-chard-and-rhubarb
Ricotta pear cake adapted from Ina Garten — I sort of overcomplicated this one, adding lemon zest, chopped dark chocolate, pears instead of figs and a tablespoon of brandy. It was, admittedly, a touch mushy in the center? But the flavors were fantastic. Stick to the original figs, or start here and riff: barefootcontessa.com/recipes/fresh-fig-ricotta-cake