As warm weather rolls in and the days get longer, it's been a challenge to figure out what, or even whether, I want to cook each night. I have a new fondness for a whatever's-in-the-fridge sandwich, or what my mom used to call "smorgasbord" — leftovers, variously reheated.
To stave off boredom, then, let this cooking column serve as inspiration to all of us. 
I took two weeks of leave in early May, and by the second week I'd decided to explore Christopher Kimball's "Milk Street Kitchen: The New Rules," subtitled "Recipes that will change the way you cook." Many of the recipes below are from this cookbook, which was a semifinalist for a 2020 James Beard Award in the "General Cookery" category.
Milk Street recipes are all online, and they are behind a paywall ($19.95/year). I used to find this frustrating, but I've come to recognize that a fully tested recipe, one that's clear and reliable, has a lot of value. Developing recipes takes time and deserves compensation. That said, when I see similar recipes that are free, I will link to those, too; I know no one's budget is infinite.  
Recipes from Milk Street: The New Rules
Toasted pearl couscous with chicken and chickpeas — I like regular couscous just fine, but fatter, rounder pearl couscous are even better, particularly because many recipes have you toast them in olive oil before cooking through. I loved the flavor profile of this one-pot dish, the caramelized garlic and onions, the cumin and allspice, and a finishing splash of pomegranate molasses. (There are a lot of one-pot dishes similar to this; check out Serious Eats and EatingWell for variations.)
177milkstreet.com/recipes/toasted-pearl-couscous-with-chicken-and-chickpeas
Stir-fried green beans with pork and oyster sauce — I've cooked a fair amount out of "Milk Street: Tuesday Nights," and this Sichuan-inspired recipe had the speed and ease I found in that cookbook. The stir-fry came together in the time it took for our rice to steam, made with a dry sherry/oyster sauce. For a more substantial dinner, we doubled the ground pork (from four ounces to eight).
177milkstreet.com/recipes/stir-fried-pork-oyster-sauce-green-beans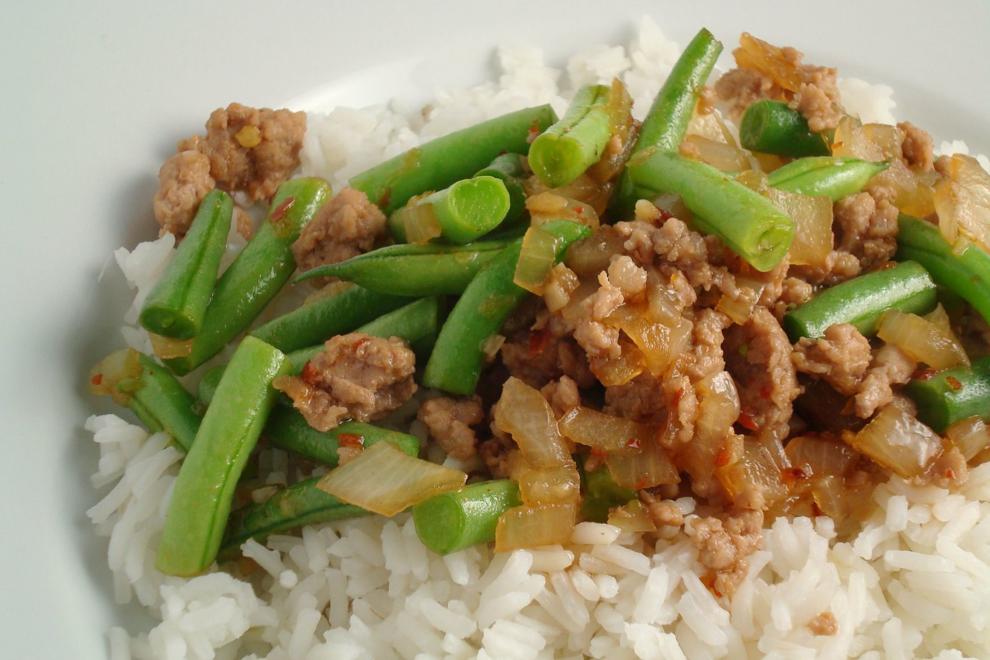 Parsley and arugula salad with lemon and sesame — I love when herbs become the main event in a salad. With a full bunch of Italian flat-leaf parsley, a couple handfuls of baby arugula and a straightforward lemon vinaigrette, this is a quick and easy side to throw together while your steak or chicken is resting. (Reprinted free in the Montreal Gazette.)
177milkstreet.com/recipes/lemon-sesame-parsley-arugula-salad
Lentils with Swiss chard and pomegranate molasses — I've just realized how much pomegranate molasses is in this book! It's a lot. It's really nice here, though, as is a final addition of cilantro to lift the earthiness of brown lentils. (Another version from "Soframiz" by Ana Sortun and Maura Kilpatrick: snukfoods.com/blogs/recipe/syrian-lentils-chard).
177milkstreet.com/recipes/swiss-chard-pomegranate-molasses-lentils
Toasted noodles with shrimp — The first time I tried a dish like this, inspired by the Spanish rossejat de fideus, I ended up with shards of broken spaghetti all over my kitchen. I snapped smarter this time, close over the bowl, though I think a bag would have been even better. Toasting the noodles, like with the couscous, gives them an extra boost of flavor. You can use Better than Bouillon to make chicken stock (as I did) but smoked paprika is a must. (For another version, try Fine Cooking: finecooking.com/recipe/fideos-rossejat-rapida).
177milkstreet.com/recipes/toasted-noodles-shrimp-rossejat-de-fideus
Also on the menu
Soft shell crab with preserved lemon and almonds from the New York Times — I adore soft shell crab, but I usually let restaurants make it for me because when an ingredient is rare or costly, my kitchen anxiety spikes. (Scallops give me the shakes.) We gave it a shot this year, though, and I have to say I was thrilled at how these came out. We pre-ordered our crabs ($8/each) from The Seafood Center and served them with steamed and sautéed sugar snap peas.
cooking.nytimes.com/recipes/1014740-soft-shell-crab-with-preserved-lemon-and-almonds
French-style potato salad with capers and anchovies by David Tanis in the New York Times — At first I made a half recipe of this salty, briny potato salad as a side for grilled hanger steak. My partner devoured it so quickly, a few days later I made it again with the full two pounds of potatoes. You can skip the anchovies if, like my mother, you have a mental blockage against them, but I have to say it didn't taste fishy at all. This is a great side to prep in advance.
cooking.nytimes.com/recipes/1021019-potato-salad-with-capers-and-anchovies
Salty buckwheat chocolate chunk cookies from Bon Appetit (April 2020) — Whether I cook out of my many cooking magazines varies wildly. Sometimes I go on a tear and make every recipe in the "Healthyish" section of Bon Appetit; then I'll leave the magazines to pile up on a table for the next three months. This cookie recipe is from a feature called "How to be a better baker," to which I aspire. I substituted (with permission) whole wheat flour for buckwheat, gave the dough a generous rest in the fridge, and topped each cookie with a wedge of very dark chocolate. Such a grownup treat.
bonappetit.com/recipe/salty-buckwheat-chocolate-chunk-cookies
French 75 from "The New Cocktail Hour" by André and Tenaya Darlington — This is a classic cocktail so recipes are everywhere, but I want to salute the cocktail book that got us through a quarantine spring. Published in 2016 by former Madisonian siblings, "The New Cocktail Hour" is as accessible as it gets. Celebrate late spring with this cocktail of gin, fresh lemon, simple syrup and, in our case, leftover cava from mimosas.