As rain poured down over Madison on Oct. 11, Indigenous People's Day, 29-year-old Dan Van Note stood at the corner of Wilson Street and Martin Luther King Jr. Boulevard, drenched from head to toe. Dressed in all black and a white baseball cap, Van Note looked down and stuck out his tongue in exhaustion.
He had just finished a 26-mile-long independent marathon in four hours after recovering from a breakthrough COVID case only days before. But instead of collapsing on the ground at the finish line, Van Note took off his sneakers.
And put on seven-inch heels.
With his legs trembling, Van Note strutted the length of three football fields down Martin Luther King Jr. Blvd. and up the Capitol steps. Through labored breathing and quivering calves, Van Note managed a smile as he struck a pose.
"Okay, these," he said gesturing to his clear, plastic heels, feel "much better than last year."
It was not the first time the Maine native had done this routine. He has four rounds down and 22 more to go.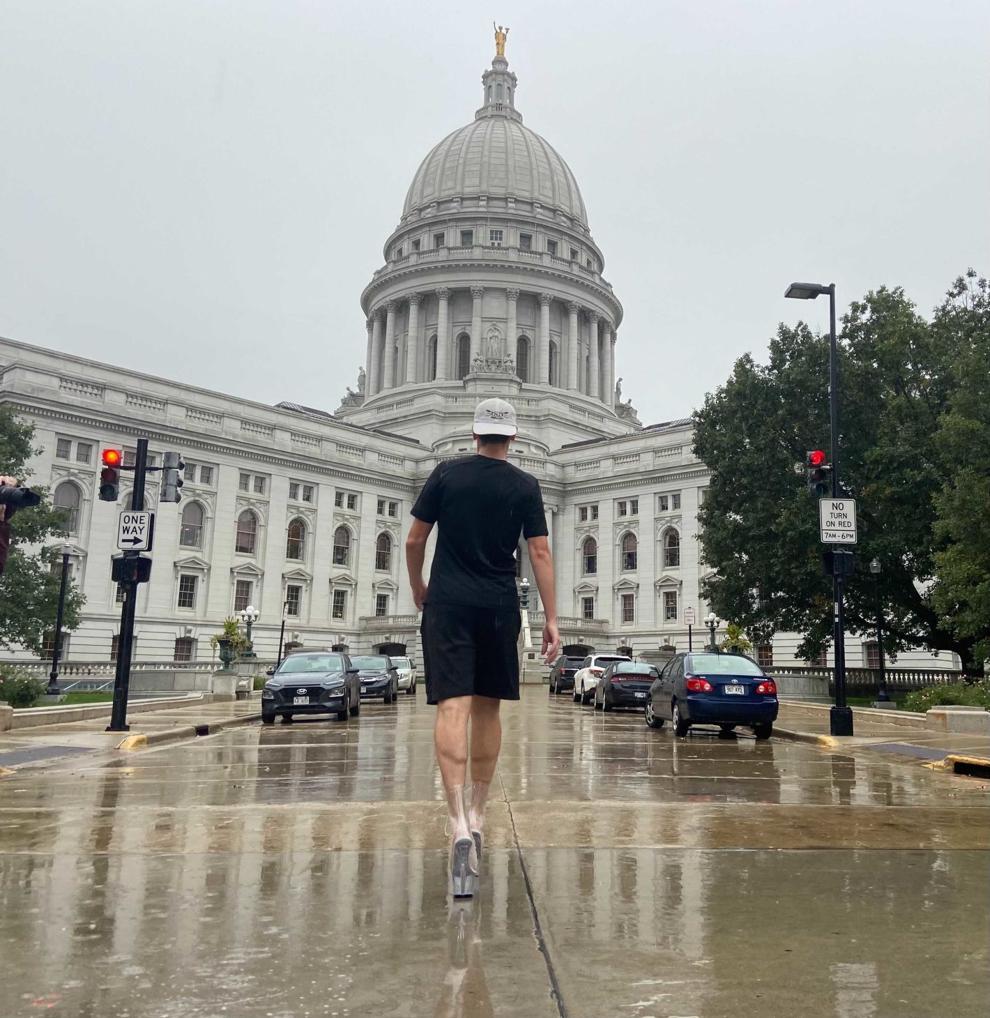 The point of perseverance
Van Note, a second year master's student in the University of Wisconsin-Madison Interdisciplinary Theatre Studies program, has made a 26-year-long commitment to annually complete a marathon followed by a runway walk in heels on his exhausted legs. He does it all in the name of a performance art piece he calls "Endurance Queen," which strives to make others ponder the point of perseverance in the face of difficulty.
Van Note, a gay man, created "Endurance Queen" while he was living in New York City, where he grappled with his identity and often felt lost in unanswered questions about everything from his next job to his next boyfriend. He hopes that by doing this performance each year, he can find an answer to the question of "why" in his life, and he hopes others can, too.
"I hope (people) see themselves in the piece," he said. "If I get through this, they can get through their thing — whatever their marathon is."
His performance this year was sponsored by UW-Madison's new Artivism Student Action Program, known as ASAP, which provides financial support for student projects that combine activism and art. UW-Madison's Division of the Arts launched this fall and just closed its first round of applications.
Van Note's performance was one of six proposals selected to be a part of ASAP, which gave over $9,000 total to support student-led projects. Eligible proposals must center around, or be performed by, people who have been marginalized due to identity-based oppression.
"The arts promote understanding, joy, and appreciation for the plural identities present in our communities," the program website states. "They are functional tools for artists and audiences to address issues of inequity and articulate the need for social change."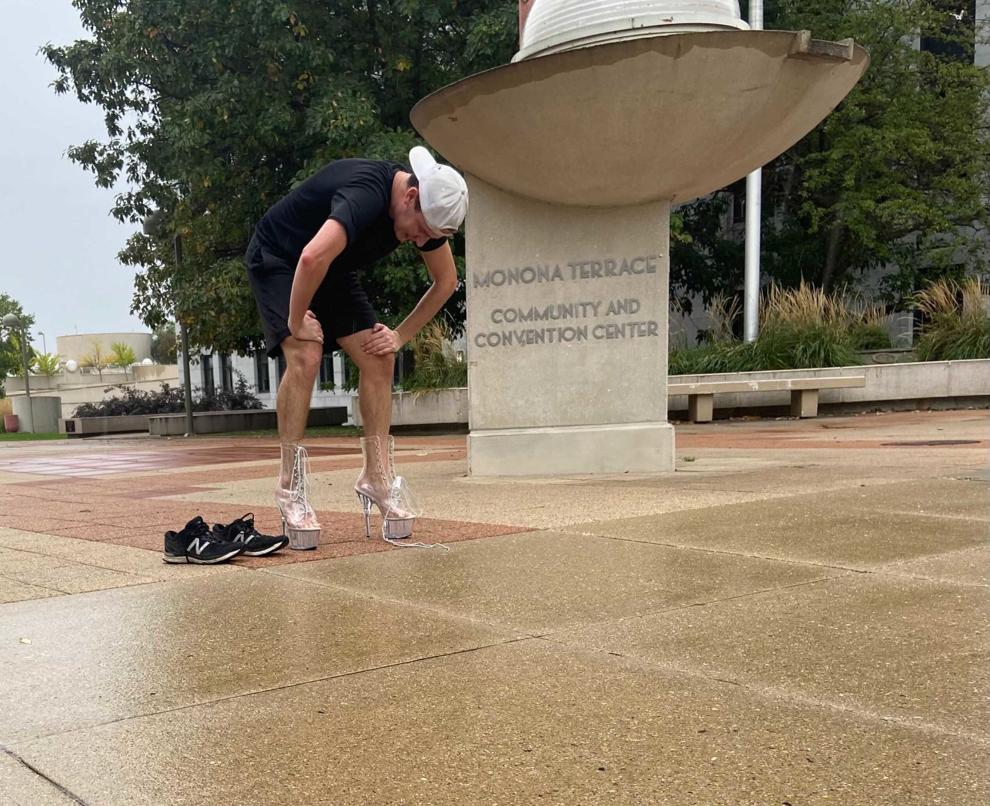 Van Note said he was proud "Endurance Queen" was chosen among ASAP's first round of awardees. It was the first time Van Note had ever tried to get outside funding to support his artistic endeavors, and he said it felt good to receive recognition for his creative work.
Everyone runs
Alison Bory, Van Note's first dance professor at Davidson College in North Carolina, worked with him on several performances while he was an undergraduate. Bory said "Endurance Queen," like many of Van Note's performances, is connected to his attempts to make sense of his own experience.
"Most of his work has come from this place of real internal exploration or articulation of notions of identity," Bory said. "So I sort of see the piece in lots of ways ... it's this very clear set of things, but also it brings back (his) past."
Van Note came out during his junior year of college after studying abroad in Shanghai, China. By his own account, he went abroad as a straight economics major and came back as a gay man studying anthropology.
He recalls looking out the window of his apartment that towered over Shanghai and, after having watched many Oprah videos, finally feeling ready to come out.
"I remember seeing all the people walking around and being on the other side of the world, and thinking: If there are this many billion people in the world, it's probably not a big deal that I'm gay," he said with a chuckle.
As a boy, Van Note felt drawn to running for the equal playing field and refuge it provided.
"Being a young, gay kid, it was the one thing that I was like 'OK, I get this, just run, everyone runs,'" he said.
In that sense, he said, the performance is about the endurance of the queer spirit. "Endurance Queen'' is meant to conjure inner conflict — feelings of delight, fascination and repulsion — which Van Note believes encapsulates much of the historic public opinion toward the LGBTQ+ community.
This felt poignant when, at the end of his first performance of "Endurance Queen," a man would not move out of the way to let Van Note do the runway walk.
"What better way for this to end than for me to have to try to claim space," he said. "This is part of what the piece is doing. It's like, queer people run a marathon, walk in high heels and pose, and people still won't get out of the way."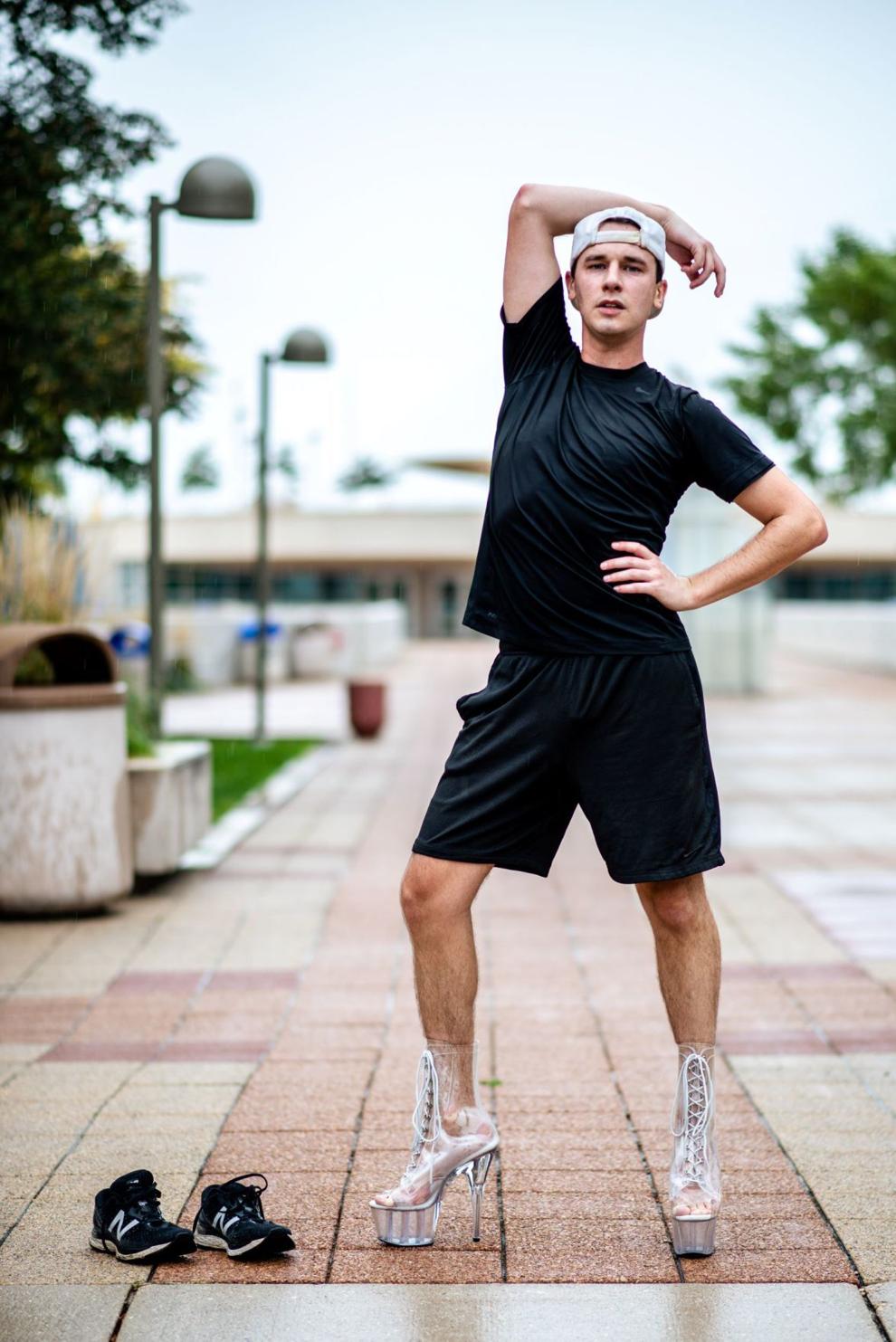 A new pair of heels
Brooke Stoker, a dancer and friend Van Note met in New York, was there for his first "Endurance Queen" in Central Park that ended in front of the Bethesda fountain.
Stoker helped Van Note pick out his first pair of heels for the performance. She said watching him do the runway walk in those lace-up, coal-black heels after the marathon was beautiful in a way she will never forget.
"Whenever I walk through Central Park, I always think of him at this exact tile, where he had chosen to put on his heels," Stoker said.
After nearly three years in New York, Van Note decided it was time to leave New York and pursue a master's at UW-Madison. "Endurance Queen" came with him.
At his performance in Madison last year, it rained throughout the marathon. Then, his 10-inch high heels broke during the runway walk. This felt very appropriate for 2020.
Michael Peterson, the director of the UW-Madison Interdisciplinary Theatre Studies program, said the performance reflects Van Note as the strong-willed student he has come to know.
"Dan can appear sort of, you know, normal. He's got a very normal haircut, he's a very clean-cut sort of person," Peterson said. "You see him running down the street, he could be any young, middle-of-the-road athlete.
"So to me, there's a really interesting transformation that happens right when he takes off the running shoes and puts on heels."
Though Van Note said his final year may be in "kitten heels," he is determined not to falter on his commitment to keep up the performance, year after year.
"I'm going to roll my eyes at myself a lot, I think," he said.
He believes the sense of never feeling close to the finish line is what will keep him going.
"I feel like ('Endurance Queen') has a lot to teach me," he said, then paused. "Which will only happen over time."