When "Every Brilliant Thing" opens to the sounds of mellow jazz, the lights never go down.
That's because the cast hasn't been determined yet — and maybe, you're it. Actor David Daniel has to make eye contact, to see who's leaning forward and who would rather crawl under a folding seat in the Playhouse than stand up and take one of his patient cues.  
Forward Theater Company's production of "Every Brilliant Thing," running in Overture Center through Feb. 9, is designed to be different every night. If theater is collectively watching someone perform empathy in real time, in "Every Brilliant Thing" the empathy extends beyond the performer to the people in the seats.
Those volunteers will, as Daniel said in a preview, never be wrong.  
The title of "Every Brilliant Thing" comes from a list started by our narrator (Daniel) when he's a little kid. His mom, who casts a shadow over his narrative but never really appears, has attempted to take her own life.
The boy starts a list of all the good things that make life worth living. At first these are kid-centric things — ice cream, roller coasters, Spider Man. As a teen, he adds having dessert as a main course, skinny dipping, "997. Cycling downhill" and Marlon Brando. In college, he adds falling in love, friendly cats and being cooked for. The list grows.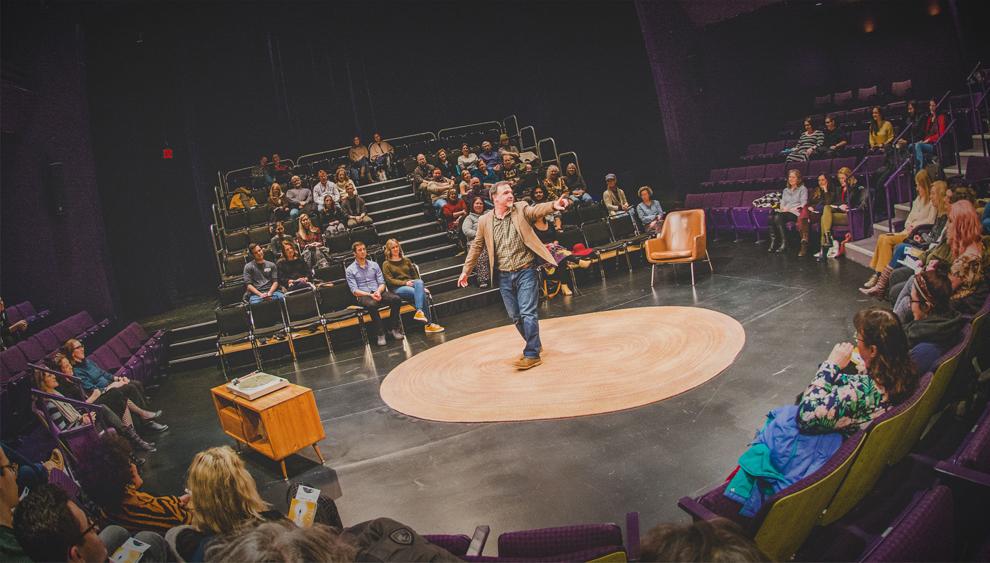 In addition to playing some of the people in his life, audience members read parts of the list. This creates its own comedy. When a girl with braces in Thursday night's audience proclaimed "Mar-LAWN Brando," Daniel smiled.
"You have no idea who that is, do you?" Daniel said. She blushed.
"Every Brilliant Thing" was developed from a short monologue by Duncan Macmillan in collaboration with British comedian Jonny Donahoe. In 2013, the main character was a young Brit, like Donahoe.
Tyler Marchant, director of Forward's production, gives Daniel more localized, age-appropriate references. There's a joke about how Sheboyganites pronounce "Goethe" and a gesture to the Midwestern-ness that makes him disinclined toward support groups. That flexibility serves the play — a problematic line in the script about "social contagions" that turned me cold at a rehearsal last week was cut by Thursday.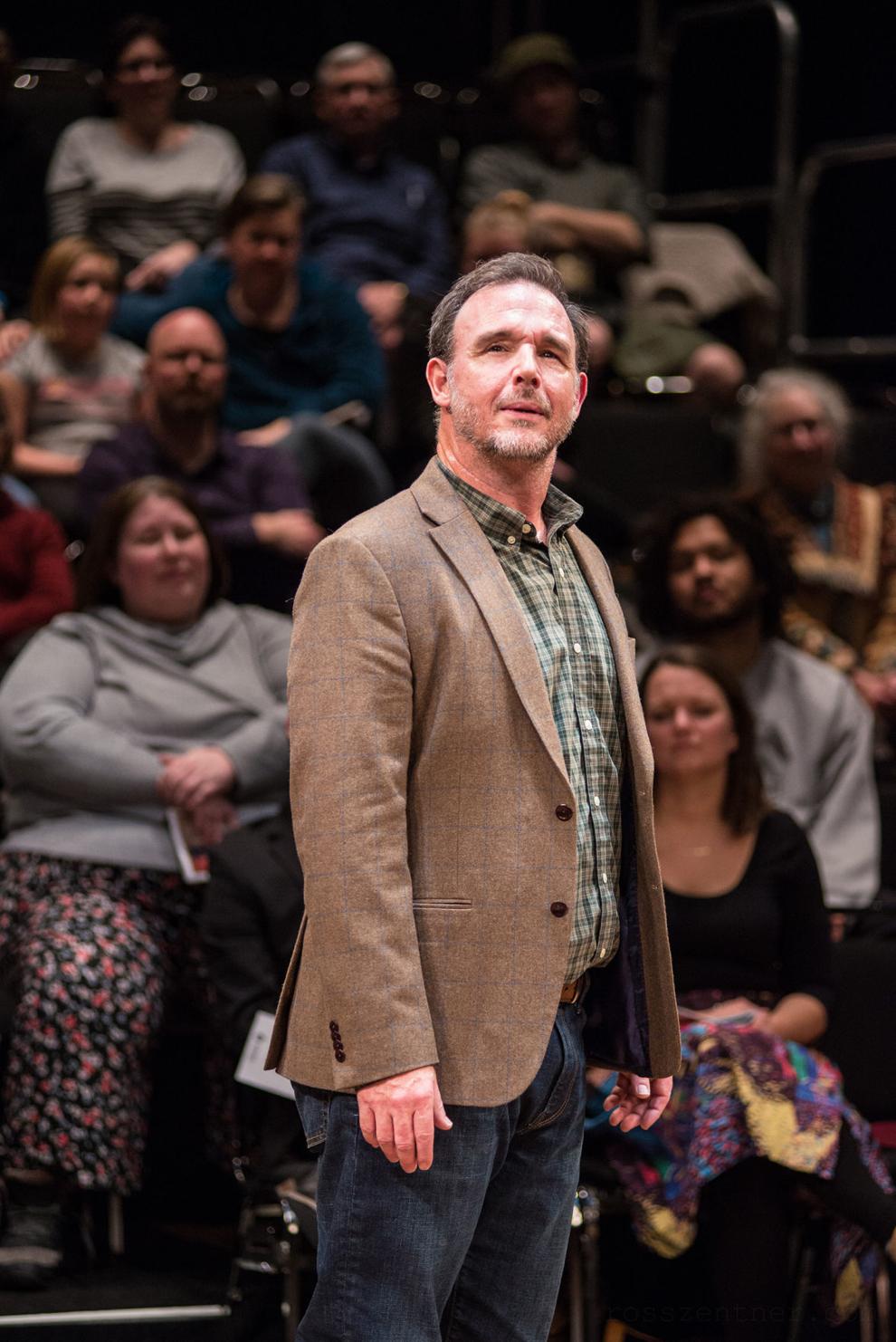 Daniel is a warm, charismatic performer, with an abundance of energy and a childlike glee that makes him both a great comic actor and an infectious teacher. (Daniel is both a core company member and the education director at American Players Theatre.)
But Macmillan has given this actor a heavy lift. First they've got to memorize an hour-plus of script and catch whatever balls the impromptu cast throws each night. He must lead us by the hand through a story that meanders a bit, especially as the narrator ages.
And the tone shifts wildly. One minute a bright young voice from the audience reads "Number 996: really good oranges!" In the next breath our narrator observes that his parents may not love each other. It's emotional whiplash. The fact that the mother is so lightly sketched adds to a sense of disconnect.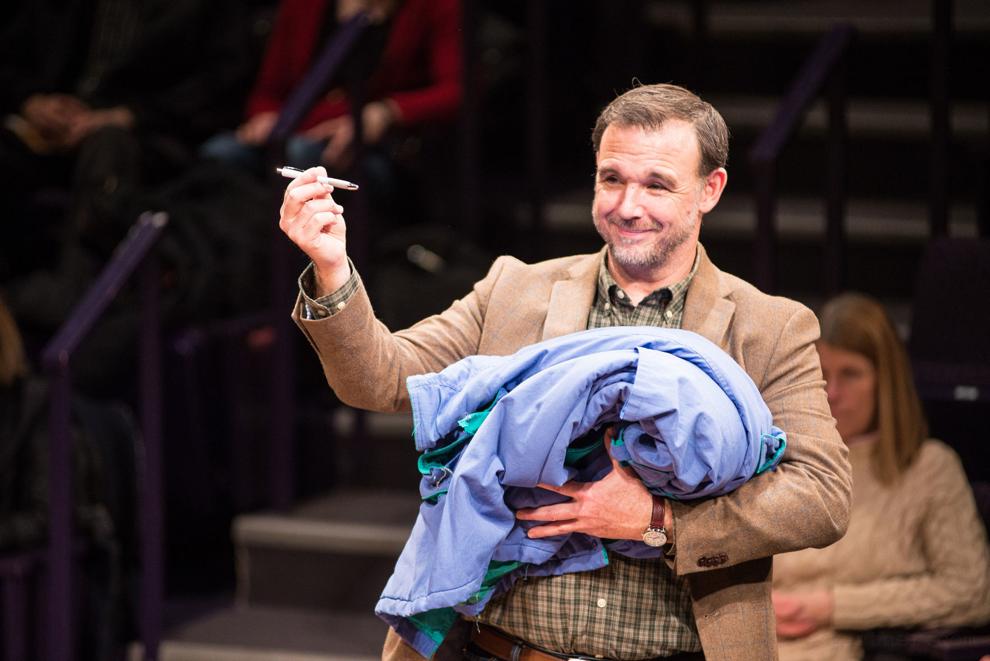 Perhaps because it's so approachable in its cast size (one person) and set (minimal, though staging in the round can be a logistical hurdle), "Every Brilliant Thing" is having a moment. Milwaukee Repertory Theatre put it up last spring. More than two dozen productions are either currently running or forthcoming in the U.S. and Canada.
Forward Theater's production is as strong as it can be, with deft jazz sound design by Joe Cerqua and a boxes full of props by Pamela Miles. Daniel is an appealing actor, and he is careful with the vulnerability he asks for in himself and us. 
The best, though, is watching this play in the round. One of the last entries on that big, happy list is "old people holding hands." Hearing that on Thursday, a couple directly opposite me on the risers reached for each other, leaning together. My heart flipped a little. 
They felt a connection. We all did. It's that kind of play.