Emerging from the choppy waters of a pandemic, American Players Theatre returns to Spring Green in a tight, rollicking comedy set on the briny deep. Running July 1 through Aug. 7 at the Hill Theatre in limited capacity performances, APT's production of English playwright Tom Stoppard's "Rough Crossing" is a breezy voyage of deceit and farcical charms.
Liberally adapted from celebrated Hungarian playwright Ferenc Molnár's "Play at the Castle," the show sees playwrights Sandor Turai (James Ridge) and Alex Gal (Jamal James) onboard the SS Italian Castle as they work on their latest musical. Both writers are hoping to refresh their careers by working with a buzzy new composer, the anxious and lovelorn Adam Adam, played by Josh Krause.
The nervous musician is engaged to one of the stars of the show — the striking Natasha Navrátilova (Kelsey Brennan). But when Adam overhears Natasha's co-star Ivor Fish (Marcus Truschinski) confess his love for her, the writers must work to keep their cast afloat. Nautical nonsense ensues on a tropical-themed ship set created by scenic designer Scott Adam Davis.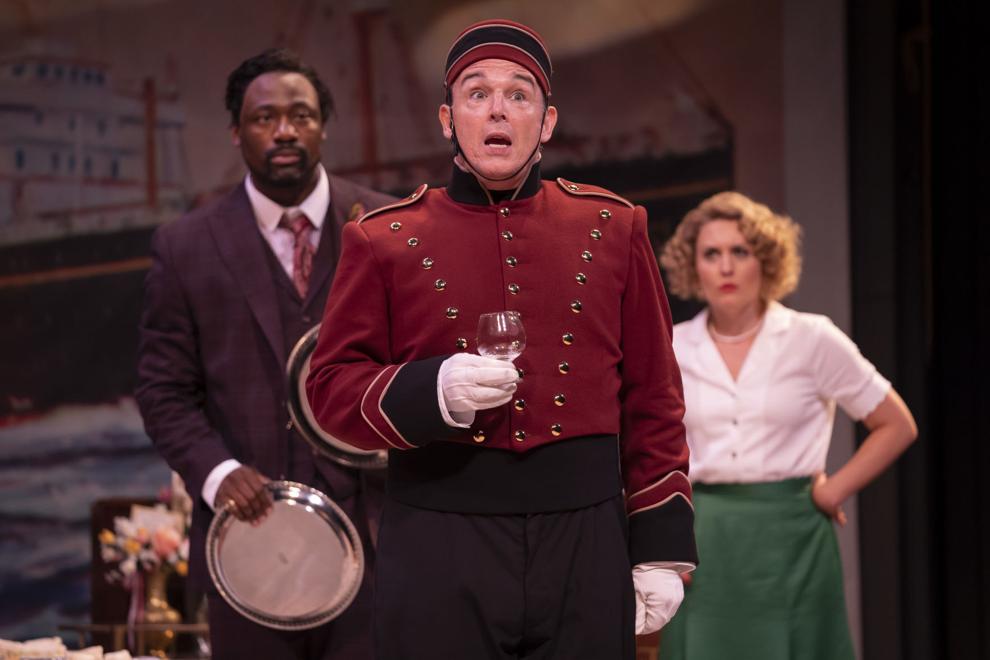 Director William Brown is quite familiar with Stoppard's clever wordplay and comic mischief; he directed APT's 2014 production of Stoppard's "Travesties" and was mentored by English theatre and film director Peter Wood, known for premiering Stoppard plays throughout the 1970s and early '80s.
"Rough Crossing" isn't notably one of Stoppard's most beloved works, but Brown brings a lot of care to the show's conceit. The simple romance-centered plot about the making of a not-so-simple play doesn't chart unfounded territory, but Stoppard's comedy and buoyant wit gives actors plenty of maritime mayhem to dive into.
Ridge realizes Turai's wry demeanor exceptionally well, and James as the ever-glutted Gal brings an impressive demonstration of Stoppard's written jest. Gal is constantly eating, whether it's chomping into a sandwich in one scene or picking at a smorgasbord of ambrosian meats in another. Gal even runs offstage to a lifeboat with a multi-tiered platter of confections for the road later in the show's second act. Gal makes most of these moments and then some.
David Daniel as the bumbling cabin steward Dvornichek is an easy treat. A recurring gag concerning Dvornichek mistakenly throwing Turai's ordered cognac down the hatch could grow tiresome under less capable hands, but manages to delight every time; Daniel's physical comedy just soars.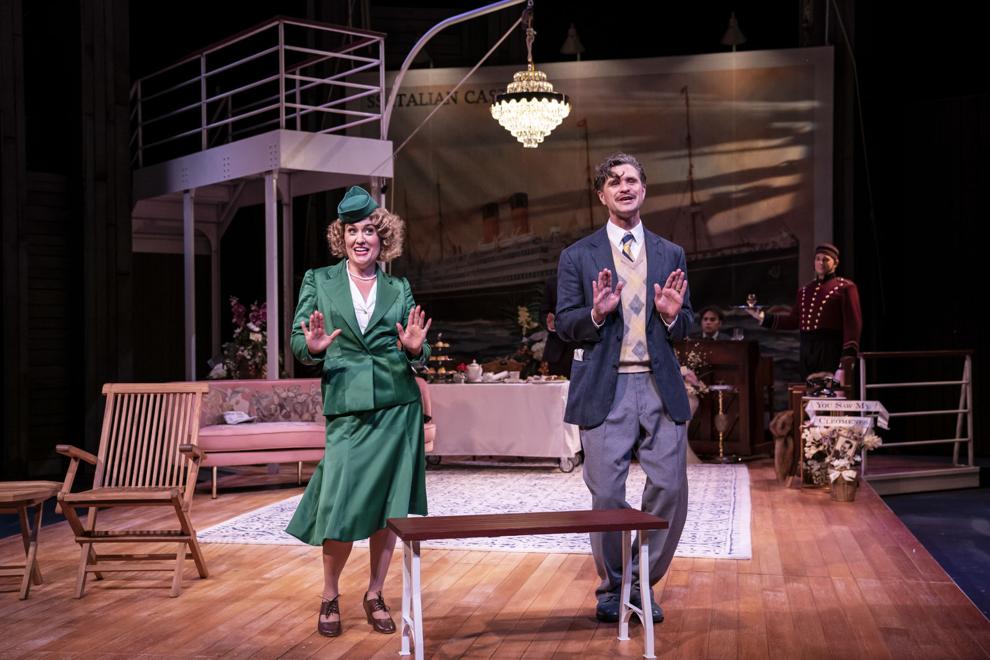 But it's Natasha and Ivor's love-hate relationship that gleams brightest in Brown's production. There's a playful chemistry between the actors and they play off one another with exceptional ease. 
Their introduction on the upper balcony of the seafaring vessel sees them wrestle with bubbling desire and spite. "I'm mad about you," Ivor confesses, "But you've plucked out my heart like the olive out of a dry Martini and dashed me from your lips!"
Truschinski flits between extremes in hilarious fashion and, at one point, almost launches himself from the balcony in lovesick agony. "Let the whole world know that I mean nothing to you. I'm a dashed Martini!" Ivor bellows out with frenetic aplomb. 
Their best work comes in the opening of Act Two, where the show opens with the two mid-rehearsal. Brennan and Truschinski lean into wacky melodrama, trotting around the ship's rehearsal space and making constant digs at Turai's ridiculous writing. 
Though not narratively complex by any means, "Rough Crossing" anchors its actors with pitch-perfect physical comedy, wit and a breezy disposition that will wrap APT's summer season in vivid fashion.