In 2012, Trayvon Martin, a Black teenage boy in Florida, was walking home from a convenience store when George Zimmerman, a member of the community's neighborhood watch, racially profiled and shot him. Martin's death was one of the first of many that shocked Americans, exposing a culture of entrenched racism despite progress like the nation's first Black president. 
Many other Black men and women were killed in the years that followed — some at the hands of police — including Eric Garner and Michael Brown, both in the same summer, and Sandra Bland. 
The dehumanization of these Black lives drew Quanda Johnson, a doctoral candidate in interdisciplinary theatre studies at the University of Wisconsin-Madison, to think about the psychological lynching of being subjected to trauma for centuries as a result of American slavery and systemic racism. 
While she works in performance and visual arts, a course in 2015 prompted Johnson to explore how she could use visual art as a tool to disrupt assumptions about Blackness. 
"Trauerspiel: Subject into Nonbeing" is Johnson's new art exhibit at the School of Education Art Gallery, which interrogates three means of Black trauma: the white gaze, mob or vigilante violence, and violence within some "safe" Black spaces, such as the home. The exhibit opens Friday with a reception from 6:30 to 8:30 p.m. and includes light snacks and beverages. 
With the exhibit, on display through Feb, 27, 2023, Johnson argues that there is a "beingness," for the Black body and psyche beyond being a victim, and that there is a lived liminal space of trauma, resistance, adaptation and creativity.   
"Both with the performative and visual art, I came up with this idea: it is a type of collage, but it's an extension. It's called melange, or the scramble," Johnson said. " My dissertation is interrogating, also partly this idea of scrambled. What does it mean to tear, to break, to disrupt, to fragment, and then toss up, shake and toss and allow to land and lay where they land, scrambled? To tell or seek something new. That's how I approached the visual art."
Johnson organized the three pieces of artwork into a triptych, a work of art presented in three sections. These visual pieces are all extensions of the performative pieces that Johnson completed for her dissertation research. The three visual artworks within the exhibit are titled "In Search of Negroland: beauty suspended," "The Ballad of Anthony Crawford: remix," and like the overall, titular piece, "Trauerspiel: subject into non…being."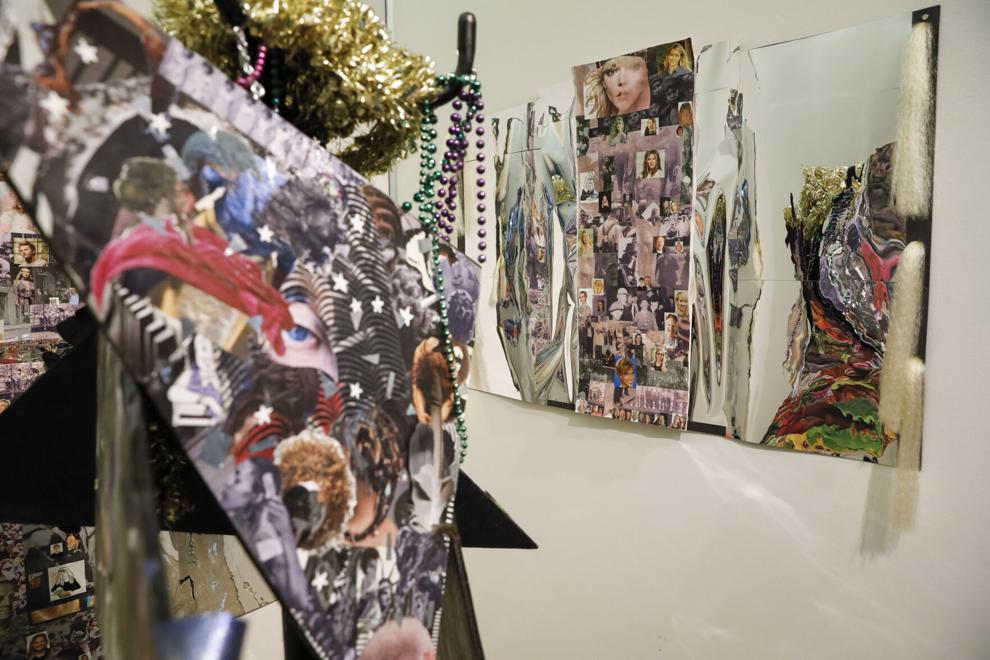 "In Search of Negroland: beauty suspended," explores the question from author and civil rights activist W.E.B. DuBois, "What is it about whiteness that is to be so desired?" Johnson uses this piece to look at the denial of Black beauty in society and explores how Black people over the decades have had to refind their beauty within themselves.
"We've been through this before," she said. "We discovered it again, probably for the first time, during the Harlem Renaissance in the 1920s, then something happened, things changed. Battles were fought on the front lines of war and on the front line here in the United States, and suddenly we lose the sense of our beauty, and we have to find it again. And we do, it's called the Black Arts Movement, or the Black is Beautiful movement of the late 1960s, early 1970s. And then something happens. 
"And we find ourselves untethered again, or having to refind our footing, and again, redefine our beauty," she added. "That's the moment that we're in now. Where we're beginning, once again, to acknowledge our validity on a number of different platforms, not just that our lives matter or our being matters, but that we are indeed valid and beautiful."
In the second art piece, "The Ballad of Anthony Crawford: remix,"  Johnson examines white mob violence that destroys Black life. Her ancestor, Anthony Crawford (1851-1916), was lynched. Through this work, she explores how this altered her family's trajectory and the trajectory of the other Black victims of this violence.  
"(He was) a wealthy Black man in the beginning of the 20th century in Abbeyfield County, South Carolina, and he did not know his place. And because he did not know his place, the white people of that county felt that they had the right to destroy him. And he was lynched."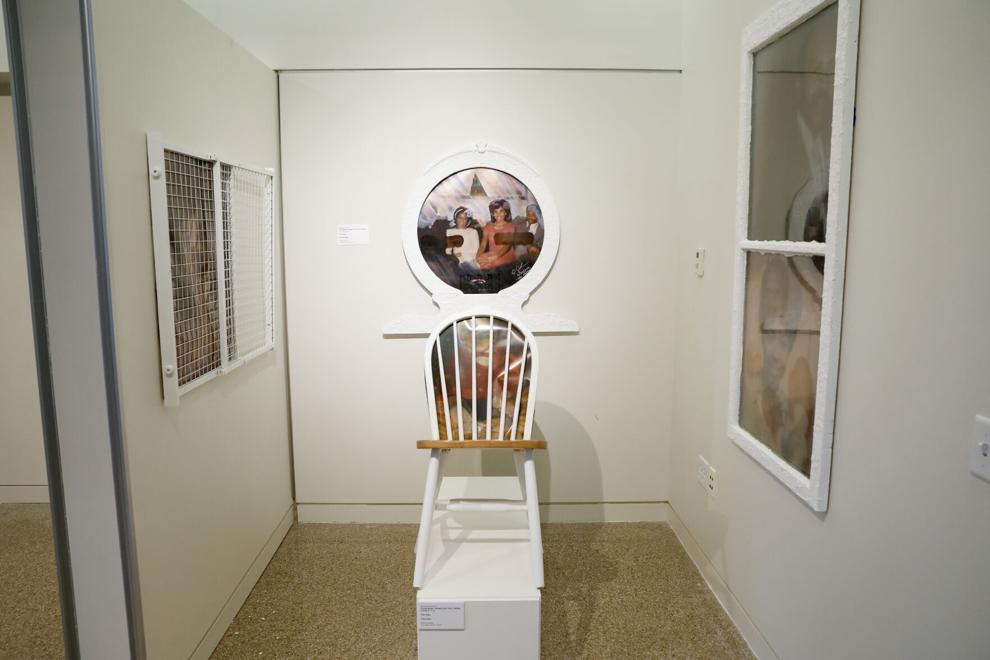 The last visual piece in the exhibit is "Trauerspiel: subject into non…being", which she likens to Adrienne Kennedy's "Funnyhouse of a Negro," a Broadway play produced in 1964. Through this piece she reflects on horror, hope and the legacy of her family. In an earlier performative piece from this spring, Johnson was surrounded by monitors as a video of her reading a poem was replicated across the stage. She said this visual piece is similar, but framed and packaged differently. This specific piece also highlights her take on the experiences with violence she endured in her home growing up.
"That break between the non and the being, (means) there's a searching going on there," she added. "And there's a gaze throughout all of these works. You have the white gaze and the Black gaze. But here, in this last work, it's my gaze. It's Quanda looking back, looking forward, looking at who she is now and interrogating that. In light of how I look physically, in light of what I've inherited from this legacy of lynching."
Through this collection of work, Johnson hopes to show how Black people in America have had to and are still negotiating and navigating white fear, white entitlement, white privilege and white subjugation of their bodies since the transatlantic slave trade in the 16th century. 
"The work acts as a tonic for me," Johnson said. "The work and the interrogation of the work is also my medicine. It's one of the reasons why I choose to exist in the world in this way. It helps me to make sense of the world and these so-called lives that we're living. For me, it's through art."
Johnson creates her artwork to help herself and others see reflections of themselves. Through her literary, performative and visual work, she hopes Black and white viewers see and understand that they, too, are a part of the stories being told. She uses her art to help her make sense of the world and hopes viewers can do the same. 
"How do you soothe the troubled mind? We find something that we're passionate about," Johnson said. "For me, it is art, creative making, and using my art as a platform. Not art for art's sake. Though there's nothing wrong with that. 
"DuBois famously said that he didn't give a damn for any art that wasn't propaganda, especially when it comes to Black beingness and our ontology," she added. "Until the world accepts us for being, where we don't have to be humans doing, or humans accomplishing or humans articulating, or any of the tropes that they place on us to counteract the stereotypes that they've placed on us. 
"When we can be humans, being, looking the way we look, moving the way we move in the world. Until that day comes, I'll be creating art as propaganda."