If there was a message Wisconsinites got used to hearing about their governor heading into the 2022 midterm election, it was likely that he was "doing the right thing" for the state.
It was a message derived from voters themselves, said Cassi Fenili, campaign manager for Gov. Tony Evers, in the days after he was reelected for a second term leading the Badger State.
"As governor, I'll always try to do the right thing," the Democratic governor said in a TV spot making his final pitch against Republican construction executive Tim Michels in the Nov. 8 election. "I've worked with both parties to find middle ground to improve and invest in our public schools, cut income taxes and put our state on solid financial footing."
Evers defeated Michels by more than 90,000 votes — a margin of 3.4 percentage points. The former state superintendent of public instruction was first elected governor by a margin of less than 30,000 votes — 1.1 percentage points — ousting Republican former Gov. Scott Walker in 2018.
An analysis by AdImpact, which tracks digital and television advertising spending, shows that Democratic advertising slightly outpaced that of Republicans in Wisconsin's gubernatorial race — $66.1 million to $61.4 million — throughout the 2022 midterm cycle. In the final three months of the race — following Michels' Aug. 9 primary win — Democrats spent $58.5 million, compared to Republicans' $31.2 million. 
Every penny spent by the Evers campaign was carefully allocated, as the team knew it was fighting the national expectation of a "red wave."
The campaign produced more than 2,000 locally-targeted ads, according to numbers shared with the Cap Times. As part of that, for example, voters in each of the state's 72 counties received targeted ads highlighting grants the governor allocated to local businesses.
"Despite what our Connecticut-bound opponent may have felt, there is nobody more Wisconsin than Tony Evers, and we wanted to make sure that voters heard about our very localized message. It was something that we were going to do from the beginning, and having the resources to do that was just something that we ran with from the get-go. That was really what we wanted to do," Fenili said.
Despite the expectation of national headwinds blowing against Democrats, Evers came into the 2022 general election with an advantage he didn't have when he narrowly defeated Walker in 2018: without a primary challenge, he and his allies could focus entirely on the general election.
That allowed the campaign to build a team and focus its efforts early, Fenili said. The Evers campaign's media consultant was Ben Nuckels, reprising his role from 2018.
Fenili credits the campaign's research and communications teams for "painstakingly" compiling the kind of information that allowed the campaign to run ads that, in addition to highlighting grants given to local small businesses, also localized the Evers administration's efforts to — as the governor often says — "fix the damn roads."
"After years of neglect, Tony Evers repaired nearly 5,000 miles of roads across Wisconsin," an ad released before the August primary boasted. 
The spot, which featured Evers buckling up and (presumably) driving a red pickup truck, showed regionalized starting points on a map (La Crosse, Chequamegon Bay and Oconomowoc, for example) to Miami and back to depict the miles of rehabbed roads. 
"At least for a state race, I think this should be the model for anyone going forward. I think it really resonated with voters. We heard a lot about it from people on the trail. I think it is sort of a trailblazing thing that we did and I would definitely recommend that any state-based campaign do it in the future," Fenili said.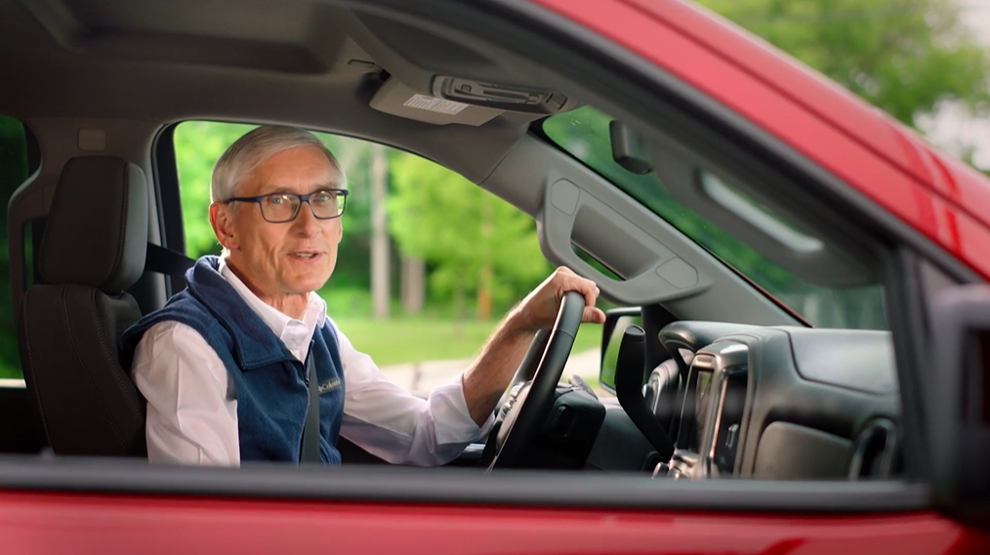 The campaign also made prudent ad booking decisions — an advantage that started, but did not end, with its lack of a primary challenge, by booking all of its TV advertising slots on May 2. Doing so secured the campaign significantly lower rates in the month before the federally mandated period during which political ads receive a protected rate. 
"We were able to have a base level of, 'OK, this is what we're going to do. This is the base level of TV we're going to hit.' As we saw things shift in the polling or as we got real-time feedback on the ground of where things were going. We were able to — as our finance team blew past their goal … make real-time adjustments and say, 'OK, we have our base level already in. Where do we need to add to now?' Rather than have to play catch-up regularly because we didn't make that pre-book. So it played out really well for us."
It wasn't just about the bottom line, though — it was about where the money went within the margins.
The localized ads highlighting funding for roads and small businesses were just a facet of the campaign's targeted efforts. 
The campaign also delivered its broader pitches with regionalized focuses. For example: While Madison voters saw a heavy push of abortion-related ads, the campaign didn't run any broadcast television ads focused on the issue in Wausau and Rhinelander. 
"It was a number of things," Fenili said when asked what factored into the campaign's decisions about which messages to highlight in different media markets. "It's doing a lot of research. We invested a lot of money early on in polling, in research groups. We did — I can't even count off the top of my head — how many focus groups that we did around the state."
The campaign started those focus groups two years ahead of the election, Fenili said, and held its last one within three weeks of Election Day. That feedback came along with information from local party activists and grassroots supporters, she said.
"We ultimately saw that there were parts of the state that certain messages were resonating better than others, and we had to make the call what to run where," Fenili said, adding that the campaign made small tweaks when and where they were needed, with a goal of not over-correcting.
The campaign presented its closing message of "doing the right thing" through three different regional filters.
"Here's what I won't do," Evers said in an ad that aired in the Madison and Milwaukee markets. "I won't cut public school funding. I won't be Donald Trump's puppet. And I'll never allow radical politicians to make decisions about abortion. That should be left to women and their doctors."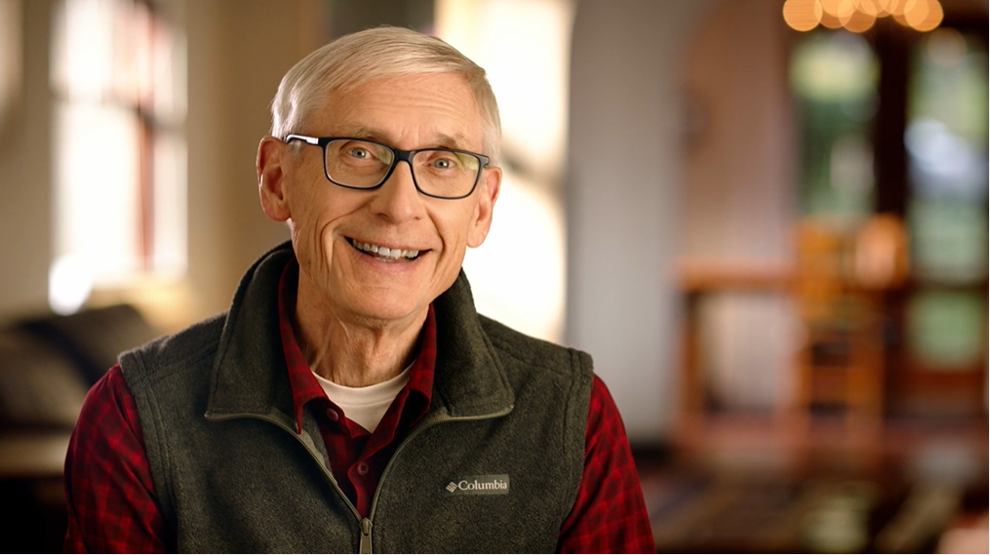 Voters in the La Crosse and Eau Claire areas heard a similar message: "I won't cut public school funding. I won't stop trying to find good ideas from both parties. And I'll never allow radical politicians to make decisions about abortion. That should be left to women and their doctors."
And in Green Bay, Wausau and Superior: "I won't cut funding from our kids' public schools. I won't cut funding from our police. And I'll never stop searching for good ideas from both parties to improve Wisconsin."
"I'm Tony Evers, and I'm asking for your vote," each ad concluded.
About 25% of the Evers campaign's paid media budget was spent on digital and social media.
And while the content of the campaign's ads came from its human staff, the targeting got a boost from artificial intelligence (AI).
The campaign made use of AI to determine which images and colors performed best, and what times of day and which issues garnered the most engagement from specific voters. The AI technology analyzed thousands of data points for each voter, from publicly available consumer data to private profiling models. 
As a result, the campaign said, its ad performance "consistently" surpassed benchmark key performance indicators. For example, its pre-roll video (ads that play before an online video, like on YouTube) had a 77.41% completion (voters who watch the entire ad) rate, compared to an industry standard goal of 60-65%.
In addition to using AI to further its own message, the Evers campaign deployed the technology to combat negative narratives, by tracking which voters were exposed to which ads. The campaign used that data to create a "digital target audience" and deliver ads to voters who had seen oppositional messages.
For example: the campaign determined that 80,000 "persuadable" voters had been exposed to an ad run by Restoration PAC that claimed that under Evers' leadership, the state Department of Public Instruction suggested that "white people wear 'privilege' wristbands." A 2013 PolitFact review rated that assertion "mostly false."
In response, the Evers campaign served all 80,000 of those voters with digital ads linking to the PolitiFact article.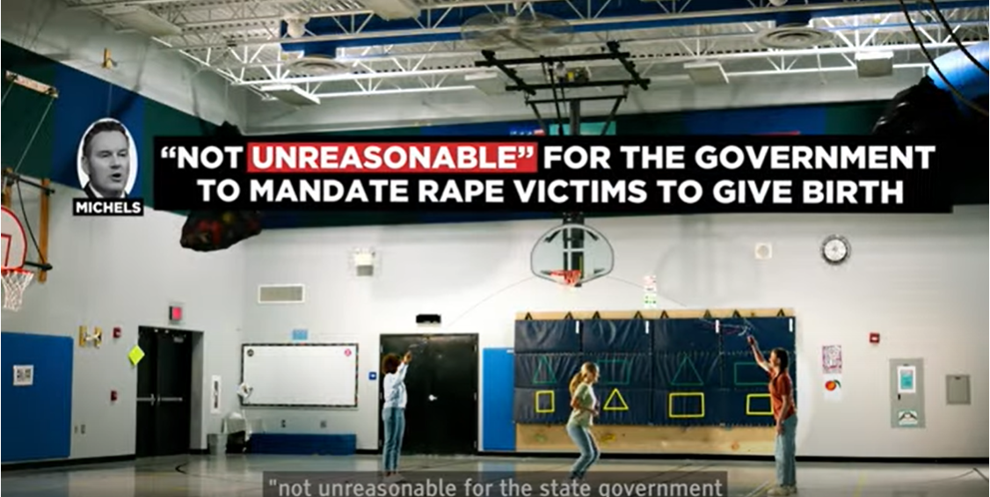 Among the ads Fenili felt were most effective were the spots spotlighting allegations of sexual harassment and assault at Michels Corp. Those ads — along with others focused on Michels' opposition to abortion — were narrated by Stockard Channing, the actress famous for playing Rizzo in "Grease" and First Lady Abbey Bartlet in "The West Wing."
A primary goal for the campaign was to give voters a sense of "what the governor accomplished" in his first term, Fenili said.
Broadcast television advertising was "the loudest megaphone" the campaign had, which made it an early priority. Digital advertising ramped up as the campaign progressed — and after seeing strong click-through rates from a push that offered targeted advertising for each of the state's 72 counties, the campaign decided to keep pursuing its localized efforts. Other efforts included targeted ads on cable TV, YouTube and podcasts.
"We ended up being able to do everything that we wanted to do, because we had the resources to do it," Fenili said. "We had an incredible team. I can't give enough props to our fundraising team for … being able to give us the resources that we needed. … It was a lot of work, but it truly paid off. It was quite a run."