A new initiative from a Madison-based nonprofit is bringing eye exams to the homes of residents in rural India, a model the organization hopes to eventually take to additional countries. Called the Aadya Initiative, it's the latest project of Combat Blindness International, which for 37 years has worked to eliminate preventable blindness across the world. 
The new project trains young women to conduct basic eye exams and then pays them to go door to door in communities where eye care can be hard to come by.
Aadya screeners head into villages with a backpack filled with eye exam essentials. There's the smartphone equipped with an app called PEEK ("Portable Eye Exam Kit"), which replaces the familiar eye chart with a single letter "E" that rotates from one image to the next as patients indicate which direction the letter is pointing. For backup, there's a traditional eye chart to hang on the wall. There's also a precisely measured string, which screeners use to place the patient just the right distance from the phone or chart.
There's also a collection of frames and lenses from which screeners can create glasses on the spot. And, of course, a mirror.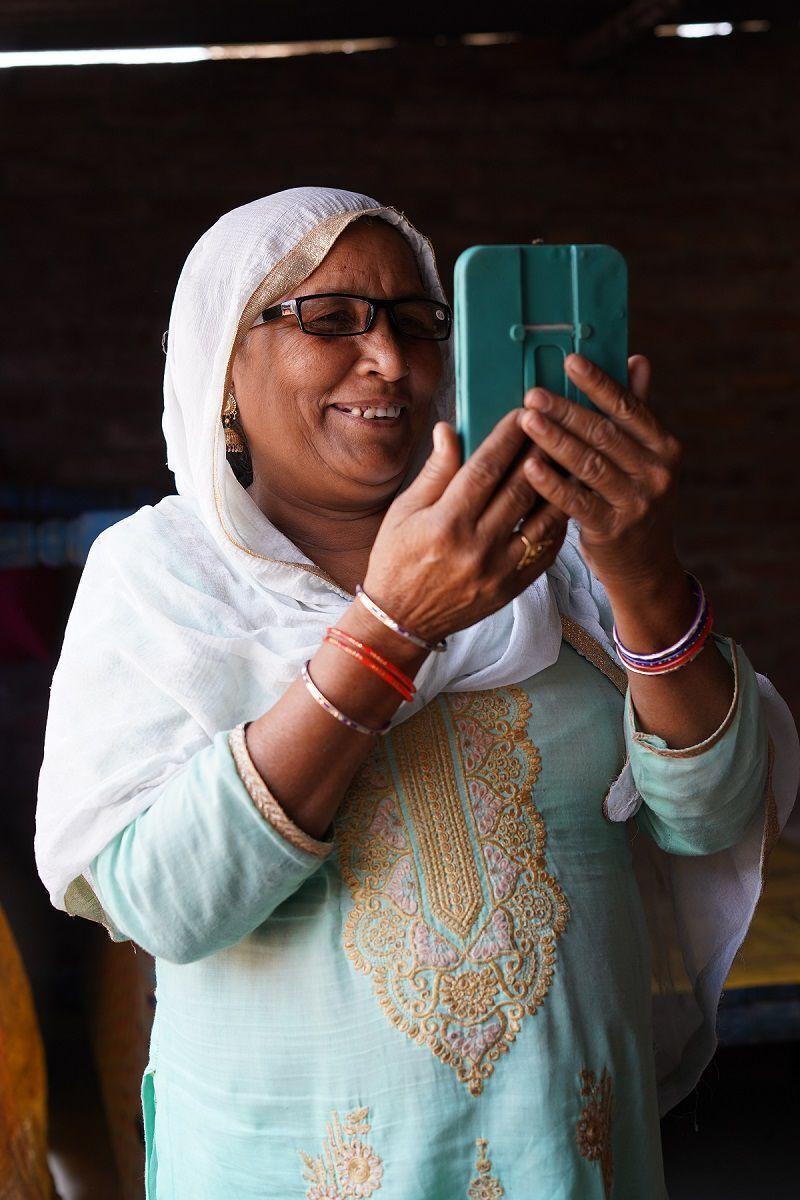 "The first thing a patient wants to see when they put on a pair of glasses is themselves," said Combat Blindness International executive director Reena Chandra Rajpal.
Screeners sell glasses for $1 per pair, a cost that Rajpal said is mostly to get patients to want to wear them. "Culturally, in India, if you go into a village and you offer something free, it's seen as subpar," Rajpal said. Those who can't pay get their glasses for free.
Immuto Scientific uses plasma technology to find new drugs fast
Screeners also carry a set of images showing common eye conditions, helping them identify patients who may need to be referred to an optometrist or ophthalmologist. Screeners can schedule such appointments on the spot and earn a referral fee.
Each screener has a target of 1,000 screenings per month. The monthly salary, which ranges from 8,000 to 10,000 rupees based on the number of screenings, is four times the average salary in rural India, Rajpal said.
Saving sight since 1984
Combat Blindness International was founded in 1984 by Rajpal's father, Suresh Chandra, an ophthalmologist and University of Wisconsin-Madison professor emeritus. Before founding the organization, Chandra traveled the developing world — including his home country of India — performing complex, technologically advanced retinal surgeries and training other doctors to do the same. 
But one trip to India changed his approach. As he headed into the operating room to perform a lengthy retinal surgery that at most would restore just enough sight to let his patient walk with a cane in front of him, he saw around 50 patients in the waiting room. All were scheduled for cataract surgery, a staff member explained.
Four hours later, when he emerged from the operating room, the waiting room was empty. He asked after the missing patients, only to learn that every one of them had already finished surgery. They'd recover briefly at the clinic before heading home with their vision restored. 
Such simple procedures had tremendous potential, Chandra realized. He returned to Madison eager to help more people get these basic services.
Epic Systems researchers find 1 in 5 seniors takes a medication they likely shouldn't
Fifty percent of blindness is caused by cataracts, said Rajpal, who can list off one statistic after another about vision problems. "Cataract surgery takes $25, the surgery is 20 minutes, and in less than 24 hours, that person can see again … If we do nothing else but treat cataracts, we're dealing with 50% of the blindness in the world."
It's estimated that 1.1 billion people across the globe are blind or visually impaired, "and if we do nothing about it, they're estimating that that number will increase to 1.7 billion by 2050," Rajpal said. But 90% of those cases are treatable or preventable, the result of problems like cataracts, injury or going years without needed glasses. 
Thirty-seven years in, Combat International has done vision screenings for more than 2.6 million people and provided surgery to save the sight of more than 375,000 people in 17 countries. 
Pandemic inspires door-to-door model
Before the pandemic, those looking to provide vision services in rural areas would set up "eye camps," temporarily turning a local school into a screening and referral center for the village. But the pandemic, which hit India especially hard, canceled large gatherings and made residents nervous about visiting clinic offices.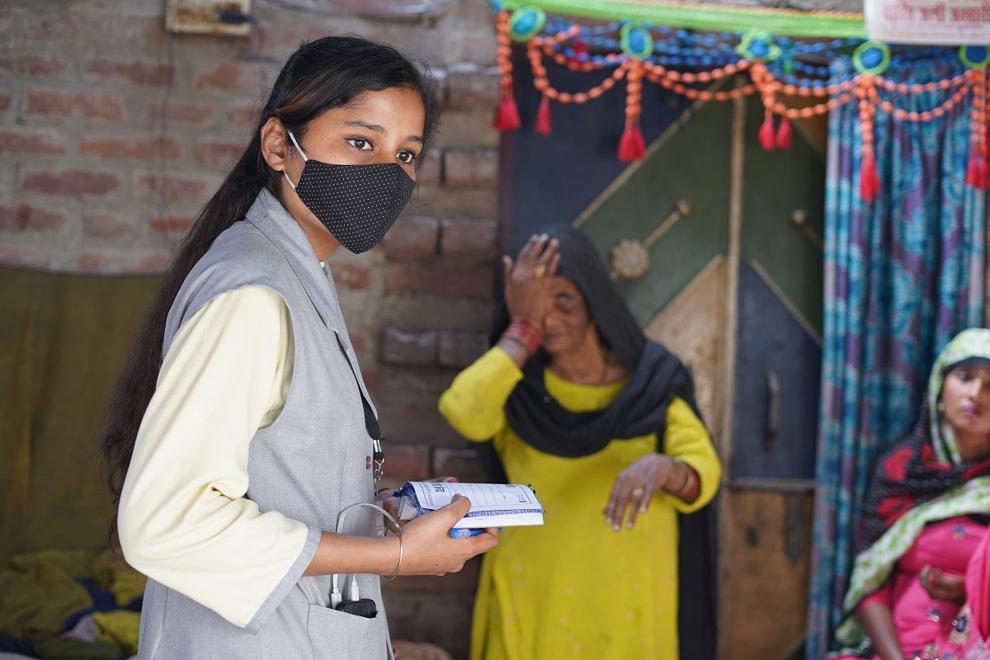 In response, Dr. Shroff's Charity Eye Hospital in New Delhi, a long-time partner of Combat Blindness, began conducting door-to-door screenings. But it didn't have enough staff for the task, and screeners struggled to keep track of the many paper forms needed to refer patients for follow-up appointments at other clinics or hospitals. Hospital staff anticipated a long wait before eye camps were viable again, but they needed a better way to meet the need.
Combat Blindness saw an opportunity to help. Since 2015, the nonprofit has trained young women to become "certified ophthalmic paramedics." After two years of training, the women take jobs as ophthalmic nursing assistants, surgical technicians, vision technicians, or patient counselors at Dr. Shroff's Charity Eye Hospital.
"We realized that we had the opportunity to combine this program as another avenue for the young women who may not want to study for two years to do the COPs program," Rajpal said. 
The organization set about designing a shorter training for door-to-door screeners. It also drew on its partnership with a student club called Enactus at the University of Wisconsin-Whitewater. The club, focused on social entrepreneurship, was full of tech-savvy students who could help design a sustainable funding model for the program and build a smartphone survey to eliminate paperwork challenges. 
The first phase of the Aadya Initiative launched in March. Eight screeners, mostly aged 18 to 21, received ten days of training before conducting screenings for two weeks in the northern Indian village of Mohammadi. During those two weeks, the eight women screened 2,841 people, distributed 267 pairs of glasses and referred 531 people for additional care. 
The fact that residents welcomed the screeners into their homes was a sign of great success, Rajpal said. "We realized that we had something on our hands here, that this was a very viable project."
Inspiring 'The Rescue' takes a deep dive into 2018 Thai cave rescue
But what's especially exciting, she said, is that the pilot indicated that the program could become financially self-sustaining within two years, according to estimates by the UW-Whitewater students. In April, the students won the Enactus national championship for their work on the project, beating out students at college chapters around the country to compete in last week's Enactus World Cup.
Combat Blindness and its partners are still tweaking the model. Based on feedback from the first round of screeners, they've extended the initial training to a month. On Oct. 14, World Sight Day, the partners launched a second, six-month phase of the program in the northern Indian city of Saharanpur to test the business model.
"We're seeing, can we actually raise enough money to pay the young women and create a profit (so) we can then take that profit and recruit new women and build the workforce?" Rajpal said.
If the business model works, they plan to bring it to other rural communities in India and eventually take the program to Nairobi, Kenya.