A development proposal is in the works that would rebuild and redesign Graaskamp Park— the state's first fully accessible park for physically handicapped children — as well as bring an affordable workforce housing development to the downtown Madison neighborhood where it is located.
Affordable workforce housing targets middle-income workers (police officers, teachers, firefighters, etc.), primarily people who fall between 40-80% of the Area Median Income. Madison Development Corporation, a local nonprofit, manages the Dane Workforce Housing Fund, which was created to help build up to 500 new affordable workforce housing units in Dane County over the next three years.
MDC, which also owns and manages affordable housing units, is proposing a two-to-three story, 24-unit affordable workforce housing building that would include underground parking at 22 N. Second St. The proposal would demolish the existing building at that location, which MDC owns, and previously was occupied by Options in Community Living.
Options in Community Living left the site in September and moved into a new building at 551 Grand Oak Trail. With that tenant gone, the development nonprofit is looking to add to the housing options it has constructed in the neighborhood previously. 
In August 2020, MDC opened the 44-unit Grasskamp Apartments. MDC also owns The Avenue, a 28-unit apartment building that connects via underground tunnel to an additional four-unit apartment building on East Mifflin Street.
"Madison Development Corporation's plan is to have a campus of affordable workforce housing projects that complement each other and provide quality affordable housing in a nice neighborhood that is close to amenities," said Lorrie Heinemann, president and CEO of Madison Development Corporation.
MDC's project represents the type of development the city of Madison has sought to do more of. Recently, the city has made zoning code changes that would make it possible for developments of this size and scale to be constructed "by right" without having to go through lengthy approval processes. The newest MDC proposal will, however, have to go through the Plan Commission process because it is an "expansion" of the current site.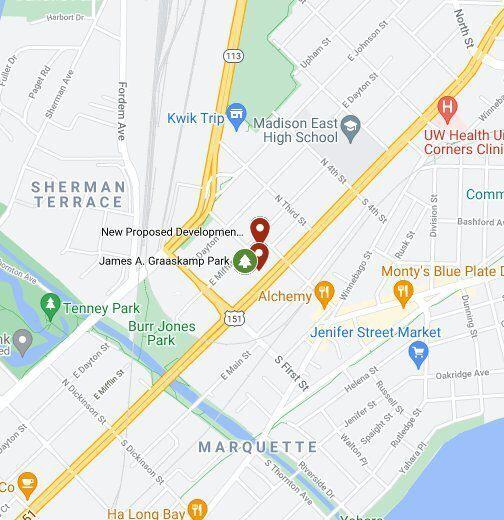 James A. Grasskamp Park at 1953 E. Mifflin St. is near the proposed housing project as well as The Avenue and the Graaskamp Apartments, and Madison Development Corporation hopes to rebuild and redesign the park itself as part of this project.
"MDC's goal is to rebuild the James A. Graaskamp Park, the first universally designed, fully accessible park built in the state of Wisconsin," Heinemann said. "We had planned to kick off a fundraising campaign in late 2019 for a 2021 rebuild.
"Needless to say, the COVID-19 crisis delayed this process significantly. Also, our tenant in the commercial building on this site relocated in September which resulted in us delaying the park another year, so we could raze the old building and build the new 24-unit," she said.
Graaskamp Park opened in 1989 and was designed specifically to be accessible for children with physical handicaps and motor skills challenges. That will continue to be the theme during the rebuild.
"This park would include a very expensive poured in place base so mobility challenged people of all ages can easily maneuver the park's base without rocks/chips getting caught in their wheels (for people using wheelchairs, strollers, walkers, etc.)," Heinemann said.
Madison Development Corporation will begin a fundraising campaign in January 2022 with the hope of a summer 2023 rebuild of the park. They are hoping to raise at least $150,000 in the effort.
Cambridge-based Lee Recreation, which makes playground equipment, and landscape students at the University of Wisconsin, have been helping with design options, according to Heinemann.
The park is named after James Graaskamp, who taught real estate at the UW, and was one of the first to discuss the concept of affordable housing. The University of Wisconsin Center for Real Estate is officially named after him as well.