Making her case as the "only proven conservative reformer" in the Republican gubernatorial primary, Rebecca Kleefisch kicked off a statewide tour on Monday with a stop in Madison.
The former lieutenant governor spent the eve of the election delivering closing arguments, asking for votes and thanking supporters in every major media market in the state. 
"I always say, when someone shows you who they are, believe them. Not when they tell you who they are, when someone shows you who they are," Kleefisch said. "I can tell you all sorts of things, but you guys know, it's politics. Words are cheap. But I have shown my heart, my work ethic and what I am willing to do over the last 12 years, since I started speaking at Tea Party rallies in 2009."
Kleefisch — a former TV journalist who served for eight years as lieutenant governor with Republican Gov. Scott Walker — started her day as only a Wisconsin campaign can, by greeting supporters in a supper club on Madison's north side.
She'll face construction magnate Tim Michels and state Rep. Timothy Ramthun on Tuesday's ballot. Polls show a tight race between Kleefisch and Michels. An Emerson College poll released on Saturday showed the two locked in a statistical tie.
Kleefisch urged supporters on Monday to tell their friends to "vote Rebecca tomorrow."
"I'm the only Rebecca on the ballot," she said. "Everyone else is just named Tim."
The Emerson poll found Michels outperforming Kleefisch among rural voters by 15 percentage points, while Kleefisch led by 21 points among suburban voters and 13 points among urban voters.
Kleefisch has reported raising $7.5 million for her campaign, while Michels has given his campaign nearly $12 million of his own money.
The winner of Tuesday's primary will challenge Democratic Gov. Tony Evers, who is seeking a second term, on Nov. 8.
Speaking to supporters in Madison, Kleefisch's sights were trained on Evers.
"After three-and-a-half years of trying it Tony Evers' way, it has failed," Kleefisch said. "He's too weak for this job, and we need to have a state that's affordable again. We need to have streets that are safe again. We need to have good education that we're proud of. Safe and secure elections, medical freedom. The things that — we would never have guessed four years ago — the things that we took for granted."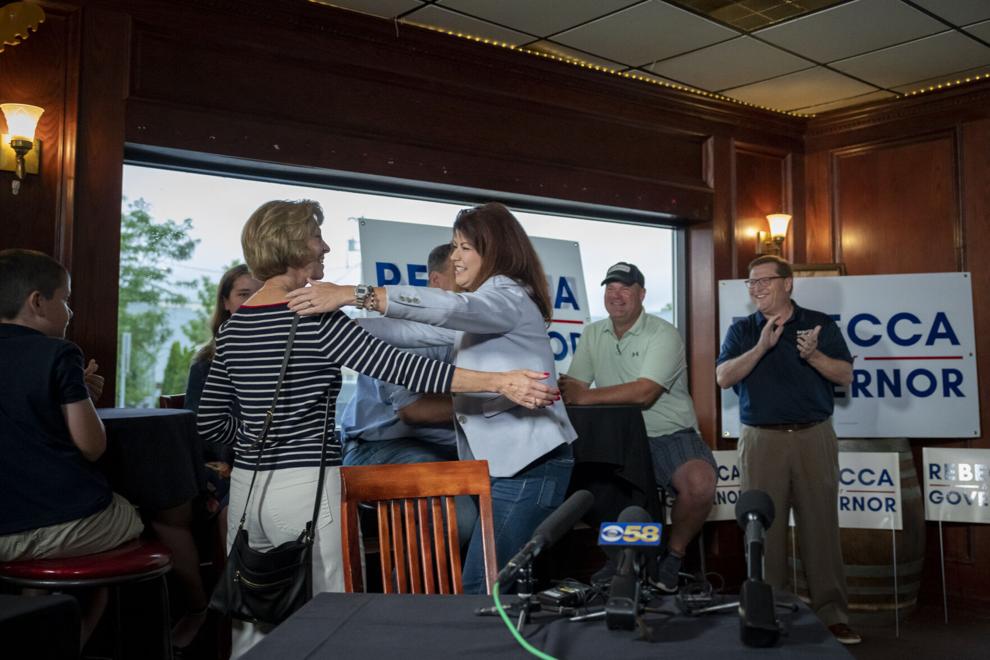 With economic output contracted for the first two quarters of 2022, Kleefisch said the current economic and political environments have "eerie" similarities to the conditions in the late 2000s that led her into activism and fueled her underdog bid for lieutenant governor in 2010.
More than two-thirds of Republican primary voters in the Emerson poll listed the economy as their number one election issue, followed by 11% who said crime is the most important issue and 5% who named education.
Kleefisch reiterated her pledges to put 1,000 more police officers on the streets and enact changes to bail and sentencing policy. 
She also promised to implement universal school choice and sign a "parents' bill of rights" into law, which would outline items that parents have control over rather than schools.
"There is nobody better to take it to Tony Evers on education than a pissed off mom," Kleefisch said, alluding to the "safer at home" order the Democratic governor enacted at the start of the COVID-19 pandemic.
Evers, who served three consecutive terms as state superintendent of public instruction, defeated Walker and Kleefisch with his running mate Mandela Barnes by about 30,000 votes in 2018. Barnes is now running for U.S. Senate.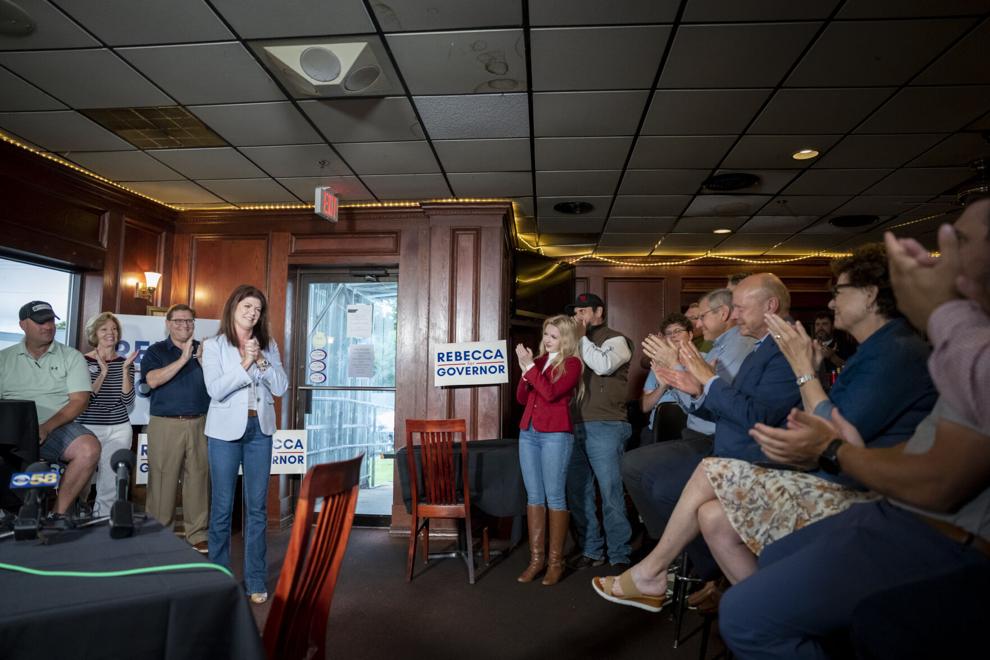 Kleefisch crisscrossed the state days after Donald Trump held a rally in Waukesha boosting Michels. 
The Republican former president bashed Kleefisch, calling her "a career politician and a political insider" who "does not have what it takes to beat Tony Evers." Both Trump and Michels knocked her for being married to a lobbyist (her husband Joel, also a former TV journalist, went into lobbying after leaving the state Legislature).
"I've never met someone with the dedication and passion for life that she has, and that desire to make Wisconsin a better place to live and raise a family is evident in her everyday life," Joel Kleefisch said Monday. "She is a true believer. She has no ego or arrogance. She's doing what she believes will be the best for the lives of the people who live here."
In addition to Trump, Michels is backed by Republican former Wisconsin Gov. Tommy Thompson. Kleefisch is endorsed by Walker and former Vice President Mike Pence.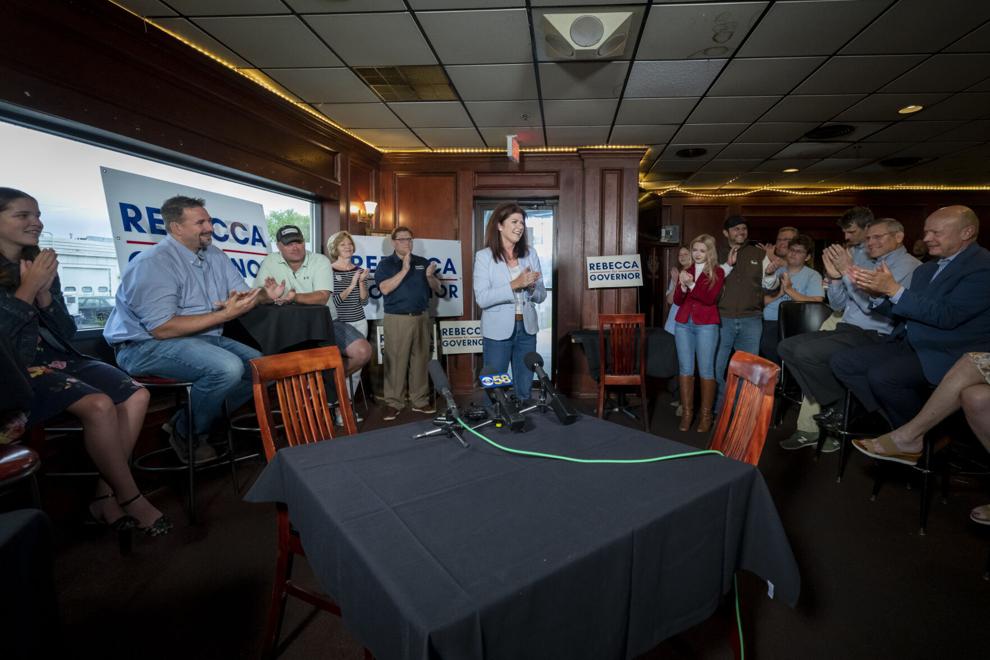 Asked if she had any thoughts about Trump's comments, Kleefisch told reporters, "No thoughts that I'd like to share."
"I don't know," Kleefisch said when asked whether Trump's endorsement would help or hurt Michels. "To me, the only endorsements that are going to matter, ultimately, are the ones that are counted tomorrow night from the people of Wisconsin. That's why I'm making my appeal to the voters of this state, the hard-working families — and frankly, I think the things that we are talking about are going to be the same things that we talk about in the general (election). We're talking about affordability, we're talking about safety and security, we're talking about education. I don't even think that those are particularly Republican things. I think these are just Wisconsin things."