MILWAUKEE — Former President Barack Obama's message for Wisconsin voters on Saturday was simple: "I'm here to ask you to vote."
It's a message that will need to resonate in the state's largest city — and other Democratic strongholds — if Democrats have hopes of winning high-stakes races that will likely be decided by thin margins.
"You get to make a difference. Your vote will make a difference. That's why Republicans are working so hard to stop you, and that's why you can't let them," Obama told the crowd. "I believe (that everything's going to be OK), but I also know things won't be OK on their own. We have to fight for it. We have to work for it. Not just on Election Day, but every day in between."
The former president visited Milwaukee in the final days of the midterm campaign to support Wisconsin Democrats, as Gov. Tony Evers battles for a second term and Lt. Gov. Mandela Barnes aims to unseat Republican U.S. Sen. Ron Johnson.
Attorney General Josh Kaul is also seeking a second term, and state Rep. Sara Rodriguez, D-Brookfield, is running for lieutenant governor. Kaul faces a challenge from Fond du Lac District Attorney Eric Toney, and Rodriguez is up against state Sen. Roger Roth, R-Appleton.
Obama didn't shy away from issues like violent crime and inflation, which Republicans have used to attack Democrats in Wisconsin and throughout the country. He urged voters to ask themselves which candidates they believe will fight to alleviate those problems in a way that benefits everyone.
"There are a lot of issues at stake in this election, but the most basic question, the fundamental question you should be asking yourself right now is, 'Who will fight for you? Who cares about you?' That's the choice in this election. All the other stuff is surface stuff; it's distraction," he said. "Anybody can run a TV ad, these days they can say anything … but in your gut you should have a sense of, 'Who cares about you?'"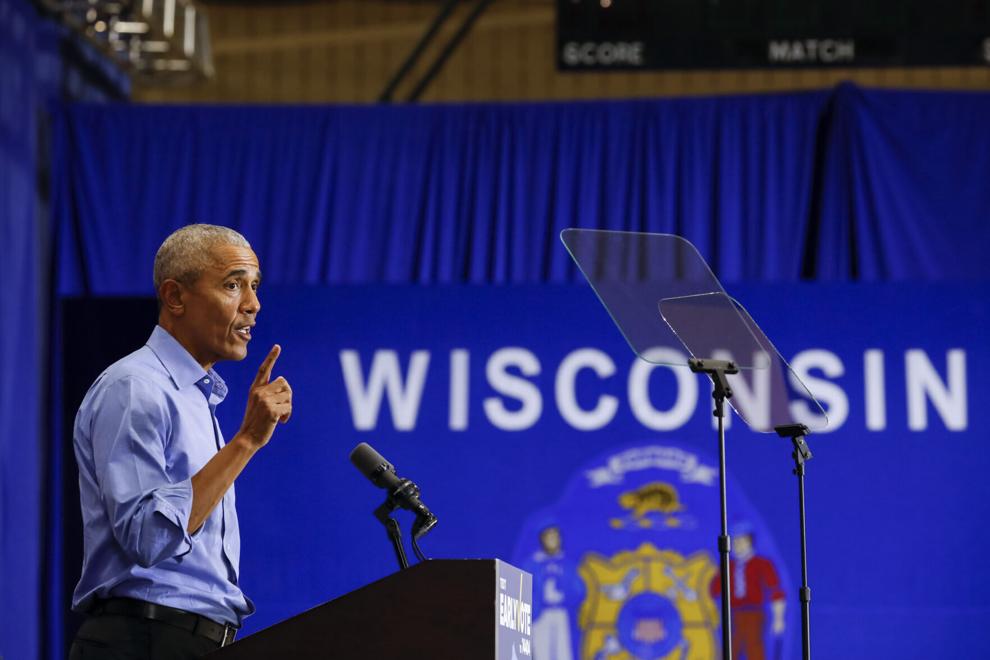 It was Obama's third visit to North Division High School in the last decade. He campaigned there in 2014 in support of Mary Burke, the Democrat who unsuccessfully challenged Gov. Scott Walker, and in 2018 to boost Evers, U.S. Sen. Tammy Baldwin, Barnes, Kaul and other Democratic candidates.
Evers is locked in a dead-heat race with Republican construction magnate Tim Michels, while recent public polls show Barnes trailing Johnson by anywhere from one to five points. A CNN poll released earlier this week found Evers leading Michels 50% to 48% among likely voters, a lead within the poll's margin of error.
In a statement, Michels criticized Evers for holding a campaign event at a school with low test scores and graduation rates. North Division is located in the 53206 ZIP code, which has earned notoriety for its high poverty and incarceration rates. According to state data, 96.4% of the school's almost 400 students are economically disadvantaged, and 44.6% are on track to graduate (compared to 91.5% statewide). 
Michels has pledged to implement universal school choice throughout the state, though details from the candidate about what that would look like are scant.
"For generations of kids stuck at schools like North Division, the education establishment continues to fail them, and Tony Evers' only solutions are to lower standards, diminish expectations, and raise budgets," Michels said.
Evers, in his speech, referenced comments Michels made during a July debate about education spending. In the debate, Michels said it was "the definition of insanity" to keep "throwing so much money at education" without seeing better results.
"He hasn't stepped in a public school in this state for decades," Evers said, prompting someone in the crowd to yell, "He's from Connecticut!" Michels was criticized during the GOP primary and by Evers for owning homes in Connecticut and New York City.
Evers pledged to "continue to create opportunities by investing more for special education, mental health and smaller class sizes."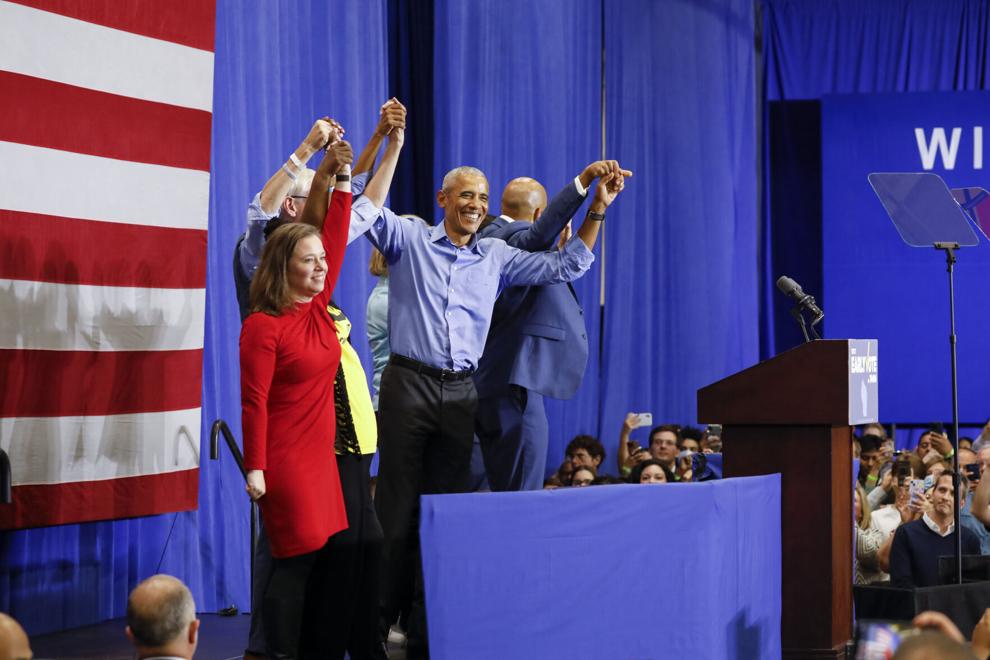 Obama returned to Michels' comments during his remarks.
"Have you been on the internet? People are out there saying we're ruled by giant lizards. And that Elvis is alive. You can't think of anything crazier than investing more in our schools and our children?" Obama asked. "If that's crazy, then Tony is a good crazy."
A Marquette University Law School poll released earlier this month showed inflation at the top of the list of Wisconsin registered voters' concerns, with 68% very concerned about it (down from 70% last month). That was followed by public schools at 60%, gun violence at 60%, abortion policy at 56% and crime at 56%.
Democrats on Saturday, though, continued to hammer their messaging on preserving democracy and abortion access. 
"We should all agree that women everywhere should be able to control what happens with their own bodies, and it shouldn't be controversial to say that the most personal of health care decisions, the most profound of personal choices, should be made by a woman and her doctor, and not by a bunch of mostly male politicians sitting in a state Capitol or sitting in Washington and don't know nothing about it," Obama said.
Speaking before Obama, Barnes, as he has many times before, told the crowd he "wouldn't be here if it weren't for my public school education. I also would not be here if it weren't for the opportunities of Wisconsin manufacturing and the strength of our labor unions."
Speaking to an enthusiastic crowd in his hometown, the lieutenant governor sought to draw a contrast between his middle-class upbringing and Johnson's wealth.
"Aren't we tired of the politicians that put their own profits before our lives?" Barnes asked the crowd. 
"People just want opportunity," he continued. "But we're never going to get that opportunity as long as Ron Johnson is in office."
Obama criticized the Republican senator on a number of issues, including his suggestion that funding for Social Security and Medicare should be up for renewal every year. 
"You know why (people) have Social Security? Because they worked for it," Obama declared to the crowd. "They worked hard jobs for it. They have chapped hands for it. They had long hours and sore backs and bad knees to get that Social Security. And if Ron Johnson does not understand that … he's not the person who's thinking about you and knows you and sees you, and he should not be your senator from Wisconsin."
Johnson's campaign criticized Barnes before the rally for comments he made during his 2018 campaign for lieutenant governor, when he said he wasn't interested in gaining votes from former Obama voters who then backed Donald Trump in his presidential bid. Johnson senior adviser Ben Voelkel said "it really makes you wonder why Lt. Gov. Barnes wants to represent our state at all."
Republicans attacked Democrats for appearing with the former president. In a statement, Rachel Reisner, a Republican National Committee spokesperson, said, "Barack Obama isn't the golden ticket Wisconsin Democrats think he is. All Wisconsin families will see is more crime, more economic uncertainty, and more financial pain if they elect rubber stamps like Tony Evers and Mandela Barnes."
Obama ended his speech with a message of unity.
"Even when times are tough, I believe what unites us can be stronger than what divides us. There have always been certain values that bind us together as citizens no matter who we are or where we come from or what we look like or who we love. We think about our kids. And we think about working hard and we think about being honest and being fair — homespun values," Obama said. "It doesn't matter whether you're on a farm somewhere or in the inner city, people have a sense of that. It doesn't matter what your last name is. That's the promise of America. That's who we at least want to be, and this election, you have a chance to do that. To make America live up to what we hope it can be."
"If enough of us make our voices heard, things will be better," Obama said.