RACINE — On a frosty April morning, a bundled Gov. Tony Evers stood alongside a handful of other dignitaries to celebrate a major transit accomplishment for the city: the introduction of nine electric transit buses, totaling 25% of the city's fleet.
Evers spoke from a small podium, flanked by two of the city's prized electric buses.
"I know Wisconsin is ready to embrace a future where we don't have to choose between mitigating climate change and protecting our environment and good paying jobs and economic development," the Democratic governor told the crowd of a few dozen people. "We can and will do both."
Since January 2019, Evers has used the vast reach of his office to engage Wisconsin in the fight against climate change.
In one of his early acts in office, Evers joined the U.S. Climate Alliance, committing Wisconsin to the Paris climate agreement despite former President Donald Trump's decision to withdraw the United States from the accord. Soon after, the governor created the Office of Sustainability and Clean Energy and asked it to develop a road map for the state to get to 100% carbon-free electricity consumption by 2050. Last month, the office released its plan for Wisconsin to achieve that goal.
By the end of his first year, Evers had established a task force on climate change. Chaired by Lt. Gov. Mandela Barnes, the task force made dozens of recommendations to the governor and the Republican-controlled Legislature on steps the state can take to combat climate change.
He launched the Stronger Wisconsin initiative "to build a more resilient Wisconsin in the face of our changing climate," directed the state Department of Natural Resources to plant 75 million trees by 2030 to help mitigate climate change and, last month, created the Office of Environmental Justice to "provide strategies to promote environmentally just policies and prevent disparate outcomes in communities across the state."
But Evers' efforts have come without the support of the Republican-controlled Legislature, which has seemed disinterested in engaging with his climate task force's recommendations and other measures to curb the influence of climate change on the state.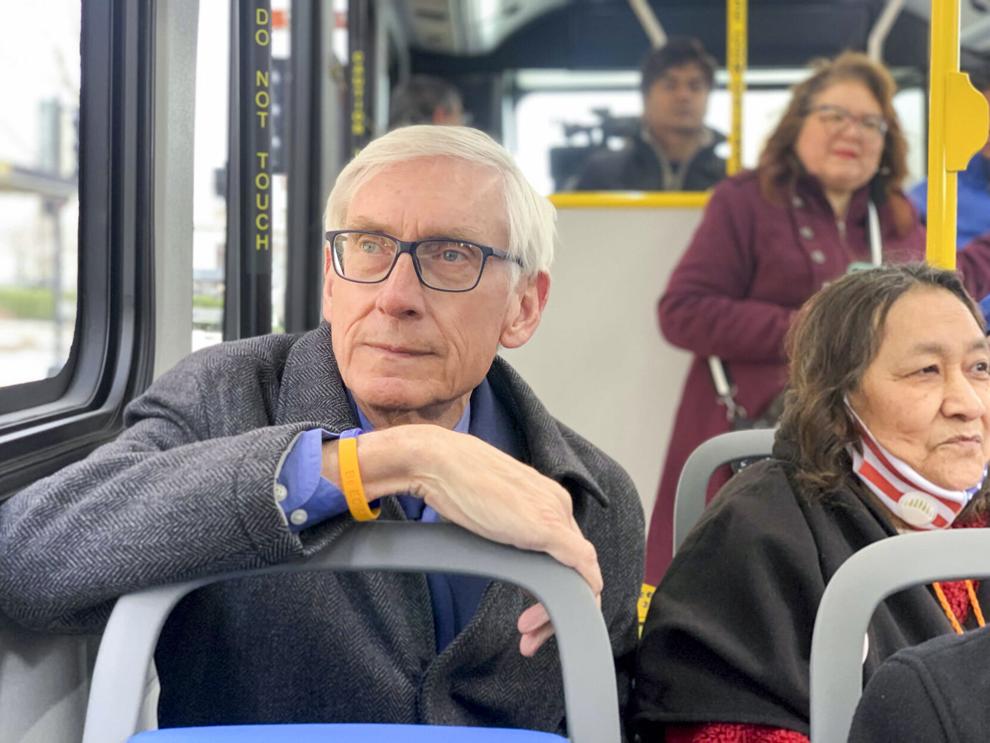 In the most recent legislative session, at least 32 environmental-related bills were introduced in the Legislature — many of them with Republican sponsors, according to the nonpartisan Legislative Reference Bureau. However, just two of the bills — one of which was the state budget — became law.
Evers says he isn't bothered by legislative leaders' unwillingness to engage on these issues. Speaking to the Cap Times from inside one of Racine's electric transit buses, the governor said it's "absolutely" the focus of his administration — even if he has to go it alone — to implement as many of the task force's recommendations as possible.
"I've come to the belief that if people don't believe in climate change, that's not gonna make any difference," he said when asked how the state can stage an effective fight against climate change without legislative action. "I don't even worry about that anymore, to be honest." 
He said Wisconsinites want a more sustainable future, and public sentiment will push companies and lawmakers to take action.
Little appetite for climate legislation
A Marquette University Law School poll from August 2021 found that 58% of respondents believed climate change would have a major or minor impact on "on the future of life in Wisconsin."
Both lawmakers and lobbyists cite the same reason when asked why climate legislation so frequently stalls out: politics.
Assembly Minority Leader Greta Neubauer, D-Racine, said it is "really demoralizing to see nothing moved forward in the Legislature this session," especially for those who have spent years advocating for more action on climate change. (Neubauer has attributed lawmakers' inaction on climate change as one of several factors that pushed her to run for public office.)
Neubauer cited a handful of measures — bills focused on charging stations for electric vehicles and regulations related to solar energy — backed by Republicans that did make some progress in the Legislature as cause for optimism. But ultimately, those measures failed to become law.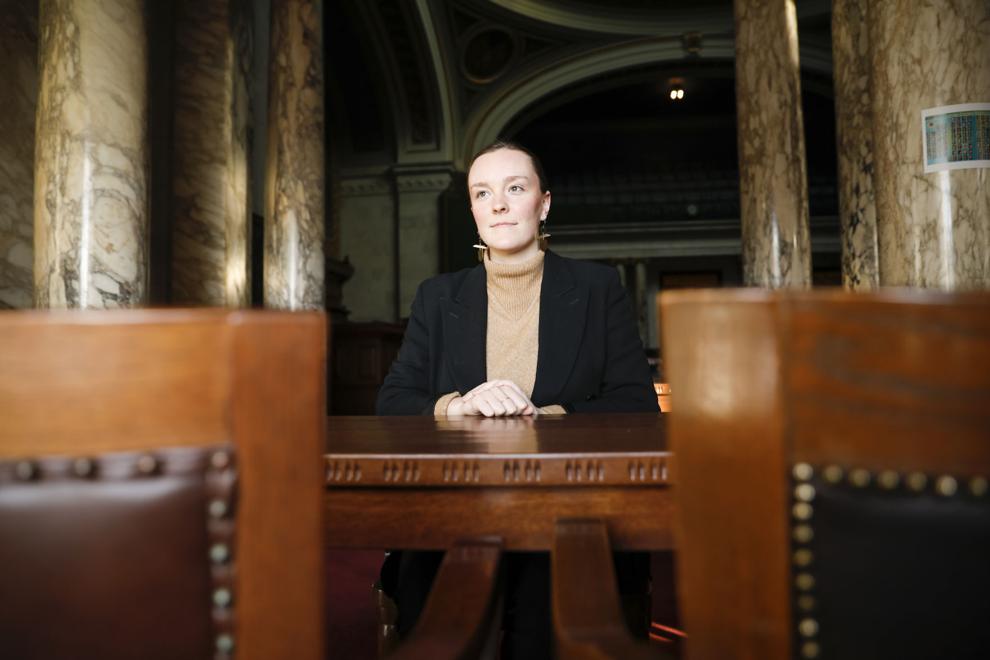 Sen. Rob Cowles, R-Green Bay, made similar assertions to the Cap Times.
"We did make progress on several fronts," Cowles said. "But unfortunately, this stuff has become political. It's too bad. The way I look at it, it's just common sense. To protect your resources and preserve them, and to use less of our resources in an economic way, that makes a lot of sense to me."
But, he continued: "Not everybody agrees with that."
Assembly Speaker Robin Vos, R-Rochester, did not respond to an interview request.
Scott Coenen, executive director of the Wisconsin Conservative Energy Forum, offered a different perspective in a recent interview.
"I don't know that we know how to speak to people that aren't in our bubble anymore at all," he said of liberals and conservatives trying to work together. "I think we've lost that ability, for some reason, over the last few years. It's hard to regain that."
He also pointed out that mitigating climate change and transitioning to clean energy are not issues that motivate Republican voters. 
"Climate change hasn't really been a primary vote motivator of right-of-center voters in Wisconsin or across the country. So the Republican legislators respond to that, obviously." Coenen said. "It hasn't been a really high priority for Republican legislators because I don't particularly think it's a very high priority for Republican voters right or more right of center conservative voters."
Another renewable energy advocate, Michael Vickerman, policy director for nonprofit RENEW Wisconsin, also said advancing renewable energy-related legislation was currently unappetizing to lawmakers in the Legislature.
But, Vickerman said, it had less to do with which party introduced a measure, and more with the influence of outside lobbying groups.
Using the EV charging bill as an example, Vickerman said "greed and pettiness" from special interest groups "put restrictions into that legislation and made it politically unpalatable for quite a few entities that otherwise would have supported the bill."
The path forward
Neubauer, Cowles and Coenen all identified a path forward for climate change mitigation and renewable energy-related legislation: repackaging the bills as economic measures.
They all told the Cap Times that investing in the green economy and embracing renewable energy sources would bring high-paying jobs to the state and help reduce costs for consumers.
Neubauer, who as minority leader will have to persuade colleagues across the aisle to advance any legislation, said "the green economy is one of the biggest job creators, if not the biggest, in the country right now."
The International Labour Organization, a United Nations agency, estimates that 18 million new jobs can be created worldwide this decade if countries transition to renewable energy sources.
"Why would we not be taking advantage of that opportunity to create those good jobs?" Neubauer asked.
Cowles agreed that pushing the economic benefits of climate-related legislation could help get it through the Legislature. He said there are "tons of jobs connected to" the green economy, and lawmakers should try to empower businesses to bring them into the state.
He also said employees want to work for companies that are committed to a more sustainable future. So pressure from employees and consumers will help push companies to adopt more sustainable practices even if legislative action does not.
Coenen also said repackaging the bills and the positives attached to them could help them advance through the Legislature. He said climate change is a "trigger term" for some people — a nod back to his point that people with different ideological backgrounds can't talk to one another anymore — so he focuses more on "the policy discussion" when speaking with conservative-leaning Wisconsinites about renewable energy sources.
"If I bring up climate change, I know that shuts a certain number of people in the room off," he said, adding that he instead pushes the arguments that renewable energy can cut costs for consumers and make the state's power grid more efficient. Since Russia invaded Ukraine, he has also pitched these measures as critical to national security.
Put together, he said, those are approaches that can get the attention of lawmakers.
"I'm hopeful that … we'll get there in the next few years," Coenen said of advancing policies that empower the use of renewable energy in the state.
Local governments step up
Even as statewide steps to reduce climate change are limited to executive action, municipalities across Wisconsin are taking action.
In Racine, for example, Mayor Cory Mason has committed the city to reducing emissions in line with the goals of the Paris climate agreement.
The city's decision to electrify nine of its 36 transit buses is a step in that direction. The electric buses in Racine will result in the burning of 56,000 less gallons of diesel fuel per year, saving the city almost $60,000 along the way.
And the city isn't stopping there, said Racine Transit Manager Trevor Jung. Its new goal is to have a 100% electric bus fleet.
"We're one of the largest diesel burning institutions in our community," Jung said. "In the transit industry, because we're in the business of mobility, we use technology that's available to us and that is affordable to us in order to make sure that we meet the needs of our residents. And for a long time, that's involved burning fossil fuels."
But now, with the influx of federal funding and lawsuit settlements, the city was able to invest in electric bus technology to serve constituents in a cleaner, more efficient way.
Jung noted that funds the city used to purchase its nine electric buses came from Republican administrations at both the state and federal levels. He said improving transit, because it is "so basic to the needs of our residents," is an effort lawmakers from both sides of the aisle can get behind.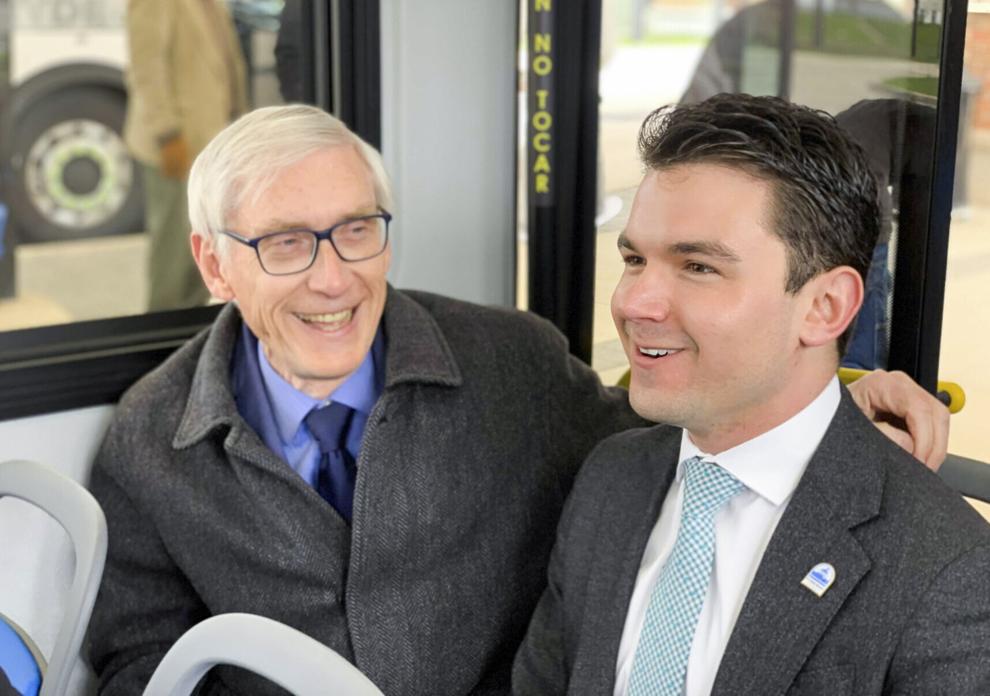 Jessica Price, the city of Madison's sustainability and resilience manager, said local municipalities can stage an effective fight against climate change while state lawmakers settle their differences.
"Local governments have a lot of ability to take action in our own operations" to cut back on emissions, she told the Cap Times. "We can really sort of walk the walk in taking action on all the things that we see that we want everybody to be doing."
She pointed to vehicle fleet electrification and making municipal buildings more efficient  — 47% of greenhouse gas emissions in Madison come from commercial and residential buildings — as ways to fight climate change at the local level.
"We have to get our own house in order," she said, adding that local governments' ability to take action faster than state governments can lead to wider change.