Since Aug. 4, the day Jennifer Mnookin started her new job, she's had 22 meetings with state legislators. Five more are still scheduled.
Some were with Republicans who reacted coolly in May to her selection as the University of Wisconsin-Madison's 30th chancellor. The former UCLA law school dean drew the kind of initial GOP skepticism that met predecessor Rebecca Blank when she arrived as a former President Barack Obama cabinet member in 2013.
Even Tommy Thompson, the four-term former Republican governor and former UW System president regarded as a throwback to a less confrontational GOP, said at the time he was "disconcerted" by Mnookin's selection, fearing she would bring "a California philosophy" to Wisconsin.
In my interview with her on campus this week, Mnookin said she and Thompson had a "really nice lunch" recently.
For sure, Mnookin has been doing a lot of talking. She said she contacted all ex-chancellors back to Donna Shalala within a day or two of arriving and was dining with David Ward this week. She's in regular contact with Blank, who moved back to Madison after health issues prevented her from becoming Northwestern University's new president this summer.
In our conversation, Mnookin talked about first impressions and key challenges. Questions and answers have been edited for brevity and clarity.
You have met hundreds of people on and off campus, in Madison and statewide. Coming from California, what has most surprised you?
It's been a whirlwind but a terrific one. I am obviously getting to know this university, my senior leaders, spending some time with the deans, having some opportunities to engage with faculty and students. My first day, I asked each dean to pick two faculty members from their schools for lunch — one relatively junior and one more senior person — to get a sense of the texture of faculty life here.
I've had a number of opportunities to meet with students. … And I've been starting to travel around the state. … I spent the day with Sen. Marklein (Howard Marklein, a Republican state senator) going to a dairy farm and checking out a ginseng farm. I've been to Door County and Green Bay. Obviously, there is lots, lots more to be done.
What about exploring and understanding Madison?
I think what's going on in south Madison (multiple simultaneous projects led by people of color) is very exciting. … I will say, I was a little bit surprised to learn about the degree of racial disparities here in Madison. That wasn't something that I had as much awareness of. So, the idea that this is a moment when this community is looking hard at that and coming up with engagement and solutions of which we at the university can be a part is really terrific.
If I distilled Blank's style to one word it might be "unflappable." How do you think people at the University of Virginia and UCLA, where you have spent the bulk of your career, would describe your style?
I think those at UCLA, where I was for the last 17 years … would describe me as collaborative. They would describe me as problem solving. They would also describe me as fairly unflappable. … I think they would describe me as mixture of authentic and strategic. I guess I'm reasonably direct. I'm also pretty approachable. I'm pretty down-to-earth, but I also really like trying to work with others to develop strategies to move big, complicated, messy, inspiring institutions forward and this is a big, complicated, messy, and inspiring place.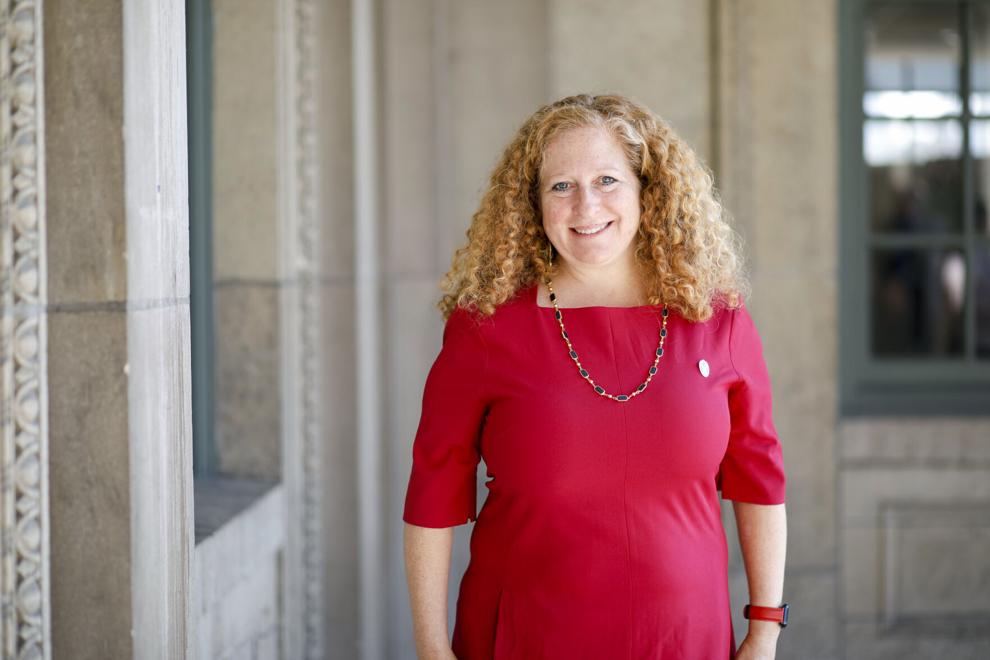 Why do you think you were selected from a strong field?
I never spent a great deal of time in Wisconsin, but I certainly had admired it from afar. I'm coming from another very strong public institution that at 30,000 feet faces relatively similar challenges and opportunities, although those play out in different ways and obviously in a pretty different system and state. But I think I can bring some of my experience from other flagship publics here while also showing that I really respect and admire this institution. I think Becky (Blank) did a great job.
UCLA and UW-Madison have structural similarities. They're both public research powerhouses where there's a lot of exciting research all across the university. They both have deep commitments to shared governance. They both have an access mission and a sense that contributing to the broader world is part of the core mission.
Here at Wisconsin we call it the Wisconsin Idea. We didn't have a name for it at UCLA. … I think it's wonderful there's a label for that value here.
An institution like UW-Madison has infinite challenges, but I can think of a handful that stand out. One is something that public institutions everywhere face these days — the fractious national political environment and populist skepticism toward higher education.
I won't deny it's a significant challenge because of the polarizing dynamics across this country. I'm a bridge builder. I mean, notwithstanding some assumptions about me when I got this job, I'm a bridge builder and a connector and think of myself as pretty centrist. It seems to me that higher ed, the value of higher ed and the economic engine that superb flagship universities bring to states, shouldn't be partisan. Some folks on both sides of the aisle I think agree with that, but not all.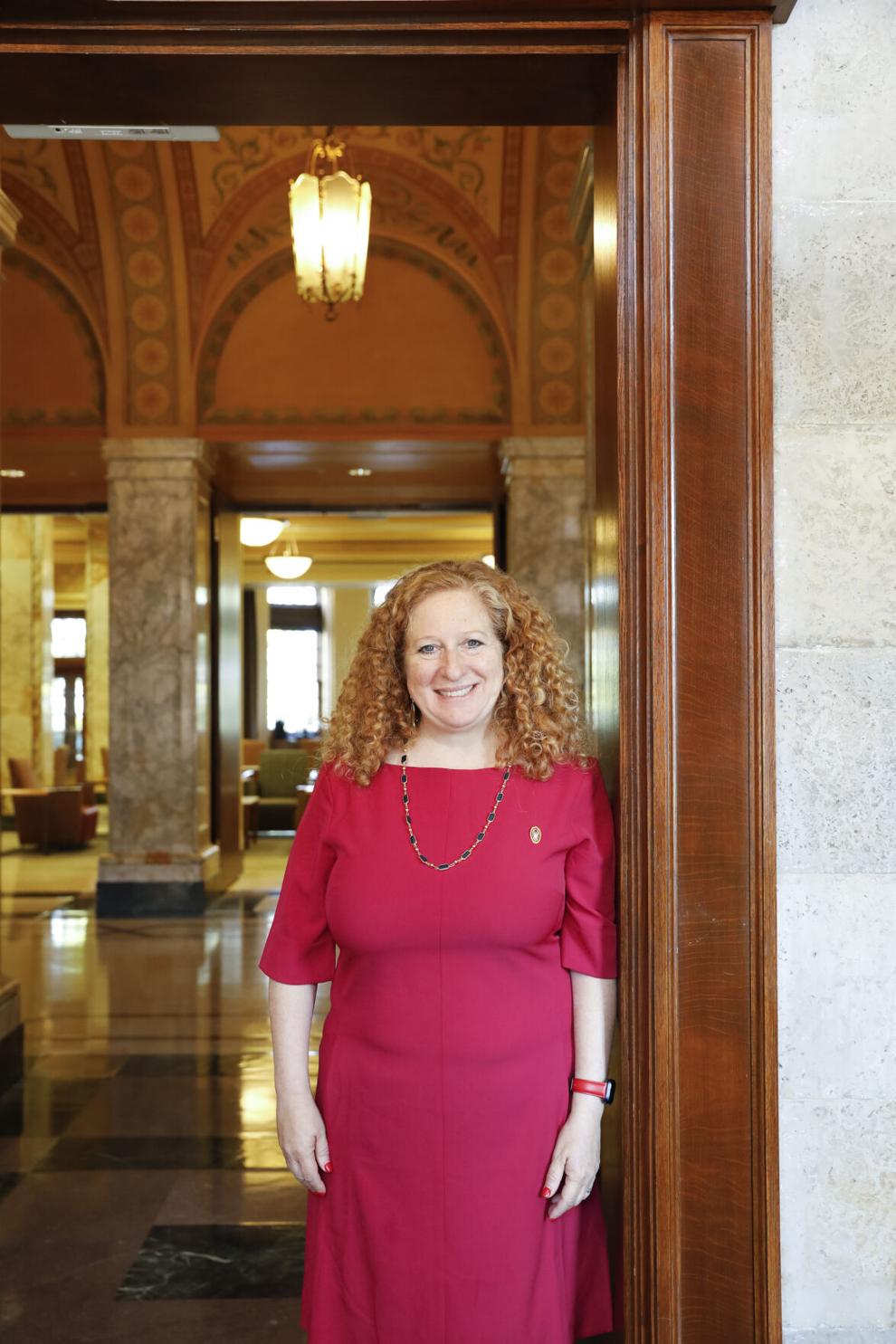 There's a national unease with higher education expertise, the knowledge economy. On the one hand, I recognize that not everybody feels included, and that's something we have to take really seriously. That excellent institutions of higher education bring value to the state should be something that we can all agree on as a starting point. I've had a number of really positive first meetings with legislators on both sides of the aisle. I'm hopeful that we can find a lot to agree on.
What about the perennial challenge of attracting and retaining faculty and staff of color? Your predecessor liked to remind me that the UW has made strides, but UW-Madison is still the biggest campus in a predominantly white state.
First, I really have appreciated learning about the engagements around diversity, inclusion, and belonging across the campus. I think these are values that are taken very seriously. I also think it's important to recognize that sometimes that gets shorthanded into being all about race, and race is obviously hugely important. But diversity takes lots of forms. Gender diversity in some departments is still something that we need to work toward. LGBTQ, religion, beliefs, ideas, even politics, right?
The second thing I'd say is that we have had some successful programs. We have added quite a number of faculty of color over the last few years. You're right that this is something that universities across the country are also focusing on and caring about, and so you're also right that sometimes retaining folks can be a challenge.
I think an important question is whether faculty are feeling supported. There are going to be times when some of those people may leave anyway because of the extraordinary opportunity they get. When people feel a sense of connection they stay more often. But if they go, they are wistful and they become ambassadors for the institution. Of course, we'd rather keep them. But when you lose some people who say this was an amazing place for me to be, that isn't failure. That's part of the dynamic of being within a higher education market.
From my experience, the UW-Madison campus is filled with big egos who in no way regard the chancellor as their boss. Faculty freely opine that the chancellor should be more this or that — more combative with politicians for example. What about that dynamic?
It's very true that a chancellor is not a CEO. We have a strong history and tradition of shared governance. Tenured faculty don't really have bosses in the traditional sense. So, there has to be more collective engagement and buy-in and persuasion and relationship building. That doesn't mean you can't bring vision. We're about to turn 175. It's going to be the 175th anniversary of the founding of UW-Madison. So, my goal is for us to shape a vision for our next 25 years.
I do think my role is to speak up when it relates to our core mission. When it relates to issues like academic freedom, like resources for our institution, the ability of people to do their work. It is not my role to speak up about every issue, even ones that may be very deeply felt by some members of our community.
Your predecessor pointed to how top-tier global research universities like UW-Madison are fiercely competitive for faculty, students and research dollars. Everyone is after you, she said. It would not take much slippage to only be an above-average regional research university. Your thoughts?
What you've just described is absolutely critical. We have a lot of excellence here, but excellence is also fragile and it can be taken for granted. I think sometimes some of those who throw darts at the university think that we'll just be able to handle whatever comes and that it won't matter. They really risk being deeply wrong. This is an extraordinary university and has managed to remain so with some bumps along the way. We can't assume that that excellence can be preserved indefinitely without also being valued by the state, nurtured, and protected.
Finally, a year from now, what do you hope people will say about your first year in Madison?
I would hope that they say that I've put energy and time into understanding this institution and building ideas and vision collaboratively with a variety of stakeholders and am working — again, I'll overuse the word collaborative — but working collaboratively to build a vision for our next 25 years that respects our great strengths but also brings additional excitement and innovation around what comes next.